6 Dollar Shirts Reviews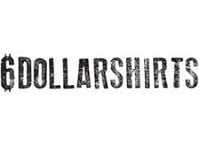 6 Dollar Shirts is an online, customizable t-shirt boutique which states that nowhere on the internet will you be able to find such a large variety of quality printed t-shirts at such a low price.
Their website goes on to say that other online t-shirt stores regularly charge three times the price of their shirts for items that are actually one third of the quality of what you will get from 6 Dollar Shirts.
How Does 6 Dollar Shirts Work?
Customers just need to click on the picture of the shirt or item they would like to purchase. They will be taken to another screen where they have options to customize their item by style, color, and size.
Once your order is finalized you'll be given a confirmation email with an order ID that you'll need to keep on file if you should have any issues with your order that need to be followed up on.
Cost/Price Plans
As the name of their website states, each individual t-shirt on their site is sold for $6, unless you choose to purchase additional features or embellishments. You can also choose from a selection of over 300 t-shirt designs to get 10 shirts for $50.
They do sell a variety of other products, from bumper stickers to hooded sweatshirts, and the prices of these items will vary.
Refund Policy
You can return any item you are unhappy with or have complaints about within 30 days of receiving it, as long as it is unworn and unwashed.
Because the shirts are custom ordered, however, you will only receive store credit for the purchase price - Shipping and Handling fees are non-refundable.
Customer Service Contact Info
Consumers with questions can submit questions directly to their website and receive a reply by email, or you can speak to a representative through their live chat feature. Unfortunately they do not have a phone number published at this time.
Reputation
As with many online retailers, the reviews of this company are mixed, with many positive reviews regarding the quality of the shirts, and many of the negative reviews focusing on the high shipping fees and long, slow shipping times.
Is It Safe?
At the end of 2013 there were some issues with the 6DollarShirts.com site security being hacked and some credit card numbers were accessed. The company promises that this issue has since been addressed and that their website is safe to order from.
Competitors and Alternatives?
There are other companies that offer customizable t-shirts online, like Zazzle.com or Threadless.

If you have any experience with 6 Dollar Shirts or their products, please leave your reviews below.
You may also be interested in
6 Dollar Shirts Customer Reviews