6 Dollar Shirts Reviews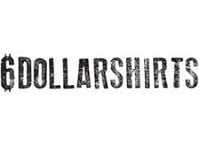 6 Dollar Shirts Customer Reviews

Julie W
Ordered over a week ago, no email confirmation from 6$shirts, but confirmation money taken from payment source. Sent 2 emails over 5 days to get order # and confirmation and absolutely no response. So much for their claim to answer in 12-48 hours. Not off to a good start.

Jimny s
I placed an order l week ago and have yet to get my shipping info. When i send e-mails no one responds and when i call the call center no one picks up. Spend your money elsewhere don't bother with this website.

Keri G
Excellent quality for $6. Fast shipping. Will definitely will order again!

Kevin W
Awesome website! Quick shipping and super high quality tees!
This company is the shiznit! Always get my orders sooner than expected and the shirts are insanely comfortable. Great deals and good customer service. Have never had an online company respond to my emails so quickly. Thanks guys! Keep up the good work!

Matt
EXCELLENT customer service by 6dollarshirts.com!!!!
We ordered shirts for a family gathering and realized that the shirts might not arrive in time due to weather-related delays. So we reached out to the customer service folks at 6dollarshirts and got a response right away. In fact, they were able to upgrade our shipping option to speed up the delivery and sent us a tracking number. Not only that, but their team kept us updated on the progress of our order - sometimes just good ol' communication and knowing that someone's staying on top of your request is all you need for peace of mind. At the end, we got our order just in the nick of time and had a blast at our themed-party! Will definitely order again!!! Thanks 6dollarshirts :-)

Mark J
Same issue. I saw the ordering process discarded my address and I emailed them immediately. They said they fixed it. Tracking via UPS transferred to USPS and although it shows as delivered to somewhere in TX, US...I never received the package.

Richard D
I purchased 6 shirts from these thieves.
After 2 days they provided a fake tracking number that has literally sat in Orlando for 10 days. The "shipment" never was accepted or moved. Indeed after 10 days their fake tracking number still shows no movement - it's still in Orlando.
Customer service is no help because it's not 2 weeks overdue.
As far as I can deduce they took my money, handed me a fake tracking number and never shipped my purchase

Kyle M
I've used 6dollarshirts.com twice now and had excellent service. Fast shipping, my items were correct, and the quality is the same as all those $22 tees you see advertised on Facebook and such.

Steven D
Trying to make me pay twice for their error
I ordered from this company a month ago. I had to email them to request an update and then they sent me the tracking number. Most companies do that up front. Then they sent me the address they shipped it to and it only had my town on it and not the actual address. Then they had the nerve to tell me that I would need to pay shipping again when it was their mistake