4Patriots Reviews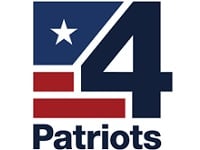 4Patriots is a Nashville, TN based company that specializes in survival food for people hoping to become more self-reliant and independent. Here's what you need to know.
How Does 4Patriots Work?
4Patriots sells a wide variety of emergency food and other equipment intended to help you deal with emergency situations or become more independent in general.
When it comes to survival food, they have several options. You can purchase items such as 72-hour up to 4-week survival food kits, or you can purchase freeze-dried food individually.
Their freeze-dried foods include things like berries and vegetables, as well as emergency food bars. Freeze-dried food is a great way to ensure you have a good supply of nonperishable food on hand. In fact, many varieties can last up to 25 years.
These are sold in one and four pack units and are designed to meet daily nutritional requirements according to U.S. Coast Guard standards.
The packs are heat resistant and have a five-year shelf life, making them a great choice for your bug-out bag or hurricane box.
4Patriots also sell a wide assortment of survival products, such as solar power chargers and generators, power cells or solar batteries to power your home or solar cooker.
For example, their Sun Kettle Solar Cooker offers a way to cook your food without electricity by using the power of the sun.
Although there are no air purifier options listed on the the website, you can find options for water filtration that can help get you through a serious emergency.
4Patriots also sells other essentials, such as tactical flashlights for example, which are essential to any emergency preparedness kit. The company also sells a 'Freedom Fridge', a refrigerator that can help keep your food cold during a power outage.
Cost and Price Plans
The cost of 4Patriots food varies and items are paid for individually. There are also Survival Kits starting around $27, but can be as much as $399 depending on the content and quantity. Supplies also vary in price.
Online Customer Reviews/Complaints
One of the customers' favorite features of 4Patriots is the fact that the company donates significant amounts of its proceeds to charity.
4Patriots donate to A Soldier's Child Foundation, a charity that helps the children of fallen soldiers, as well as to the Fisher House Foundation, another military-focused charity.
4Patriot products are generally well-received by consumers. For example, reviews of their battery pack state that the cell not only works well, but is an inexpensive and reliable option for charging your phone in an emergency. 4Patriots have a B+ rating with the BBB.
Customers also appreciate their fast shipping policy, where you can receive your order in as little as five business days.
There aren't many complaints about 4Patriots, but one common issue is that the foods aren't necessarily healthy or made of natural ingredients.
For example, the list of food bars ingredients is long and includes preservatives and food additives with unrecognizable names like delta tocopherols, tartrazine, pantothenic acid, and others.
The foods are calorie-dense, which is what you need in an emergency, but aren't necessarily the healthiest for you otherwise.
Customer Service
The company has a customer-centered approach that has worked well in its marketing and day-to-day functioning.
You can get a hold of a representative Monday through Saturday by phone at 1-800-304-4202. You can also email [email protected].
The return policy is relatively straightforward. All products are backed by a 365-day, 100% money-back guarantee.
4 Patriots states that if you're dissatisfied for any reason during the first 365 days after your purchase, just return the product to the shipping warehouse to get a full refund.
Where to Buy?
You can only buy 4Patriots products by visiting the company website. There are a small number of emergency food rations available on Amazon, too.
Competitors and Alternatives
When comparing 4Patriots to its competitors, you'll find lots of alternatives. Many customers make the comparison of 4Patriots vs. My Patriot Supply.
The companies are similar both in name and in function. My Patriot Supply specializes more in instant meals and long term food storage options, both of which average 2000 calories per day and can last up to a year. These are packed in rigid, sustainable buckets.
The main difference between the two companies has to do with shipping.
Although both companies are experiencing delays as a result of the global pandemic at the time of writing this article, 4Patriots seem to have a faster shipping calendar than My Patriot Supply.
The Bottom Line
If you want to purchase emergency food and equipment to keep your family safe and secure during a crisis, you need to invest in a company that has reliable sourcing and won't delay shipments for any reason. 4Patriots is one of those companies.
If you have any experience with 4Patriots or their products, please leave your reviews below.
4Patriots Customer Reviews