My Patriot Supply Reviews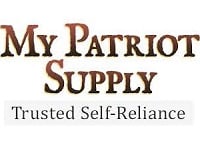 My Patriot Supply Review: Is it Legit?
My Patriot Supply, found at MyPatriotSupply.com, is an online store that sells survival gear supplies and consumables.
The company states their aim is to allow customers to meet their goals of self-sufficiency and emergency preparedness with affordable and quality products.
How Does it Work?
My Patriot Supply contrasts themselves with other survival gear companies which focus on fear mongering as a sales tactic.

These companies often produce videos and literature claiming that the country is on the brink of an impending disaster, and that organizations such as FEMA and the Federal Government can't be relied upon in times of such emergency and chaos.
Conversely, My Patriot Supply states they spend no money on marketing and fear mongering, but rather focus on making their products affordable
MyPatriotSupply.com sells products designed to be used in the event of...


Loss of power
Cyber attack
Natural disaster
Economic collapse
Hyperinflation
Supply chain breakdown
Outbreak and quarantine
Products
The company's first product was the Survival Seed Vault, which has a wide selection of individual survival heirloom seeds guaranteed to last in storage for at least five years.
It also comes with a guide to planting, caring for, and harvesting the seeds.
My Patriot Supply has since expanded their inventory to include home canning supplies as well as their own brand of survival food, 'Ready Hour', which are ready-to-go meal servings packaged to last more than 25 years in storage.
Finally, My Patriot Supply also sells emergency water filtration systems, featuring the Alexapure Pro® Water Filter, a gravity fed system that reduces up to 99.9999% of 206 known contaminants.


The full catalog of their products can be broken down into the following categories:


Emergency Survival Food
Survival Items
Water Filtration
Survival Coffee
Sprouting Seeds
Air Purification


An example of one of their best selling products is the 3-Month Emergency Food Supply from their 'Ready Hour' brand of survival foods.
This kit can provide one person with 2,000+ calories/day for up to 90 days. With proper storage My Patriot Supply states that the meals can be stored for up to 25 years.
The meals come in durable packaging and heavy duty buckets. My Patriot Supply advise storing an additional 39.06 gallons of water for meal preparation.
Food products from MyPatriotSupply.com can be ordered a la carte or in pre assembled kits, and also as individual side dishes, soups, fruit and veggie packs, coffee supply and more.
Customers can also choose to meal kits based on the required survival timeline or calories. For instance one of the meal kits is intended for emergencies of 72 hours or less
Cost and Price Plans
Creating a cache of food and survival items can be a costly endeavor, which is why it's advisable to create a budget and plan. For example the 3 month emergency supply kit costs $897.
My Patriot Supply claims to offer the best prices per calorie for their foods, but you should still do some independent price comparisons, especially if you already know the specific items that you need.
The company routinely sponsors talk radio hosts and popular podcasters like Glenn Beck, Dan Bongino, and Sean Hannity and offers discount codes there. You can usually find a coupon code or current promotion through one of their partners.
They also offer discounted items through their 'Deal Of The Day' option on MyPatriotSupply.com. Further, if you are a military member or first responder you can also qualify for a discount.
Customer Service
My Patriot Supply offers a 30 day no-questions-asked return policy. Items that are unused or unopened can be sent back for a refund.
The return address is 1175 South Meridian Park Road Suite A, Salt Lake City, UT 84104.
You will need to contact customer service first to initiate a return or exchange at their phone number 866-229-092.
The company provides free shipping on all orders over $99 which only applies to the 48 contiguous states.
Customer Reviews & Complaints
Online customer reviews for My Patriot Supply are mixed. The company has an A+ rating with the BBB, however it is not accredited by that platform and has some customer complaints listed with them.
On their own website and social media channels they have overwhelmingly positive reviews, yet some of the company's kits are sold through Amazon and have mixed reviews there.
My Patriot Supply has also been reviewed by many prepper/survival blogs who have generally given balanced reviews of their products, pointing out both the pros and cons.
The reviews can be broken down into two categories; the company's customer service and how the products actually performed.
Customer service issues commonly included packages which either arrived late or not at all. In less frequent cases some customers claimed to have issues with damaged food packages that they had to send back for fear of spoiled food.
In defense of My Patriot Supply customer service, many of these reviews came from 2020, just at the start of the global pandemic.
The company swamped with many last minute orders for survival items while supply chain operations were often suffering delays.
When it comes to the meal kits, some customers have stated that they enjoyed the meals and had occasion to use them in small emergencies or on camping trips.
The complaints regarding the meals come from users who believe the company may pad calorie stats for the meal kits with high sugar fillers like the orange drink.
Some customers were also not pleased with the ingredients in some of the meal packs. Other issues that have been brought up, and that you should consider, are the serving sizes and prep time.
Single users did not appreciate that most packages have 4 meal servings in them. This made it difficult to portion and store meals for one person.
It's also important to note that My Patriot Supply meals need to be cooked. Some of their meals require boiling water and cooking the contents of the package for up to 15-20 minutes.
In times of emergency you should also consider the additional cooking fuel required to cook these meals.
Finally, some negative My Patriot Supply reviews mentioned not enjoying the taste or consistency of some of the meals.
This is also why most prepping experts recommend that if you're going to stockpile survival food you should test it out ahead of time.
Competitors and Alternatives
After the 2008 financial crash and the Covid-19 pandemic there are a lot more companies offering preparedness supplies.
From these brands Mountain House stands out the most as they provide freeze dried meals that are quickly ready, have fewer fillers, and are more of an outdoors/camping brand vs survival focused.
Their meals are made with no artificial flavors or colors and have a 30 year taste guarantee from the time of manufacturing. There are several options for purchasing in bulk.
Mountain House


14-Day Emergency Food Supply - If you're looking for something a little more long term then this 14 day supply has 84 servings, enough for one person for two weeks.

This Freeze Dried Survival kit has a rating of 4.3/5 stars from over 20 customer reviews.
4Patriots (full review) - Another company that heavily advertises on conservative media. They have mixed to poor customer reviews and provide a cheaper product.
A lot of these companies use the same type of marketing, packaging, and advertising claims. When doing your research it's important to pay attention to the specific wording.
For instance, some meals are vaguely labeled to imply they have meat when they really don't.
Another example is of 4Patriots claiming their meals are packaged in the USA. While that may be true, it doesn't tell you where the food actually comes from.
Is My Patriot Supply Worth It?
Before spending thousands of dollars on food prep it's important to do as much research as possible.
Having a plan in place can help you stay on budget, not have overlap in your spending, and get the most for your money.
Emergency Meal Kits from companies such as My Patriot Supply may have a place in that plan.
If you're aware of the pros and cons you can use this service for the convenience it provides.
However, with more research and planning you may be able to put together your own version of a survival stockpile that can feature better products.
If you have any experience with My Patriot Supply or their products, please leave reviews below.
My Patriot Supply Customer Reviews