4Patriots Reviews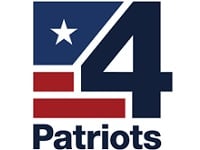 4Patriots Customer Reviews

Gerald M
Didn't Receive All of the Bonus Gifts Offered
The food came very quickly. Seems to be a good price compared to other companies' offerings. They offer a $25 gift certificate. I was hoping to accumulate them and then try some of their survival equipment. I've made 5 offers at least that I can find email receipts for but none of the boxes have a $25 gift certificate in them. They have a 20% savings code on the back of their catalog but this isn't the same thing. Beware of what they say they offer as bonuses.

John V
Everything was packed correctly for me. No spells.
Sorry to hear all the complaints.
I have no complaints. I have not tested the food.

Deanna S
I LOVE your food!! And it may seem expensive, but when you break it down into how many meals there are it really is NOT expensive, it's actually cheep!!
Now, I think the other things are a little pricy, but they work and they last a long time!! So when that is looked at compared to a cheap item, the pricy one out lasts the amount of money you have to keep spending for cheap one. And the best one will work in a time of dyer need!!!!

Denise S
Just ordered my 6th item from here Love them

Kira T
I received my order and when I opened the plastic storage box I was hit with the strong smell of oatmeal and maple. As far as I can tell those packages were not punctured but I question the packaging for something that is suppose to be good for 25 years. I shouldn't be able to smell anything.
One of the other food packages was punctured so that is garbage. There was dust from the product all over everything else. No response to the email I sent to the company.
I am thinking I now have two containers of questionable food that I spent hundreds of dollars on that will end up in the garbage because I do not trust it. Not happy.

Linda Z
I had some of the same problems as Brenda (in the review above) with the customer service. I finally got my solar charger about a month ago. I used it once to charge my phone. No problems.
Then last night I found myself in a rather frightening situation. I really needed the flash light! Well, it didn't work. I was so scared but thanks to my dogs the intruder ran away. I will never again buy anything from this company nor will I recommend it to anyone.
Also, they keep sending emails and texts touting their "wonderful" products. What a load of crap!

K T
The author didn't bother to even look up the "unrecognizable"ingredients! I knew right away that "pantothenic acid" is a 'B' vitamin, ANY "delta tocopherols" is vitamin E, and tartrazine IS AN FDA APPROVED COLORANT FOR PRESCRIPTIONS!!
Nice try attempting to make this company look bad. And no I do not work for them nor have I purchased their products. I was just looking for a decent review and found this ignorant article

brenda
I sent the generator back on 9-2-2020 , they received it on 9-16-2020 and received the solar on 9-15-2020.
I called them yesterday 9-24-2020 was on hold for over 2 hours listening to some God awful piano music that is enough to drive anyone insane. it literally drove me crazy!!
So today I tried a different approach I first called and pressed #2 to speak to someone about an order I had already placed after over 30 minutes I pressed the pound button "If you would like to receive a call back instead of waiting on hold. We can do that , you won't even lose your spot .!!
So I pressed the pound button. Then I call back only this time I press the #1 button to place an order !! Well, what do you know I was on hold for only about 5 minutes before someone picked up, an yet I still haven't received a call back on the first call. SO I NOT ONLY LOST MY SPOT , I HAVE YET TO BE CALLED BACK !!
The call were I did manage to get through was a bunch of run around, was told to call customer service, even though the # I had just reached that person at was the customer service #.
I'm very frustrated with the way you do business, You have no problem answering the phone to place an order but when someone needs support about an existing /previous order it is impossible to get through and even when I managed to back door my way in, I was given the run-around.
I just wanted to talk to a live person about the status of my refund !! Now I've spent 2 days of my time for nothing except a bad headache and a very very bad taste for your company left in my mouth !!

Dana J
I called to clarify my purchase of the generator. Brittany took my call and answered all my questions. I shared with her that I was very impressed with 4Patriots because on my previous ordered a month ago, one of the food packages had a year and within a week they sent me a replacement.
Brittany then said, because of the inconvenience on the previous order, I was getting a $100 refund. I was truly speechless. I didn't call for that and had no complaints, only praise.
I am proud to support an American company who in turn supports several other organizations for our men and women in service! Dana