YourScoreAndMore Reviews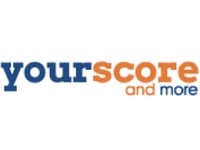 You may also be interested in
YourScoreAndMore Customer Reviews

Jen
One company masquerading as two
This company not only is a scam but a fraud. I ended up looking for a loan and had to get my credit score which brought me to them. $1? Ok fine and knew sis cancel. Well I ended up trying two different loans which had the same procedure but that time it was thru creditreview.com.
Again $1. Guess what, I went to cancel and canceled creditreview.com 1st and somehow when I went to cancel this company, it was magically already cancelled.
Not to mention when I called back a second time just to be sure this place, your scoreandmore, the lady said that it was I was calling creditreview.com. I paid $2 (I know onky $2 but that's not the point) to two different companies that are really the same company. They should be ashamed of themselves!

Lisa A
Don't sign up through them
They really deserve 0 stars they are a complete scam. I signed up, was charged then canceled immediately then weeks later get another charge. Their response was our mistake we will refund you. Once I cancel they should no longer have my account information. This is unacceptable beware if you go through them.

Cursta D
To cancel the subscription
I would like to cancel my subscription for your score and more. It is taking out a lot of money from the bank account and costing me money to put money back in the account.

H
Total scam they take money from your account without any authorization, $1 turns into $40 I want my money back!

Jerry W
BEWARE!!! Crooks and scam artist!!!! BEWARE!!!!
just got another monthly charge on my account that was definitely not authorized , I literally just cancelled my subscription two days ago and have the verification email to prove it!!
Now I have had to cancel my card because of a subscription that I didn't want to begin with, now I don't have access to my funds for a week because the account is under investigation for fraud!!!?
What am I supposed to do now???? I want compensation for this and I'm not taking about one month I'm talking about all of the money that has been deceitfully taken from my account!
I can't believe you have been getting away with this, times are hard enough as it is , don't know how you can sleep at night.

Peter G
These people are out to rip you off, I hope they are ready for leads litigation, because I am going to talk legal action against this company, for overdrawn my checking account several times

Patsy H
They took money out of my account 5 times this month. Trying to recoup funds, but after reading all these reviews probably isn't going to happen.

Margaret B
I don't even know how I got signed up or how they got my CC info. Who do I report this to?

Mitch B
Scam. Don't let guard down checking your accounts. These folks have ripped me off and have the means to steal credit card information. I never authorized this outfit anything and in shock California Regulatory isn't busting in their door.

Michael
Scam site. Will multi charge you and cant't get money back

James R
I did not subscribe to this service but have been charged for 2 months.
My credit card company provides FREE CREDIT SCORES. I WOULD NOT SUBSCRIBE TO THIS.

Erica L
I have tried to cancel after the 7 day trial but I can't even find the website when I type it I how it says on my card transactions

ERNEST B
this company stole from my account also, after signing up for $1.00 trial. They get your bank account number that way , then charge you the full monthly charge. refund is a JOKE, this is Legal Theft

Jonathan J
never realized it processed, no emails received- today i see they stole $20 from my account- trying to get a refund, waited 1/2 on phone then it went to vm, sent email, confidence low, ugh I