YourRent2Own.com Reviews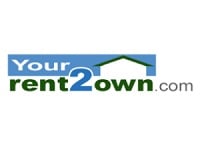 YourRent2Own.com is a website which promises to match prospective buyers with properties that are for sale by owners who are open to a rent-to-own arrangement.
A rent to own arrangement means that a buyer can rent the property before they purchase it. This allows them to put their lease payments toward ownership, not just rent, which means they will paying into their home's equity while renting.
This arrangement is particularly ideal for a potential buyer with less than perfect credit and who may have trouble qualifying for a traditional bank loan and would benefit from owner financing.
You can do a general search of potential properties in your area and receive a representative sample of available properties, but in order to get access to the listings on YourRent2Own.com you must register with the website.
Registering with YourRent2Own.com requires that you pay a $1.00 membership fee, which buys you instant access to their listings, as well as a 7 day free trial membership to the site.
If you do not cancel your trial membership within 7 days, you will automatically be enrolled in a monthly subscription, which costs $49.00 each month. You may cancel this subscription at any time and receive no further charges, but you will not be eligible for a refund of past charges.
In addition to simply connecting you with potential rent to own properties in your neighborhood, YourRent2Own.com will also provide you with articles and educational information regarding the best way to manage your rent to own arrangement.
If you have any experience with the YourRent2Own.com or their services, please leave your reviews below.
YourRent2Own.com Customer Reviews

Bernie S
For first time home buyers with credit challenges, this is a great start to moving in the house of your dreams and buying while living in your home.

Ellen1991
Can't cancel subscription next day.
They refused to allow me to cancel the subscription one day after I subscribed, after forcing me to cancel by phone. Then they tried to sell me life alert.

Steven R
Customer Service is non-existent! I told them I needed help understanding how to find listings in an entire state but they continued to display their lack of understanding of English! The site in-fact only allows a user to browse by one city or zip code at a time!
I tried reaching out to them for support but that was a waste of time. Canceling the account was a pain, the lady on the phone could not understand English!

DRE Y
John L helped me with great information and correcting a mistake on my part.
Patient and informative would recommend the service

sarah T
Very helpful, understanding, and polite people. Thank you so much.

Michelle
I used this site to browse some listings. The site was very up front, you pay the $1 for the 7 day trial and you will get charged $49.50 for after the 7 days if you do not cancel. I forgot to cancel and on the 8th day called to do so. They did offer me refund options and since the charge was still pending, were actually able to reverse it even though it was my mistake. I got info I needed and the terms were very clear.

Bill G
I am a retired Navy person with PTSD and beginning Altimzers. I foolishly put my debit card on their sight and lost $50 I have notified my bank they will handle it I hope

Jamie S
SCAM - HOW TO GET YOUR REFUND
Go to their site: YOURRENT2OWN.COM and under "CONTACT US" make a complaint. Make sure you inform them that you intend to request a FRAUD INVESTIGATION into the company from your credit card company if the funds are not refunded to your credit card IMMEDIATELY! Make sure you report it to your credit card company BEFORE you do this.

WatchDog
Membership Selling Scam!!
Be careful when you do membership setup and cancellation based on 7 days trial $1 only. which is " BAIT ".
This site is known as SCAM!!! Watch out for membership selling ($49/MO) linked and mixed with unnecessary credit report trial with $1 for 7 days , and $29/MO, too. They did not cancel the $49/MO membership when the 7 days trial consumer asks cancellations altogether but they only cancel the credit report service without revealing their scheme to charge monthly membership of " YOURRENT2OWN.COM" $49/MO to consumer's credit card account which they have already hooked upon 7 days trial - saying " ONE Dollar Only for 7 Days ", This is BAIT !! They never cancelled the
$49/MO charge under the name of Membership of this Great Scam Site ; "YOURENT2OWN.COM"

BB