YourRent2Own.com Reviews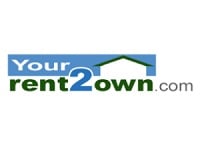 YourRent2Own.com is a website which promises to match prospective buyers with properties that are for sale by owners who are open to a rent-to-own arrangement.
A rent to own arrangement means that a buyer can rent the property before they purchase it. This allows them to put their lease payments toward ownership, not just rent, which means they will paying into their home's equity while renting.
This arrangement is particularly ideal for a potential buyer with less than perfect credit and who may have trouble qualifying for a traditional bank loan and would benefit from owner financing.
You can do a general search of potential properties in your area and receive a representative sample of available properties, but in order to get access to the listings on YourRent2Own.com you must register with the website.
Registering with YourRent2Own.com requires that you pay a $1.00 membership fee, which buys you instant access to their listings, as well as a 7 day free trial membership to the site.
If you do not cancel your trial membership within 7 days, you will automatically be enrolled in a monthly subscription, which costs $49.00 each month. You may cancel this subscription at any time and receive no further charges, but you will not be eligible for a refund of past charges.
In addition to simply connecting you with potential rent to own properties in your neighborhood, YourRent2Own.com will also provide you with articles and educational information regarding the best way to manage your rent to own arrangement.
If you have any experience with the YourRent2Own.com or their services, please leave your reviews below.
YourRent2Own.com Customer Reviews