VisiClear Reviews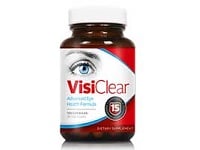 VisiClear is a health supplement (found at VisiClearUSA.com and TruthAboutVision.com) whose seller claim can help slow age-related vision decline and preserve healthy vision by using only natural ingredients.
You may be wondering if VisiClear really works. Let's find out.
How Does VisiClear Work?
The creators of VisiClear explain that mainstream eyecare currently comes in two forms, corrective (namely glasses and contact lenses), and interventive (such as laser eye surgery).
While these solutions may be effective, VisiClear creators claim that their product is a more natural and sustainable way to promote good vision.
The sales page at VisiClearUSA.com states that the supplement contains only organic ingredients and is made in the USA.
It is unclear if all of the organic ingredients are sourced in the US as well, or if the product is just manufactured in the US.
The website does not provide the full list of ingredients contained in the supplement.
Using images from Amazon, we found that the likely active ingredients are:


Spirulina (1000mg per serving)
Astaxanthin (12mg per serving)
a proprietary blend called VisiBlend (750 mg per serving) which contains a combination of Blueberry Extract, L-Carnitine, Grape Seed Extract, Bladderwack, Resveratrol, Lutein, and Zeaxanthin.


Again, since the company does not disclose the ingredients on their own website, we cannot be sure that this information is accurate.
The website makes a number of claims regarding the effectiveness of the product, such as that the supplement could help stimulate 'the growth of Adult Self Repair Cells', and 'fight the root causes and the symptoms of your Age-Related Macular Degeneration'.
It is unclear from the website if these statements have been evaluated by the FDA.
While there are studies that suggest a number of the ingredients in VisiClear are beneficial for vision, it is less clear to what extent these studies fully support the benefits claimed on the website.
VisiClearUSA.com provides links to several studies which suggest that ingredients like L-Carnitine, Lutein, and Zeaxanthin can be beneficial for certain eye conditions.
However, these studies refer to specific conditions such as macular degeneration and oxidative damage
Conditions such as near-sightedness, presbyopia, or age-related farsightedness have more to do with other factors such as the natural aging process and genetics.
It would be important that a customer is well informed regarding which condition specifically they hope to benefit from this supplement.
So while VisiClear makes claims to be able to heal blurry vision, cataracts, retinal damage, and more, the reality is that, in most cases, the supplement may be more effective at preserving eye health in those who already have healthy vision.
Customer Reviews & Complaints
VisiClear resellers on Amazon have mixed to positive customer reviews (ranging from 2.9 - 4.3 stars), though again, these capsules purportedly contain different ingredients than the ones sold on VisiClearUSA.com.
Customer feedback from VisiClear outside of Amazon is difficult to find.
Since the company promotes its product using affiliate marketers, it is difficult to distinguish legitimate customer reviews from 'promotional reviews' on affiliate websites that are looking to earn a commission for promoting the product.
Currently, VisiClear customer feedback on Reviewopedia is mostly negative, although from a small number of reviews.
Customer Service
TruthAboutVision.com lists the company's contact number as (855) 633-7169 and their contact email as [email protected].
The website also has a contact form and states that email support works normal business hours (PST) and replies with 24-48 hours.
For Refunds, the company lists its phone number as 844-200-2370 (PST Mon – Fri 9AM – 5PM) and it's contact email as [email protected].
Cost & Price Plans
On one of the sellers websites, TruthAboutVision.com, one bottle of VisiClear costs $69, three bottles cost $59 each, and an order of six bottles is priced at $49 per bottle.
Each bottle contains 120 capsules and the company's page states taking 3 capsules per day is recommended, making each bottle a 40 day supply.
The company offers free shipping and a money-back guarantee for 180 days, stating that the refund policy is 'no questions asked' and the customer will not have to return the bottles.
On Amazon.com there are also a number of resellers (Vitalina & S.O Labs) selling confusingly similarly looking products with different ingredients for much lower prices.
For example, Vitalina sells a 5 pack of a product called 'Official VisiClear Advanced Formula' on Amazon using the same images as found on the VisiClear website for $59.95. However, they list the ingredients there as:


Vitamin C, Vitamin E, Biotin, Magnesium, Zinc, Manganese, Chromium, Banaba Leaf, Guggul, Bitter Melon, Licorice Root, Cinnamon Bark, Yarrow Flowers, Juniper Berry, White mulberry, Vanadium, L-Taurine


It is not clear how these other brands are associated with VisiClear and the product promoted on VisiClearUSA.com.
Is VisiClear Worth It?
When looking at this product there are several red flags that are hard to ignore.
One red flag is that the company's website is not clear about what ingredients the capsules contain (or even how many capsules in a bottle).
We are only guessing what the ingredients are using other sources.
Their website is composed almost entirely of sales information and possibly unsubstantiated claims.
While the ingredients are beneficial for health and all organic (if the sales page is to be trusted) a question remains regarding price.
VisiClear is aggressively promoted by affiliate marketers using disreputable tactics such as fake news articles and press releases.
This type of promotion is often associated with companies and products that are not totally legit.
The sellers of VisiClear must also pay out a commission to these aggressive affiliate marketers for each sale, leading us to believe that the price for the product may be higher than necessary.
If you have any experience with VisiClear or their products, please leave your reviews below.
You may also be interested in
VisiClear Customer Reviews

Bobbyg
They're selling snake oil, it does not work. I took as directed for 120 days with no change in my eye sight at all.
And where's the refund site, I cannot find it!! When I bought it, the video said much better vision after 90 days and some people noticed improved vision after a few days, I'm calling BS on that!
The video makes you believe this guy has found an eye sight cure but as soon as I receive it I start to see cure all ads from them claiming they can cure just about anything, more BS!!
Don't buy this crap!

PATRICIA
I was sceptical.... Not any more happy....Happy....Happy
I've been getting injections in my eyes for macular edema for about a year now. Not much change. However, my last visit (after taking visiclear) for 6 weeks my macular edema is gone!!!!! No more injections in my eyes. I am soooo happy. Thank you visiclear

Josh J
working in ophthalmology within the NHS-allegidly involved in clinical trials [yeh,, no!]
As this is such an amazing product I am left wondering why the NHS are not promoting this product?? that is because it will not significantly offer improvements- if any at all.
Save your money,, if products like this worked the [sadly] bigger pharma would be all over products such as this.
Ultimately this ad plays upon the vulnerabilities of persons with sight issues,, frankly you should be ashamed. As for bringing religion into this- really,,, that is beyond low!

Eileen D
They say refund, no questions asked! But I can't find the refund site! Do you or do you not offer it? Please help me get my refund.

Roberta A
Have been taking it for almost 2 months now. No difference in vision. I was taking Areds2 - so I guess it's OK to take this instead until I finish the bottles and then go back to Areds2.
Unfortunately it does not say where they are made! my bottles say 14 ingredients and on the website I see that they have 15 ingredients. Yet when you read the advertisement, there should be more; most of the ingredients advertised on the website are not shown on the bottle. 'VISIBLEND"
What exactly does that mean? What is the complete blend? I'm not impressed.

Sandie M
After watching ad it mentions zebra fish and how what they eat but no ingredients shown with this miracle nor stem cell why !!

Hopeful F
I ordered the 6 month supply, they threw in a 7th bottle. I was trying to avoid eye surgery so I wanted to take most of the product before seeing my doctor again. As of last week, I'm now scheduled for eye surgery.
I called for my refund but was denied. The extra bottle put me over the 180 day guaranteed refund.
Gee, thanks a lot