Vacasa Reviews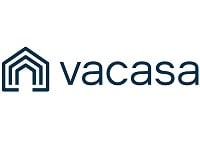 Vacasa is a vacation rental service where users can find lodging for trips that the company states are at a lower booking fee than at a hotel because you're booking directly from homeowners who would like to rent out their property.
Vacasa states it has desirable vacation homes spread all over the United States, Central America and South America as well as some locations in Africa and Europe.
How Does Vacasa Work?
The process is simple, whether you are looking for a property to rent, or attempting to list your property. Once you create your account, the process is smooth.
If you are searching for a vacation rental, all you have to do is input your desired location in the search bar. Afterwards, you will be offered a multitude of options in and around that location.
Once you do your research and decide on a place, all you have to do is make sure that your account is in order and you will be able to book. Similarly, the process for listing a property is just as simple.
All you have to do is access your account, supply the website with the information needed and wait for bookings.
Cost and Price Plans
The price really differs depending on your desired location, time of year and popularity of the property. However, rest assured that since it is not a hotel employing a staff of people, the cost is a lot cheaper.
Customer Service
Vacasa is extremely easy to contact, as all their company info is listed on their website under the 'Contact Us' tab. That said, call them at (503) 345-9399, email them at [email protected], or fax them at (503) 897-7036.
Their policies are all quite simply explained in their Frequently Asked Questions tab as well. As for their cancellation policy, if you cancel within 24 hours, you will receive a full refund. You will be able to receive said refund within 30 days of booking.
Online Reviews/Complaints
While the website makes Vacasa seem simple and safe, the reviews say otherwise. This website actually has an extremely negative rating, as many had complaints with it and claim it to be a fake, spam website. There are some good comments too, but those are limited.
Competitors and Alternatives
Vacation rental platforms are extremely popular right now and so, even though Vacasa has negative reviews, there are plenty of good, safe options out there with similar services to Vacasa.
The one that probably started it all is Airbnb. It is a vacation rental agency in which people can find rentals and put their properties up for rent. It is similar to Vacasa in many ways when you think about Vacasa vs Airbnb.
However, Airbnb is accessible in many more locations and is way larger of a company. This is both a positive thing and a flaw. It is positive as this company has had its time to grow and work out many of its flaws that inevitably arise.
On the other hand, this is a downside because, since the platform has grown so quickly, their scanning process is not perfect. As a result, it is not guaranteed that the property you rent or the people who rent your property will be everything you wanted.
Unlike Vacasa, the property is taken care of by the owners completely. This means Airbnb itself cannot confirm the state of the place. Also, your best option may be sharing your space with the owners and only getting a room.
Another example that is an alternative to Vacasa is TurnKey. Turnkey is extremely similar to Vacasa and Airbnb, except it is solely, currently in the United States.
If you compare Vacasa vs TurnKey, the latter runs similar to the former, so may prove as a good option to run alongside each other when researching properties in a specific area.
Evolve is marketing partners with Airbnb and again, works very similarly. What truly differentiates Vacasa vs Evolve is that the cancellation terms are a lot more flexible.
If you are planning a trip, but you are not exactly sure how certain you are, this may be the platform to book your rental through.
One thing you will realize with the competitors is that they are all very much alike and compared to Homeaway, there's not much difference. Basically, in all of these websites, you might be best off just figuring out which website's design and interface you prefer and stick to that one.
Your best option might be to go with a competing company with safer reviews. Since Airbnb is the most popular, it is most likely the safest. Albeit, the other three options may be just as good.
Where to Buy?
To make use of Vacasa's services, just head on over to their website at www.vacasa.com
The Bottom Line
Vacasa claims to offer a simple way to find lodging for your vacation. While this statement is true and it really is simple to find lodgings, it would seem that many have trouble with it actually following through.
There are many options for vacation rental services though, so it may be better to pick a site with better and safer reviews.
If you have any experience with Vacasa or their services, please leave your reviews below.
Vacasa Customer Reviews