Synbiotic 365 Reviews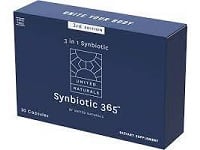 Synbiotic 365 is a probiotic supplement by United Naturals that was developed by Dr. Vincent Pedre, who graduated with honors from the University of Miami School of Medicine and has appeared on several medical shows such as Dr. Oz.
United Naturals markets a line of health supplements focused on gut and digestive health.
Products
Synbiotic 365 - Capsuled supplements containing both prebiotic and probiotic ingredients that are designed to boost gut health by promoting the growth of good bacteria.
The supplement itself contains a plethora of different vitamin Bs and natural ingredients, all designed for good bacterial growth.
The supplements come pre-packaged. They are relatively small compared to other supplements. This is deliberate so United Naturals can control the quality of the product.
Some minor side effects of taking the product may include occasional bloating and indigestion, but only for a minority of consumers.
GutConnect 365 - A dietary supplement containing nine superfoods intended to support improved digestion and a healthy gut lining.
The company states this supplement can improve energy levels and mood and decrease fatigue and digestive issues.
How Does It Work?
Synbiotic 365 works on the principle that the root cause for many of our bodily dysfunctions ( bowel discomfort, skin problems, etc. ) are caused by issues in the gut. Specifically, "bad" bacteria.
All Synbiotic 365 is trying to accomplish is create an environment that promotes good bacteria to flourish. Research has shown this is vital to health. They aim to create a microbiome in your gut that discourages the growth of bad bacteria.
The lack of good bacteria and the increase in bad bacteria is what causes many health problems either directly or indirectly such as by causing the leaky gut syndrome.
It not only only creates conditions that increase the chances of good bacteria growing (by using an advanced prebiotic formula). It also introduces those same good bacteria (by using an advanced probiotic formula).
It's recommended you take at least one Synbiotic 365 a day along with a glass of water or with your food.
Cost and Price Plans
The United Naturals website allows customers to purchase either one box or 3 box/6 box bundles. The price plans will vary depending on when you buy the product, but usually, you can buy the one box for around $50.
But you can get 3 boxes for around $120 which will save you a couple dollars or increase savings by purchasing the 6 box bundle which costs around $230 which would give customers around $50 worth of savings.
Also, if you decide to subscribe to their website you can get 10% off any purchase you make from United Naturals.
Customer Service
You can contact United Natural's via their phone number at 1-844-794-7728.
Their physical address is United Naturals, 1300 Altura Rd, Fort Mill, SC 29708
You can also reach a representative using their online contact form. If for whatever reason you are not satisfied, the company has a 60 day refund period from the date your credit card was charged.
You will have to send back used/unused products to their address listed above. Be sure to read all the terms of their refund/cancelation policy.
Customer Reviews & Complaints
Overall, Synbiotic 365 gathers overwhelmingly positive customers reviews for the product.
Whether it's placebo or not, individuals taking the product immediately feel improvements in cognition, gut health, skin problems, and other issues reported earlier caused by bad bacteria and good bacteria deficiency.
While the cost may seem to be on the pricier side, in relation to competing products, Synbiotic 365: Advanced Probiotic Formula is actually fairly priced.
Where to Buy?
You can buy the product directly from the United Naturals website.
Is It Worth It?
Ultimately, it's up to you to decide whether you think Synbiotic 365 is worth the purchase. The science on leaky gut syndrome and conditions pertaining to it is just recently reaching the public domain.
However, customer satisfaction with the product is positive. This gives this dietary supplement a ton of credit to its name.
If you have any experience with United Naturals Synbiotic 365 or their other products, please leave your reviews below.


You may also be interested in
Synbiotic 365 Customer Reviews