The Healthy Back Institute
The Healthy Back Institute Reviews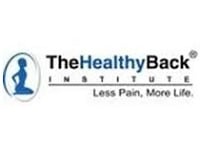 The Healthy Back Institute, found online at LoseTheBackPain.com, promotes "The 7 Day Back Pain Cure," a book by self-described leading back pain expert Jesse Cannone and intended to help people eliminate back pain.
How Does It Work?
According to the website, doctors and physical therapists only treat the symptoms of back problems without addressing the root cause. But pain is your body's way of telling you that something is wrong underneath the pain, and should be fixed.
Their book claims that there are two different types of back pain people experience, either tissue pain, indicating a problem with muscles, tendons, ligaments, or other connective tissues, or nerve pain, which presents as a burning, tingling, sharp, shooting, electrical, or numb sensation.
The 7 Day Back Pain Cure claims to show you how to figure out what is causing the underlying condition that is resulting in your back pain and then they will explain to you how you can fix it using a combination of diet and lifestyle.
Cost & Price Plans
The website says that The 7 Day Back Pain Cure book is actually free, but you will have to provide your credit card information to cover the $5.95 Shipping and Handling fee within the United States.
Customers who want the audio version of this book on CD can choose to order that as well, for an additional charge of $19.95.
Refund Policy
Products and items currently sold through The Healthy Back Institute website are backed by a variety of Refund Policies depending on the type of product you have purchased.
However, The 7 Day Back Pain Cure book is non-refundable at this time, as are the products sold with it, which customers might want to consider when decided whether to purchase the additional audio version.
Customer Service Contact Info
Customers who would like to contact Customer Service with any questions, concerns, or complaints can do so by phone at 800-216-4908 or by submitting them to their website through the Email Us link.
Reputation
This company seems to have a wide variety of many unhappy customers, with complaints ranging from the lack of quality of the 'experts' whose advice is being quoted in their books to the potentially more concerning complaints about their lack of business ethics.
Customers complain that they ordered their 'free' book and then began receiving monthly charges toward products on which they never authorized charges.
Competitors and Alternatives?
Books, programs, and guides to relieving pain and various other medical conditions using natural means, home exercises, and other methods that don't require professional physical therapy or prescription drugs have become very popular, and include, Logical Health Alternatives by Dr. Pescatore, and Natural Health Response for conditions like diabetes & arthritis.
If you have any experience with The Healthy Back Institute or their products, please leave reviews below.
You may also be interested in
The Healthy Back Institute Customer Reviews

John G
Scammers for Sure! STAY AWAY.
I cancelled my order as soon as I got the confirming email since there was product on the invoice I didn't order. Very sneaky of them. I also called my Bank and they froze the payment request and opened up a Fraud complaint against them. If they try to bill me again, the charge will be blocked.

John A
Free sample trap to gain your charge information.
Trap! Business model is to charge you product until you are able to cancel. They are unconcerned in the product works for your condition. Pity I could not give less than 1 or a negative star.

Karen K
I won't give even 1 star because I told them I did not want anything from them. I called them again even though I already called them to cancel everything and I'm still being charged and another thing came in the mail.

David G
Beware this company is a Fraudulent scammer!
BUYER BEWARE! I would give this company a 0 review if possible. They took me for $280.66 of there so called pain relief program. I have serious Degenerative Disc Disease in my lumber area. So I wanted to try anything that would prevent me from having back surgery since I know others who did have surgery and came out worse off.
I tried their free one bottle offer and ordered 3 other products from them totaling $280.66. I then returned all unused products for a refund to my VISA card. I have UPS proof that the items were returned on 10/18/22. My money was never refunded and they tell me that they did not receive the product back as of 10/26/22.
This company is Defiantly fraudulent and I will do all I can to report them to BBB, my credit card co. and the attorney generals office.

Dorothy M
Someone is trying to charge my CARD FOR ALMOST $100 & I Have NEVER HEARD OF THIS PLACE UNTIL NOW. AND I WAS NOT LOOKING FOR IT. SO A BIGGGGG YESSSSSSS ON SCAMMMMMMMM I'm reporting them!

Rick C
Rip-OFF warning
These jokers scammed me. I don't have back pain but these jerks have my credit card (which I now have to delete) They put through the phony order and charged my card. I was able to cancel it however, they must own other corrupt sites because this has happened before. they must have bought my info on the dark web and they use it.

George h
Unauthorised draw for 50dols

TK K
I take both of these products. I went to a 9-10 rating of pain in the morning in my back and knees, to a 0-2 at the most. I had a rep work directly with me to increase the dose for a limited time (2 weeks) and that really helped. She calls me back and checks on me. I have worked with customer service and they have always corrected any issues. More than pleased. I do not work for the company and if you have any questions, email me at
[email protected]
.

Julie B
Only 3 stars because I have not tried it yet.
Im surprised - only 3 reviews?
Two "against" and one "for", which sounds like it was written by the company. ???
Darn it - there are a LOT of people suffering with arthritis pain - including myself. I just wish we could know who - what company- what product is trustworthy and if it REALLY gives pain relief.

RodneyMarilyn J
makes me "hyper" plus, I ordered one bottle quite a few months ago tried to cancel my order, and they keep sending them to me...and charging to my credit card...(expensive to return the bottle, plus insurance to return..) No way, again..

Jennifer C
I've never had any problems with this company
I purchase Heal and Soothe and Super Joint Support for my arthritis pain.. You Vann try it for free. Try it out! The costumer service is superb. For example,I originally received the free bottle of Heal and Soothe ads it enrolls you into a monthly program in which you receive one bottle of Heal and Soothe a month. You can cancel at any time. You can also pause your program at anytime. Then,sometimes they offer special rates on Heal and Soothe if you buy a certain amount of bottles. Shipping is free on most orders except for the initial free bottle. I personally recommend this product for your arthritis pain.

A f
This company's terms and conditions are not clear, and therefore questionable. They in effect stole my money.
A little yellow box that does not need to be read or ticked does not constitute agreeing to the terms and conditions. I do not remember it being on the website that they later sent to me, but am pretty sure that I would not agree to accepting a newsletter at 19.95 each.
This company looked reputable, and I trusted their free offer of a book to see if they could help me. I should have been more wary, and now have lost $60. I sent their products back, unopened, but they will not refund them.
A business with such unethical practices is unlikely to care about my health, I would say..