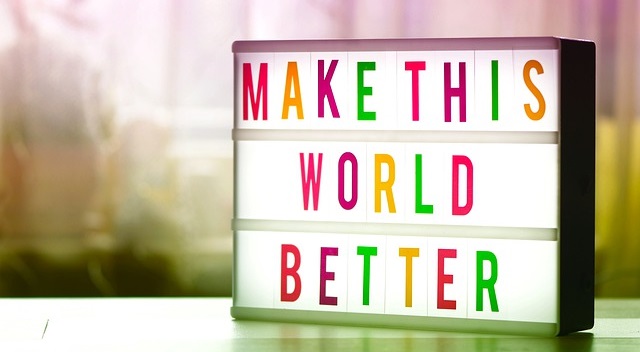 If you're like most other level headed people, you probably don't wake up in the morning with the goal of destroying the environment.
You probably don't want to harm children in third world countries, and you don't really want to deprive those who are less fortunate than you with equal access to basic human rights. You're probably just trying to make it through your day.
So when you head to your computer to do a basic Internet search, or to purchase a new pair of shoes, or even to spend money on a fun new outing, you probably don't think a lot about who those purchasing decisions affect.
Or at least, you probably didn't. In 2019, there are hundreds - if not thousands - of so-called philanthropic corporations who convince consumers to buy from them with promises that they will donate to charity.
There are others that claim to sell products that are less damaging to the environment - there are even search engines that promise to plant trees if you use their services!
But are these organizations legit - and more importantly, are they legit enough for you to go out of your way to buy from them?
Here's everything you need to know about whether corporate philanthropy is real - or just another buzzword.
What Exactly Are "Philanthropic Corporations"?
The idea of major corporations donating large sums of money to charitable organizations is not a new one.
In the past, corporations were known for contributing small amounts of money towards finding solutions that they themselves created - think Coca Cola's dedication to supporting youth athletics in underserved communities.
Today, the atmosphere has shifted - although the aforementioned practice is still quite common. But this idea of organizations who have philanthropy at their core is something new.
Here are some of the major examples of philanthropic corporations to be aware of.
Environmentally Minded Organizations
Climate change is real, and with that recognition has come a plethora of companies who are dedicated to the mission of saving the environment - one purchase or one click at a time.
Ecosia is one such example. This search engine began in 2009 but has become more popular in the last few years. Ecosia donates 80% of its search ad profit to planting trees, and the company claims that it has planted more than 7.2 million trees since the search engine launched.
There are also millennial clothing companies that claim to fight back against fast fashion or fashion manufacturer that implement unsafe or unethical manufacturing practices.
Allbirds, for example, is a shoe company that sells environmentally friendly footwear. Other shoemakers like VivoBarefoot and Rothy's Shoes are similar organizations, touting minimal carbon footprints (no pun intended) with their trendy kicks.
"BODO" Sites
BODO sites, or buy-one-donate-one sites, like Toms, Warby Parker, and Bombas Socks, are some of the newest on the charitable scene.
These companies tug at your heartstrings, using buzzwords to help convince you to buy a product. You have to do nothing in order to help the underserved - all you have to do is pull out your credit card and buy something for yourself.
Sounds like a pretty simple business model, doesn't it? It most cases, yes - and most of these organizations have honorable missions that are reflected in their modest profits and high-quality products.
Toms, for example, has served as a model for other companies who are hoping to embark on more socially conscious endeavors.
Charity Sites
There are also charity sites, such as Omaze, a privately owned company that raises funds for charities in two ways. You can book experiences with celebrities or win prize-based experiences.
When you purchase 60% is donated to charity while the rest goes to marketing expenses - plus, Omaze nets 15%.
Other charity fundraising sites include JustGiving and Rally Up. These corporations both help streamline fundraising efforts to make it easy to donate to various charities registered with the sites.
Both of these corporations claim to level the playing field and to make it easier for consumers to donate to the causes they care about most - but as with all businesses, there are operation fees and expenses.
Now that you've learned a little bit more about these acts of corporate philanthropy, you might be wondering - should I bother purchasing from them at all?
If you're asking yourself this question when you're trying to decide between a non-philanthropic and a philanthropic purchase, the most accurate answer is - it depends.
Ecosia, for example, does actually donate 80% of its profits toward planting trees. However, Ecosia, which uses Bing and Yahoo! To return its search results, has not been carbon neutral as long as Google, its major competitor, has.
Plus, Yahoo! and Bing have yet to begin powering servers with renewable energy sources - while Google does. So while Ecosia is clearly not a scam in any sense, it's important for you to weigh your options when it comes to your decisions as a consumer.
There are other companies, however, like Warby Parker, whose co-founder Neil Blumenthal claimed that "many of our customers have no idea that for every pair of glasses sold we distribute one."
So while some companies lean heavily on eco-friendly and charitable buzzwords in order to make a sale, others use their charitable acts as more of an afterthought in their marketing campaigns.
How to Tell If You're Being Conned
Want to know if you're being conned with buzzwords, or whether the corporation you are considering is actually legit? Sometimes, you won't be able to tell whether you're being conned or whether you're making a smart and charitable decision as a consumer.
Keep in mind that just because a company is making a profit, that doesn't mean it's not charitable.
For example, Allbirds sold stakes to investors at a valuation of $1.4 billion in 2018. Obviously, this company is doing quite well for itself.
However, that doesn't ultimately change the fact that the company is carbon neutral.
When it comes to buy-one-give-one companies or other product donation corporations, it's vital to look at the issue that the company is addressing.
In the case of Toms, for example, the company gives away a pair of shoes for every pair that you purchase.
Some critics argue that the problem in local economies isn't a lack of shoes, but a lack of jobs and by donating shoes to underserved communities, Toms is creating a monopoly that puts local shoe factories out of business.
Knowing whether a company is treating a symptom - and not creating a cure - for a problem is vital. Do your research and consider some of the resources we will mention below to help you become an educated consumer.
In the case of fundraising companies like Omaze, it's crucial for you to look into how the profits are broken down and divvied up.
JustGiving, for instance, was heavily criticized in 2017 when it was revealed that the organization took more than £20 million from fundraisers while paying staff up to £200,000.
As with all charitable giving, knowing how your money will be funneled through the pipeline is the best way to make sure you aren't scammed. Only you can decide whether it's worth it or not.
What's also important to remember is that these companies might not be selling you products or avenues to engage in charity - but instead might be marketing lifestyles.
If you want to view yourself as a philanthropic sort of person (perhaps one who might give the shirt right off of his back), it's easy to let a corporation do the work for you.
All you have to do is swipe your credit card. However, it's important that you do your research into how these companies actually operate.
There are essentially three questions you should ask yourself before donating or making a purchase. First, is the company legitimate? Does it represent something you support - and actually see a need for?
And finally, how will the charity use the donations that your purchase provides?
Resources to Help You Decide Whether to Buy
Here are some great resources to help you weed through all the marketing jargon.
All of the corporations we mentioned above are registered. However, if you're unsure of whether a company is legitimate, you can always check their standing with the American Institute of Philanthropy, GuideStar, or Charity Navigator.
These websites all help consumers find information about a charitable organization's legitimacy.
You can also check out the IRS Nonprofit Charities database. This will allow you to enter the name of an organization and see if it exempt. This won't always work with the corporations we listed above, because most of them draw profits - however, it's often worth a check.
Finally, you can always do a quick online search for the cause you are interested in donating to. A good method is to search for the name of the company along with words like "scam," "complaint," "rating," or "review."
If you see any red flags, it might be time to move on - no matter how good the corporation's buzzwords might be.
So are these philanthropic corporations making a difference and truly helping people - or are they using buzzwords to sway those of us who are more tenderhearted? The jury's still out - but it's up to you to decide for yourself.