Smile Direct Club Reviews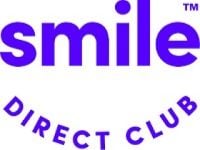 Smile Direct Club is a company that markets a brand of wearable teeth aligners using their proprietary Smart Sculpt and Comfort Sense technologies, as well as providing telehealth services such as doctor video chats and treatment notifications through their app.
How Does It Work?
According to their website, the creators of Smile Direct Club believed that everyone deserved a beautiful smile, which hasn't always been possible when traditionally the cost of correcting your teeth could easily break your bank account.
But Smile Direct Club realized that the recent innovations in 3D printing and telehealth could completely change the invisible aligner market.
To drastically reduce their prices when compared to other providers, the first thing they did was cut out the need for monthly dentist appointments. Instead, once their customers complete an initial evaluation with a licensed professional that clears them for this treatment, they will never need to visit a dentist again.
All aligners will be made off of the at home dental impressions. Because this system isn't immediately overseen by a doctor, it is only appropriate for people who need minor to moderate teeth correction, including space between teeth, crowding, rotations, and some bite correction.
Depending on your particular issues, your treatment may take between three and ten months.
Cost/Price Plans
The ultimate goal of Smile Direct Club is to make sure that their system is affordable for almost any budget. To do this, they price their initial evaluation at just $95 to see if you are a good candidate for their system.
If you're, their full treatment plan is priced at $1500, no matter what the specifics of your treatment are. They say that their customers are really paying for an outcome, not for the specific treatment they are receiving.
Finally, at the end of all treatments you will need to purchase a retainer to maintain your new smile, which they sell for $99.
This company also offers their customers a payment plan, saying that their SmilePay feature asks customers to pay $299 up front and then $99 per month, and this plan requires no credit check and charges no interest.
Refund Policy
This company actually does provide their customers with a surprisingly good Refund Policy, given the nature of their products. Any customer who goes through the $95 dollar evaluation and is determined to not be a suitable match for their invisible aligner system will be refunded their evaluation fee.
However, it is important to note that this is only an option for those who do the evaluation – customers who do not show up to the evaluation or who cancel less than 24 hours beforehand will not be refunded their fee.
In addition, if you are currently a member and you decide to for any reason to cancel your service, you can return any unused Invisible Aligners and you will be prorated a refund of the cost of any remaining, unused aligners left from your total purchase price.
However, all shipping charges are still the responsibility of the customer.
Customer Service Contact Info
Customers who wish to contact Customer Service with questions, concerns, or complaints can do so by phone at 800-848-7566, by email at [email protected], or by submitting them directly to their website through their Contact Us link.
Reputation
This company seems to have mixed reviews at this time, but generally it seems as though this system is pretty well liked.
That being said, customers can tell from the provided Before and After photos on the Smile Direct Club website that these aligners are genuinely intended to fix the smallest of problems when it comes to tooth alignment.
Many of the reviews stated that they were good for people who had traditional braces as a child but had since stopped wearing a retainer and had experienced some slight movement.
Other people said that they had been told their whole lives that they did not need braces but they never felt fully comfortable with their smile until after this product. If you have a more significantly noticeable problem, you will need to speak to a professional.
Competitors and Alternatives?
As discussed on the Smile Direct Club website, there are many other alternatives for people who either don't want to use this system or who aren't good candidates for it, including traditional braces or the original Invisalign system.
Customers may want to speak to their dentist about the best options for them before committing to any specific option.
If you have any experience with Smile Direct Club or their products, please leave your reviews below.
You may also be interested in
Smile Direct Club Customer Reviews