SilverScript Reviews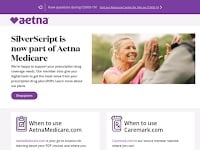 SilverScript, now part of Aetna, states that they are dedicated to improving quality of life for all Americans with their Medicare Part D prescription plans.
How Does It Work?
According to their website, SilverScript was established in 2006 as an insurer chosen to help launch the Medicare Part D program and has since grown to become America's largest stand-alone Medicare Part D insurer.
SilverScript says that they offer their customers a choice of two stand-alone prescription drug plans that are designed for people who simply need coverage for a few prescription medications throughout the year, as well as those who need several medications to treat chronic conditions.
Their website says that their plans offer 3,200 covered prescription drugs with an additional 16% savings available on 90 day supplies, as well as preferred pharmacy pricing with reduced copays and available coverage in the Medicare Coverage Gap.
And customers shouldn't have to worry about their pharmacy being included because they promise a nationwide network with over 66,000 pharmacies, meaning that your home pharmacy should be covered, as well as whatever pharmacy you may need to use if and when you travel.
Cost/Price Plans
Just like any other insurance plan, the specific price that you will be asked to pay in monthly premiums will depend on your own personal information, but their website does say that prospective customers will be able to see estimates of the annual deductible and monthly premium of each plan in your state by entering your zip code.
Their website also says that both of their insurance plans offer a $0 deductible so that customers can access their benefits on Day One.
Refund Policy
Insurance companies do not provide their customers with a standard Refund Policy the way you might find at different service providers, but they may offer their customers a Cancellation Policy that provides people with a window of time where they can cancel their policy enrollment and receive a refund of their first premium.
Customers may wish to speak to a company representative about this option if they are unsure of whether or not this policy will be the right one for them.
Customer Service Contact Info
Customers who would like to contact Customer Service with any questions, concerns, or complaints can do so by phone at 866-362-6212.
Reputation
This company doesn't receive the best reviews at this time, as there are many customers logging complaints about their experiences online.
Most of these complaints are related to this company's Customer Service team, which is regularly described as being difficult and unhelpful, and other complaints have to do with the costs and coverage of this company.
Some customers complained that the monthly costs were so high that this coverage simply wasn't worth it, while others said that they took the available coverage only to find out afterwards that some of their regular prescriptions weren't even covered by their plan.
The bottom line seems to be that any prospective customer considering this plan will want to work directly with an agent to see exactly how this coverage will and will not meet their needs before they decide to enroll in one of their plans.
Competitors and Alternatives?
There are many different insurance plans which work as additional Medicare coverage and include a Part D prescription plan, so customers who feel that this plan is not right for them will have other options in their state of residence.
If you have any experience with SilverScript or their services, please leave your reviews below.
You may also be interested in
SilverScript Customer Reviews