Signals.com Reviews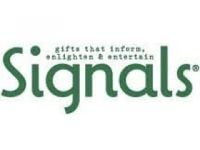 Signals.com is an online retailer of a vast selection of products and creative items that are meant to be used as "Gifts that Inform, Enlighten, and Entertain."
How Does It Work?
According to their website, the goal of Signals.com is to offer their customers a large variety of creative items that reflect the themes celebrated by Public Television: History, Nature, Education, Science, Art, and Music.
Their goal is to produce and sell products that are high quality items which "invoke though and discussion" and which inspire people to continually learn.
In addition, they strive to make sure their collection is unique enough that the gift you purchase here will not be found elsewhere.
Just like at any other online retailer, customers can go to their website and search for a specific product they are interested in using the website's search feature, or they can choose to look through the inventory of products by category, including Home, Clothing, T-Shirts, Jewelry, Accessories, Outdoor, New, Clearance, Sale, and more.
Cost & Price Plans
This company obviously offers such a large number of products and items for purchase, that there is no way to quote a single or static price range for the things you will find on this website, especially when sales and promotions are taken into consideration.
However, customers will see that all prices are clearly displayed on the product page before they choose to finalize their purchase.
Refund Policy
Because this company sells such a large number of products, they do have a widely varied Refund Policy as well, though most products purchased on this website will be eligible for refund, though personalized items cannot be cancelled or returned, unless they arrive with an error.
Personal care items, intimates, and footwear must be returned in original, unworn condition within 60 days, while home furnishings can only be returned within 30 days of receipt.
Regardless of what items you would like to return, customers must first contact Customer Service and fill out all the available returns forms present on their website.
Customer Service Contact Info
Customers who would like to contact Customer Service with any questions, concerns, or complaints can do so by phone at 800-669-5225, by email at [email protected], or by submitting them directly to their website through their Email Us link.
Reputation
Unfortunately it seems as though this company doesn't have the best reviews at this time.
There appears to be many customers who have been extremely disappointed with the quality of the products they purchased here, and more than one customer who complained that their product never arrived and that Customer Service wasn't helpful.
Competitors and Alternatives?
Certainly there are many other companies and websites available which sell products of all different kinds, intended as gifts and presents, as well as other companies that provide products that are intended to be meant as educational or inspirational gifts.
Customers that are unable to find what they want on this website are likely to be able to find it elsewhere.
If you have any experience with Signals.com or their products, please leave your reviews below.
Signals.com Customer Reviews

Lisa R
Wish I could give less than 1 star! Ordered a gift to be sent, purchased gift bag with personal message, asked that price of gift not to be included with package, clearly specified recipient's address as "ship to". Thanks to Signals, this gift was sent to ME (not to the "ship to" address) in a cheesy wrinkled bag, no gift message. Reached out to customer service without positive results. This was my first and LAST experience with Signals--they are bad news.

Eileen
Item not gift wrapped and impossible to get credited
Ordered a gift and paid extra to have it gift wrapped. When gift bag was added to the order, the shipping charge and tax also went up.
Item arrived at the gift recipient address unwrapped nor was there a gift bag included, even though it was listed on the packing list. I contacted via the online form to get a credit for the bag and extra shipping charge/tax, but no response.
I then chatted with someone online and after checking into it, she confirmed a credit would be made that same day. Then they closed the chat window so fast that I was unable to get a screenshot because, as I expected, there was no email sent of the chat transcript, so I have no proof.
That was two weeks ago and I still do not have any credit on my credit card. When you look at the reviews on their website, they are all 5 stars! Yeah, right! Obviously they delete or filter them. This company's business practices are shady and I will never purchase from them again, and will tell all my family and friends the same.

Laura
Missing items, poor Customer Service policies
I ordered an outfit for my mother in another state to wear to Christmas dinner. (A problem arose with what she was planning to wear.) I paid for expedited shipping on top of a hefty regular shipping fee & assured her everything would be OK.
The order arrived without the pants, thus further complicating everything. On the packing slip the pants were circled & underlined. When I called Customer Service about it, they cheerily said they would ship the pants out & they would arrive in 5-7 business days.
Not the Expedited shipping I had originally paid for. Not "Oh, we're so sorry! We'll send them expedited so she gets them ASAP."
When I asked for my shipping charge back, they reluctantly offered me a "ONE TIME Curtesy Refund" of 5 whole dollars. They would not refund my $38 shipping fee because "some of the items got there" & made it sound like they were doing me a BIG favor by giving me that. I am very frustrated & I will never order from them again!

Josephine T
Non existent customer service
placed several large orders, some items came some did not.
I spent hours on the phone trying to get my complaint handles. She would not resend told me I would have to go online.
Would not credit or refund.
Caveat emptor this company.
I would never purchase an item from them again.
Nonexistent customer service

Brad
Overpriced and Poor Quality
Way too many products are poor quality and also over-priced. You can't trust the reviews on their site because they filter the negative ones. I expected to pay a bit more due to the nature of their business, but was very disappointed in the quality of what I received. If you buy from them, do an independent product review search on a different site before you buy.

TomH
Ordering a product over a month ago, I was never notified the order had been canceled unilaterally! If I hadn't checked i never would have known. Worst situation weeks before Christmas! Thanks NOT !

Ed M
Product was priced fairly and was delivered in a reasonable time. But I've been swamped with spam since then. Yes, there is an "unsubscribe" link, but unlike most reputable companies, Signals requires you to re-enter your email address to allegedly unsubscribe. Why would a company that already has your email address ask for it again? Most companies that do that, do so to compile a list of address they sell to other companies.

David L
Horrible customer service
I don't think anyone at Signals has a birthday because they have no clue that a birthday gift needs to arrive on time. And whoever manages shipping and logistics at this company should be fired. I live in CT and I ordered an item that was shipped from the company warehouse in Mass. The item was shipped to CT and then for some reason shipped to CALIFORNIA before arriving a week after it was supposed to arrive. NEVER ordering from this company again.

Valerie K
Sizing is off, quality is poor and shipping costs are not refunded.
I ordered a printed tee shirt that said "Underestimate me. That'll be fun". When I received the shirt, the lettering was gray and faded looking, not white. I was assured that the unisex size small would fit, as I am a size 4 or small in a women's top. I couldn't get the shirt over my shoulders.
The material tag says "Gildan heavy cotton". This is a cheap, lightweight material. Lastly, the shipping cost was $8.99, which was excessive but I wanted this shirt. There is no reimbursement for the shipping cost. If shipping was $5.00 or $6.00 I wouldn't mind having to eat that amount but $8.99 is excessive.
Needles to say, the shirt is being returned and I will never order another item from this company.

April G
I purchased several things. One item was replaced randomly with another item. Never got what I wanted. Also, what I have received is junk.

Lori T
Horrible Customer Service. Outrageous shipping costs.
I ordered three items over a month ago. I received on of them promptly, three masks for $22.45. The other two items were continually on backorder and were meant as Christmas presents so I canceled those and bought them on Amazon.
I was charged $16.99 for shipping for three masks that I could have shipped for about 5 bucks. I went back and forth with customer service and the agreed to refund me $5.00 which was never credited back to my account. So with tax, I paid $42.60 for three masks.
There also doesn't appear to be a way to go over customer services head. If you ever receive a Signals catalogue and see something you like, go to Amazon. They likely have it and their CS is much better.

Diane
I purchased two tee-shirts on December 2, 2020. It is now December 13th, and the tee-shirts are STILL being prepared to ship. What does that mean exactly?
I called the customer service number and sat on hold for over 20 minutes. While holding I was also trying to chat on-line. FINALLY someone answered back and said to hold on a second.....23 minutes later Brenda finally came back and said my order hadn't shipped yet, "but would be in a few days".
I am contacting my bank tomorrow (December 14) to request fraud on my card and get my money back. I realize it's a busy time of the year, and more people are on-line shopping, however....REALLY?

Cathy
Terrible Customer Service
I'm not sure how this site "reviews" their reviews...I am certainly shocked to see the 5 star reviews, which makes me want to be sure to review them elsewhere, on some less biased site. First of all, many of the items labeled in a certain way in their catalogue come labeled differently. For example, a "bookstore" item (a bit pricey at over $40) came in a box labeled "Sam's Study". "Not a big deal", according to the representative I spoke to..."I'm not sure why they label things differently sometimes, but they do". Maybe not a big deal if you are not ordering a gift specifically for a bookstore employee...but definitely one if you are. I wound up photoshopping labels onto the box. In addition, before ordering a personalized tee-shirt, I called the company to be sure where the pre-printed portion ended and where my personalization began. After checking, I ordered the shirt, which came in unusable condition due to the repetition of print because the company representative misrepresented which portion of the shirt was pre-printed. Upon calling the company, the representative had quite an attitude, and told me to return the shirt and they would replace it, but of course, not in time for Christmas. When I explained that using the return label would cost me 7.95, and a trip to the post office for SIGNALs error, she told me they would waive the fee, and to just leave it in my mailbox. Obviously, the representative did not reside in New York City, because when I explained to her that that's not the way things are done here, and I would have to go to the post office because of THEIR error, she said "No, just leave it in your mailbox." Okay, so packages get stolen here everyday and NO ONE picks up things left in the mailbox...I guess whatever. Also, I am unsure why the erroneous shirt needed to be returned at all. It is obiously only useful as a rag. When other sites have made obvious errors (e.g. "Out of Print"), they APOLOGIZED, sent a corrected one RUSH, and said not to bother with a return.
Bottom line? First and LAST time I will order from Signals.com. I understand that mistakes happen, as they have with other companies, but I have gotten much better customer service from other website/companies. I suggest, if you are looking for quirky, unique or personalized items, go to Etsy or Out of Print. BTW, don't be surprised if this review does not show up on this website...I can't imagine 582 five star reviews being the only input. I will also be posting this review on other reviewing sites. BUYER BEWARE!!!