Signals.com Reviews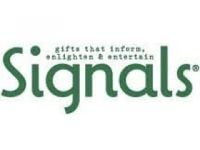 Signals.com is an online retailer of a vast selection of products and creative items that are meant to be used as "Gifts that Inform, Enlighten, and Entertain."
How Does It Work?
According to their website, the goal of Signals.com is to offer their customers a large variety of creative items that reflect the themes celebrated by Public Television: History, Nature, Education, Science, Art, and Music.
Their goal is to produce and sell products that are high quality items which "invoke though and discussion" and which inspire people to continually learn.
In addition, they strive to make sure their collection is unique enough that the gift you purchase here will not be found elsewhere.
Just like at any other online retailer, customers can go to their website and search for a specific product they are interested in using the website's search feature, or they can choose to look through the inventory of products by category, including Home, Clothing, T-Shirts, Jewelry, Accessories, Outdoor, New, Clearance, Sale, and more.
Cost & Price Plans
This company obviously offers such a large number of products and items for purchase, that there is no way to quote a single or static price range for the things you will find on this website, especially when sales and promotions are taken into consideration.
However, customers will see that all prices are clearly displayed on the product page before they choose to finalize their purchase.
Refund Policy
Because this company sells such a large number of products, they do have a widely varied Refund Policy as well, though most products purchased on this website will be eligible for refund, though personalized items cannot be cancelled or returned, unless they arrive with an error.
Personal care items, intimates, and footwear must be returned in original, unworn condition within 60 days, while home furnishings can only be returned within 30 days of receipt.
Regardless of what items you would like to return, customers must first contact Customer Service and fill out all the available returns forms present on their website.
Customer Service Contact Info
Customers who would like to contact Customer Service with any questions, concerns, or complaints can do so by phone at 800-669-5225, by email at [email protected], or by submitting them directly to their website through their Email Us link.
Reputation
Unfortunately it seems as though this company doesn't have the best reviews at this time.
There appears to be many customers who have been extremely disappointed with the quality of the products they purchased here, and more than one customer who complained that their product never arrived and that Customer Service wasn't helpful.
Competitors and Alternatives?
Certainly there are many other companies and websites available which sell products of all different kinds, intended as gifts and presents, as well as other companies that provide products that are intended to be meant as educational or inspirational gifts.
Customers that are unable to find what they want on this website are likely to be able to find it elsewhere.
If you have any experience with Signals.com or their products, please leave your reviews below.
Signals.com Customer Reviews