Shift.com Car Sales Reviews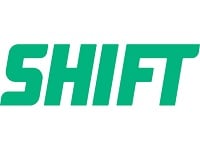 Shift.com Car Sales is a company which states that they are rethinking car ownership by giving both car buyers and sellers a simpler, more convenient way of working with car transactions.
How Does It Work?
According to their website, Shift.com is aiming to bring trust and simplicity to the used car market by working with algorithms that regularly track market pricing of all used vehicles currently for sale.
In doing this, Shift Care Sales states they can provide both car buyers and car sellers with an accurate market value of their car after just a few questions.
After using the Shift.com estimator to get a quote for your car's value, you can proceed with the process by scheduling a more in depth evaluation of your vehicle.
After this evaluation you may get an adjusted value estimate if needed. Then, if you agree to the sale Shift will pick up the vehicle and transfer payment via ACH bank transfer.
For car buyers, a Shift.com employee will physically bring the car to your homes facilitate a test drive and answer all questions. They will also manage the pricing negotiation if a customer is interested in making an offer.
They also offer their buyers the benefit of knowing that every car which is sold on the Shift platform has gone through a 150+ point inspection, which all customers will have access to.
Shift promises to carefully review service records, vehicle history reports, and any other important ownership details.
Cost/Price Plans
Using this website to look for cars that are currently for sale and which you might be interested in buying is completely free of charge. What sellers will pay for this platform to manage their car sale is a little less clear.
When this company launched, they announced that their car sellers would be guaranteed a minimum sale amount, and when they sold a car for more than the guaranteed amount, this profit would be split between Shift.com and the seller.
However, the goal of Shift.com was always to move away from this kind of earnings structure and to instead earn their money from the different optional services they provide to car owners and sellers, such as mechanical or body work.
Refund Policy
This website does not appear to post an official "Refund Policy," per se, which is not uncommon for a company that deals with vehicle sales.
They do, however, tell their car sellers that all payments will be held for up to 7 days to ensure that the car buyer does not change their mind and arrange to return the car, so it does appear that buyers have a small window in which to return the car if something occurs to change their circumstances.
Customer Service Contact Info
Customers who would like to contact Customer Service with any questions, concerns, or complaints can do so by email at [email protected]
Reputation
This platform currently only operates in select cities in California, so it is not that surprising that there are not many reviews available from customers who have used this service to buy or sell a car at this time.
That being said, the few reviews which are available do appear to be very positive in nature, both from car buyers and from car sellers, and most car sellers do say that they were able to sell their car during the initial 30 days of listing.
Competitors and Alternatives?
There are many websites that facilitate the sale of private owned cars to new customers, including Vroom.com and CarsDirect.com, and even websites that work with dealerships will also facilitate sales between private buyers and sellers, like AutoTrader.com or Yahoo Auto.
If you have any experience with Shift.com Car Sales or their services, please leave your reviews below.
You may also be interested in
Shift.com Car Sales Customer Reviews