SANE Vitaae Reviews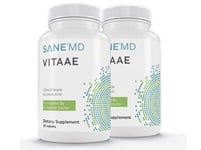 Vitaae Review: Legit or Scam?
Sane Vitaae throat phlegm supplement is a nutritional supplement from SANESolution, a health and wellness company based in Washington.
Vitaae is marketed as a doctor formulated and research backed remedy for a variety of seemingly unrelated issues, including helping to clear throat phlegm and coughing while also improving mental clarity, concentration, and lifting brain fog.
Advertising for SANE Vitaae claims that it can get at the root cause of such symptoms, which is argued to be brain inflammation.
Below we take a closer look at this supplement to see if the research supports the company's claims, take a look at real customer reviews, and discuss whether we think SANE Vitaae is legit or a scam.
About SANESolution
The company was founded by Jonathan Bailor, an author and entrepreneur, who states he wanted to create an easy to follow system for health and weight loss.
Bailor's SANESolution diet program aimed to prioritize intuitive healthy eating without the gimmicks of modern fat loss diets.
Subsequently the company has grown to be a leader in metabolic healing and diabesity treatment and have also expanded to marketing a line of science backed supplements and superfoods.
In addition to Vitaae their other notable supplements include Viscera-3™, Luminae™, and Aamia™.
How Does Vitaae Work?
SANE Vitaae is based on the idea that inflammation in the brain can wreak havoc on many of the body's key systems.
Serious brain inflammation, known as Encephalitis, can be the result of many different factors:


serious injury
viral infection
autoimmune response
Insect bites

Encephalitis is associated with symptoms such as:


Confusion, agitation or hallucinations
Seizures
Loss of sensation or being unable to move certain areas of the face or body
Muscle weakness
Problems with speech or hearing
Loss of consciousness
Severe headache
Fever

In these cases urgent medical treatment is necessary and highly recommended.
It's more common that people experience a from of low-grade brain inflammation with less severe symptoms usually brought on by:


An inflammatory diet
Poor gut health
Mental Stress
Lack of sleep
Autoimmune disease
Inflammation from peripheral organs
Metabolic disorders
Other lifestyle factors

These factors stress your brain's defense systems creating what Vitaae advertisement calls "Leaky Brain."
Presumably referring to the permeability and breakdown of the Blood Brain Barrier (the brain's defense against toxins) which is associated with neuroinflammation.
Many experts agree that supporting your brain's protective systems while limiting immune triggers, along with certain lifestyle changes, can help lower brain inflammation.
Scientific Support for Vitaae Ingredients

Bioavailable Folate - Folate (vitamin B9) is a nutrient involved in many critical roles in the body.
It aids in protein metabolism, cell production, and breaking down the amino acid homocysteine (harmful when present in high amounts) and is critical for women during pregnancy. [1]
The daily recommended dosage of folate is 400 micrograms.
Most people eating a relatively healthy diet will get enough folate from food, especially since many food manufacturers fortify breads, cereals, and other foods with folate.
SANESolution points to a study that links folate deficiency and the immune system. Their takeaway is that folate deficiency can lead to decreased resistance to infections.
There are other studies linking high homocysteine levels to increased incidence of dementia and Alzheimer's, along with a link between low levels of folate and increased risk of dementia.
However, according to a Harvard medical article, more research is needed as there are no prolonged clinical trials showing that folic supplementation prevents either of these diseases or improves cognitive function. [2], [3]
Vitaalmind Proprietary Blend™ - Includes L-Carnitine, Acetyl-L-Carnitine, and Omega 3 fatty acids.
SANESolution claim these ingredients are beneficial for fat loss, relieving fatigue, and improving cognitive function.
The company points to a small study conducted on centenarians that concluded,


"levocarnitine produces ...an increased capacity for physical and cognitive activity by reducing fatigue and improving cognitive functions."

Another study linked to by the SANE Vitaae website goes over some promising research on Omega 3 as a treatment for mood disorders and depression.
However, the study concludes that, while promising, more research is required investigating how effective Omega 3 fatty acids really are in this regard.
Citicoline - Citicoline is a naturally occurring compound in the body, but has also gained prominence in the supplement market based on its history of use as a memory improving drug.
SANESolution points to a study done on sixty women aged 40 to 60 that tested citicoline supplementation against a placebo for performance on an attention test.
After 28 days the study found that the groups receiving 250mg or 500mg of citicoline doses "... showed significantly better ability to produce correct responses on the continuous performance test-II."
An interesting note is that SANE Vitaae only contains 100mg of citicoline per serving in its formula, significantly less than was used in the study.
Additional research also points to citicoline as potential treatment for people with cerebrovascular disorders or with memory problems.
There is more research to support some of the claimed benefits of Citicoline and its neuroprotective effects and support of key neurotransmitter production.
MicroActive CoQ10 - A powerful antioxidant that exists in the body helping to produce energy.
It's another popular supplement that some believe can help with certain heart conditions. Another reason for its use in supplements is because our body's natural production CoQ10 decreases with age.
In Vitaae CoQ10 is used for its immune boosting function, citing a research paper that states,


"CoQ10 plays a significant role in boosting the immune system and physical performance, as tissues and cells involved with immune function are highly energy-dependent and therefore require an adequate supply of CoQ10 for optimal function." [4]
Vitamin D - Vitaae includes a healthy dose of Vitamin D at 5,000 IU's.
Vitamin D plays critical roles in the immune system. Low levels of Vitamin D are also associated with inflammation and its deficiency is also prevalent in autoimmune disease.
Overall, there is a good amount of research to support some of the claims made by SANESolution regarding their Vitaae supplement.
One area that lacks support is for statements regarding throat phlegm and coughing.
Aside from the general immune boosting and anti-inflammatory properties of some Vitaae ingredients, the company does not point to any studies showing that these ingredients have a direct effect on phlegm reduction.
Vitaae Side Effects
If taking any medications always consult with your primary care physician before starting a new supplement, especially ones containing CoQ10 as it can interact with some medications.
Some people sensitive to CoQ10 may have minor side effects such as diarrhea, headache, nausea and skin rashes.
CoQ10 can also interact with some common medications and may result in difficulty sleeping if taken at night.
Another thing to keep in mind is your folate intake, as too much may be an issue in some cases.
Customer Reviews & Complaints
At this time the main source of Vitaae customer reviews comes from SANESolution's own website.
When analyzing products we try to prioritize customer reviews from independent websites over a company's own website as those are usually tailored to highlight customers' positive experiences.
To their credit, SANESolution posts both positive and negative customer reviews and you can read about how some users felt no noticeable changes from taking Vitaae.
Customers posting positive customer reviews mentioned that they:


Felt Sharper
Had improved memory
Noticed an increase in energy

SANESolution has an A+ rating with the BBB and a customer score of 3.5/5 from 30 customer reviews on that site.
The company has 24 customer complaints in the last 3 years and 13 complaints in the last 12 months.
The bulk of complaints submitted to the BBB dealt with the ordering process, in which customers stated that they unknowingly agreed to upsells of more product than they intended to purchase.
Here on Reviewopedia.com our initial SANESolution review includes similar negative feedback from customers regarding:


poor customer service
confusing ordering process
misleading return policy
On Amazon Vitaae gets mixed customer reviews, amounting to a rating of 3.6 / 5 stars from over 1,500 customer reviews.
Customer Service
If you have any questions or issues you can use their online chat feature to speak with a representative or call the SANESolution support number at (347) 979-1735.
Vitaae is backed by the SANESolution One Year Guarantee.
If you are unhappy with the product you can reach out to customer service at [email protected] to request a return authorization number and initiate a refund.


Note: Customers are responsible for shipping costs of returned products. If you're requesting a return more than 90 days after the date of purchase any approved refund will be in the form of a SANESolution gift card.
The company lists it's physical address as:
SANESolution LLC
60 W 2nd Ave #100
Spokane, WA 99201
Is Vitaae Worth it?
We think the premise behind SANE Vitaae is based on sound principles.
Clearing up inflammation in the body has the potential to improve symptoms from many health issues and may prevent future illness.
Now, can Vitaae do everything that the company claims? Based on the available research and customer reviews of the product we find that's unlikely.
On SaneSolution.com a graphic proclaims that Good Diet + Daily Exercise + SANE = Results.
We agree that if you don't include a good diet and daily exercise then simply taking Vitaae will not rid your body of inflammation.
Some of the best research backed actions that you can take to limit brain inflammation include:
An anti-inflammatory diet
Regular exercise
Reduction of chronic stress
Improve sleep

So while there is some research that supports the ingredients in Vitaae, lifestyle changes have the potential for greater results.
For instance, one 2018 study found that a healthy diet is one of top four non-drug treatments for reducing systemic inflammation and the risk of Alzheimer's disease.
More research is being done on the gut brain connection, showing that what you eat can influence your brain and affect things such as:
Mood
Cognition
Stress
Neuroinflammation

Finally, while SANE Vitaae has some research to back the company's claims of cognition and memory improvement, there were no cited studies showing direct links of the ingredients to reducing throat phlegm and cough.
In addition to decreasing inflammation some additional natural options that you can try for decreasing throat phlegm and improving respiratory health include:


Trying herbal supplements such as licorice root, ginseng, berries, or echinacea pomegranate
Staying hydrated and drinking more hot beverages
Using a humidifier
Saline nasal spray
Avoiding dehydrating drinks like coffee and some teas
Avoiding processed foods, dairy, artificial sweeteners, sodium, and thickening agents
Eating more anti-inflammatory foods high in Omega 3 fatty acids like salmon

Vitaae does have a high dose of immune boosting Vitamin D and Omega 3 fatty acids, which are beneficial if you can't these nutrients from diet alone.
Ultimately, since lifestyle changes can have dramatic health benefits they should be prioritized over supplementation.
If you decide to try Vitaae keep in mind that if you are pregnant, nursing, taking medication, or have any medical condition you should consult with your doctor first.
If you have any experience with SANE Vitaae, please leave your reviews below.
You may also be interested in
SANE Vitaae Customer Reviews

Karen H
The product and their deception.
I would caution people to understand the misleading guarantee that Sane Solutions has on the purchase of their products. Their order forms indicate that they are backed by a One (1) year 100% MONEY BACK GUARANTEE! The truth is that if you are not receiving any relief with their product it must be returned within 90 days of the original purchase date to have your credit card credited with the purchase price, otherwise, they will only issue you a gift card in the amount of your orginal puchase to spend on their products. It goes without saying that this is a very deceptive practice as this information should be in clear sight for you to read. Shame on Sane.