Roundhouse Provisions Morning Kick
Roundhouse Provisions Morning Kick Reviews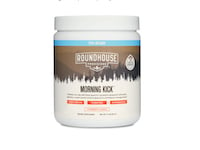 Reviewopedia is supported by our readers. This page contains links through which we may earn a small commission for purchases.
Roundhouse Provisions Morning Kick is a new daily supplement backed by renowned martial artist and film star Chuck Norris.
The product advertisements depict the actor, now in his eighties, full of vigor and good health proclaiming the benefits of certain superfoods that have helped him look and feel his best.
The presentation goes through why he developed Morning Kick and how it can help people improve their digestion and overall health.
Below we take a closer look at the ingredients, product quality, and customer reviews to see if it's worth buying or not.
How Does Morning Kick Work?
The video from RoundHouse Provisions follows a similar format to many other direct to consumer supplement ads.
To their credit, they refrain from making any overblown claims about what this supplement can do unlike many of their competitors.
In the video Chuck Norris explains what he believes are the "3 Internal Enemies"
of good health.
Compromised gut
Lack of nutrients
Rapid aging
He then explains that a lot of these issues are caused by and can be healed through a person's diet.
However, while possible, it can be a daunting task to make sure you consume these foods daily and in enough quantities to make a difference to your health, and in many cases unrealistic for busy working adults.
Morning Kick is meant to provide a convenient solution to this dilemma, providing customers with:
Prebiotics/Probiotics for improved gut health
A superfood blend to reach daily mineral and vitamin levels
And Collagen and Ashwganda to improve aging and joint aches
Ultimately claiming that it's like combining 10 supplements into 1.
Ingredients and Benefits
Below are some of the key ingredients in Morning Kick along with links to research supporting their health claims.
Fiber Blend featuring Organic Jerusalem Artichoke Inulin 4g- This root vegetable has been long regarded for its many health benefits and the inulin it contains is a powerful prebiotic. [1]
It can help regulate digestion while simultaneously feeding the good bacteria in the gut which can in turn lead to additional health benefits. [2]
Some of its other benefits include potentially aiding in blood sugar regulation for diabetics.[3]
It is also a good source of potassium and may aid in weight loss due to its appetite suppressing properties.
Bovine Collagen Peptides 2g - Collagen is a vital protein that supports the strength, structure, and elasticity of skin, bones, tendons, ligaments, and cartilage.
Over time natural production of collagen in the body slows down which is why it's a highly popular ingredient in a variety of oral and topical supplements.
It has been used to help with symptoms of osteoarthritis, improve gut health, support muscles and tissues, improve sleep, and help with skin appearance.[4]
Greens blend 500g - The greens blend used in Morning Kick feature ingredients common to most green supplements such as: spirulina, Kale powder, wheat grass, and chlorella among others providing a good source of vitamins and minerals.
Ashwaganda 200mg - This herb has been used in traditional and Ayurvedic medicine to promote better mood, provide relaxation and better sleep, treat stress and anxiety, and improve immune function.
Modern science is starting to provide research supporting some of these claims, in albeit limited studies. For instance several small studies showed it has beneficial effects on stress and anxiety.[5] [6]
Probiotic Blend Featuring Lactobacillus Rhamnosus 5 billion cfu - Probiotics are widely used to support gut health by introducing healthy bacteria to the microbiome.
This particular strand is very popular in supplements and has been shown to encourage healthy gut flora while preventing bad bacteria from colonizing. [7]
It has also been studied for its role in weight loss since it also has appetite suppressing effects and can mitigate some food cravings. [8]
Overall, there is a lot to like about Morning Kick. It provides a solid foundation of healthy ingredients and doesn't rely on exotic ingredients to justify untenable health claims.
Issues and Side Effects With Morning Kick
As a general precaution, if you are taking multiple medications or have serious health risks, always consult with your doctor before starting a new supplement as negative interactions and side effects may occur.
In general Morning Kick includes safe ingredients, however some people experience digestive discomfort from taking too much Inulin.
Ashwagandha may also cause gastrointestinal discomfort and other side effects in certain cases. [9]

Some other issues to consider are whether RoundHouse provisions include ample doses of certain active ingredients in this formula.
For instance if you look up other lactobacillus rhamnosus supplements they usually contain 10billion or more CFU of the strain. Same with other Artichoke supplements.
Finally, many nutritionists and proponents of supplements recommend only using organic and grass fed bovine collagen. This ensures that you are getting a better and healthier product.
Customer Service
If you have any questions or concerns you can reach RoundHouse Provisions by phone at 888-872-4548 or via email at [email protected]
The company address is:
22647 Ventura Blvd,
Suite 2016
Woodland Hills, CA 91364
Returns
There is a 90 day money back guarantee for Morning Kick. Unsatisfied customers will have to return the original container back to the company at their own cost to be eligible for a refund.
Online Reviews/Complaints
Being a relatively new product there is not much online customer feedback at this time.
There are a few discussions about Morning Kick on Reddit. There, the few customers who have taken the product report having more energy, feeling better, and noticeable reduction in appetite.
Some of the cons mentioned were regarding the high price of the product and several users reported feeling bloated as they adjusted to the supplement.
Competitors and Alternatives
There is no shortage of celebrity endorsed health foods and supplements on the market. With all the options out there choosing a daily supplement can be a daunting task.
One approach is to use supplementation to fill any gaps in your diet and address specific needs/areas of concern.
Some other popular options include the following:
If you are interested in one supplement that covers all your bases, AG1 is the current favorite of many health experts.
Similar to Morning Kick it provides a green superfood base but with an incredible 75 vitamins and minerals. It also includes an Herb and antioxidant blend that has many adaptogens including Ashwangdha and also contains probiotics.
The downside is that all these extra ingredients and certified lab testing that AG1 does comes with a higher price point. You can find AG1 on Amazon for $139 for a 30 day supply.
On the other hand if you are just interested in a high quality Collagen supplement Vital Proteins makes some of the best products around.
Their Collagen Peptides come from grass fed and pasture raised cows and contain 20 grams of protein. It is also an Amazon Choice product and has an impressive 4.6 out of 5 rating from over 240,000 customer reviews. It costs $38.68 for 27 servings.
Is RoundHouse Provisions Morning Kick Worth it?
Overall this supplement uses a lot of ingredients that have research supporting their health benefits. The company also uses fairly straightforward advertising that doesn't make egregious claims about their product.
While Morning Kick is sold at an average price point, many competitors feature formulas with much higher doses of active ingredients and better quality ingredients.
If you have any experience with Morning Kick, please leave your reviews below.
You may also be interested in
Roundhouse Provisions Morning Kick Customer Reviews