Q Grips Reviews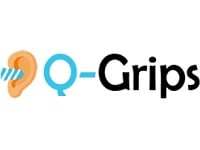 Q-Grips is a ear cleaning device that the seller claims is a breakthrough, easy-to-use ear wax tool.
The seller states it works gently without damaging the ear canal, using a massaging tip that is proven to be safer than an ordinary cotton swab (or "Q-tip").
How Does it Work?
When you use a Q-tip, you will clean out some of the wax, but you'll also push some of it further back into the ear canal, up against your eardrum, possibly causing an earwax blockage that can not only be painful, but dangerous and difficult to remove.
Q-Grips claims to work in a different way. It has a spiral head and works with a gently turning motion to remove earwax without pushing or pressure.
Once you're done using a spiral tip, you either clean it or snap a new one on.
Cost and Price Plans
Q-Grips are sold at QGripsEarWax.com for 2 for $39.95 up to 10 QGrips for $149.95. Shipping for any purchase is $3.95.
According to the company's website, all purchases are backed by a 90 day guarantee - with the return shipping paid by the customer.
Customer Service
Q-Grips has a customer service department that can be reached via email at [email protected].
You can also call the customer service phone number during support hours at 1 (855) 236-8072.
Online Reviews & Complaints
Reviews of Q-Grips are mostly negative, with the only positive reviews found on their sales page and other affiliate sites promoting the product.
We found several reviews that claim the products are too expensive and come with no instructions.
Despite the fact that the website claims to ship these orders with 16 replacement heads, many customers report not receiving them at all.
The cleaning tips are said to be quite flimsy and since return shipment is so expensive, it's often not worth the effort to return the product.
The consensus from reviews on our site is simply that this product does not work, is cheaply made plastic, and worst of all may be dangerous to your ears.
Competitors and Alternatives
If you're looking for a better way to clean excess earwax from your ears, there might be better ways to do it than with Q-Grips.
Most doctors recommend leaving your ears alone - after all, ear wax is a natural cleanser to prevent things like dirt and debris from infecting your ears.
However, you may occasionally need to get earwax out of there. For the most part, doctors recommend using simple water and perhaps baby oil to clean your ears.
Other homeopathic professionals recommend ear candling.
If you aren't feeling that exotic, you might want to try the Gentee Ear Wax Removal Tool or the Creation Farm Ear Drops for Wax Removal.
Gentee is a lot like Q-Grips in that it utilizes gentle silicone heads to clean your ears.
These are pain-free and available on Amazon. They have an ergonomic handle and a design that fits easily in your ear.
Another option is the Creation Farm Ear Drops.
These soothe your ears and don't require you to jam tools unhealthily into your ears. Plus, they are enriched with natural herbs and olive oil to calm irritation and remove wax.
The Bottom Line
The product may be a good idea, but the manufacturer's somewhat shady online reputation has us concerned.
Q-Grips is being sold through multiple websites, so it's difficult to determine which one is legitimate and which one is a scam (if not all). Some of the sites in question are QGripsEarWax.com, Q-Grips.com, and QGripShop.com.
While the websites redirect you to the same purchasing page, they have distinct designs that leave us feeling confused and skeptical.
There are also a number of identical looking products sold through Amazon from a variety of sellers.
As is often the case with these kinds of products, you have multiple sellers buying cheap items at wholesale then simultaneously branding and marketing their own "versions."
While we do not recommend this product, if you insist on trying it, you'll be better off purchasing through Amazon which will provide you some additional consumer protections.
If you have any experience with Q-Grips, please leave your reviews below.
You may also be interested in
Q Grips Customer Reviews