Q Grips Reviews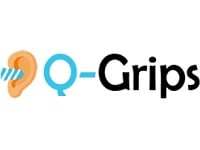 Q Grips Customer Reviews

Julie A
This is a complete scam, it is rubbish and expensive rubbish at that. The weird thing is their customer service department works efficiently. As soon as you complain they offer a partial refund so that you don't have to return them.
I can only assume that they make enough profit even with the partial refund to make a living. Then they are ask you to review their customer service!

paul s
Use less bits of overpriced plastic, any reviews of more than 1 star must be written by members of staff

Dwayne H
total rip off..do not buy...i won't even try to get refund cuz it will be more of a hassle than just eating it

Linda
I paid $40 for two pieces of cheap plastic garbage???
I received my two Q-Grips Earwax Tools today, and I have to say they are totally useless. First of all, the quality of the "tools" (and I use that word loosely) was so cheap, I was shocked, especially since I paid almost $40. Next, I proceeded to use it, and when I inserted it into my ear, the spiral tip was so soft, it could not even turn to get any debris out.
When I called the number given on the only slip that came in the package,I spoke to a nice female CSR who said I could mail the package back, and I would be refunded my money but not the shipping charge, or she could refund 65% of what I paid, and I wouldn't have to return the items.
I said I have a better idea: tell the company what they can do with the 65%, and I will report this ripoff scam to the Better Business Bureau and also my credit card company.
We cannot let bogus companies like this one get away with selling cheap Made in China products that are knowingly inferior and don't work. The rating for this shouldn't even be one star.
I urge anyone else who comes to this website to write a review to do everything you can to help stop this from happening and get your money back.
This is not over...

Renee P
This is a stupid, non-functional product! I believe it IS a scam and a huge rip-off. I just called and told them I want a refund.
Of course they said they couldn't. So I said I'm going to put the worst review for your product to prevent other people from thinking this stupid wax remover does anything, let alone get some wax out of your ears.
They agreed (after my threat to refund $19.95 after charging me $55.58. "Oh, I will refill $19.95, but can't refund any shipping or handling fees."
Screw you Q grips. I'm going to find a way to report them to the BBB.

gary k
complete rip off ! do not work at all ! this garbage is not worth 25cents!