Puritan's Pride Reviews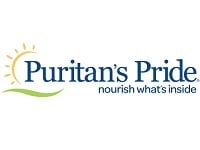 You may also be interested in
Puritan's Pride Customer Reviews

Lee
I have been with Puritan Pride for years and I asked for a one-time cancellation and they refused to do it saying their hands were tied. The status of the order was pending/not shipped but they could not do anything.

Talo S
I began buying Puritan's Pride since 2018, I went to my Uncle's funeral in San Diego, Ca. I met all my Uncles on my Mom's side, and all of them were on a wheelchair or walking with a cane. I asked one of them if this is through the blood and he said yes. I got back home in Arizona and began my search.
Since then, I'm 72 years old and still walking like a 40 year old. So, Puritan Pride is legit, and God bless this American Company.

Gretchen P
Great company for supplements
I have been using puritan pride.
Vitamins and supplements for almost 50 years. They are made in the United States, which is great. I have never had any problems with customer service returns or not getting my products. I highly recommend this company.
Gretchen Payne

Jim S
Fraudulent Business Practices
I recently purchased one of their "buy 1, get 3 free" for vitamin B12. The bottles had about a dozen lozenges in them. When I combined all 4 bottles, I could still see the bottom of the bottle. Not even 1/8th full combined. Whichever manager or CEO that allowed this fraud should resign or be fired. I would rather pay full price for a full bottle than be hoaxed. Unless there is some serious housecleaning of management, I will never use this brand again.

Dmitry S
Irresponsible company. Terrible customer service.
I used to order vitamins from Puritan's Pride for several years and I thought it is respectable and reliable company, but...
I live in Russia and I have to pay for international shipment. That's why I always try to order for about $100.
It is clear, if I buy 1 product with $10 price and pay $17 for the shipment in fact I get that product for $27, but if I buy 10 pcs for $100 and pay $25 for the shipment one piece is $12.5.
They sent last package without some ordered product. Nobody told me before the package was sent that some position is out of stock. If they did - I would change order and keep average cost of vitamins including shipment in a resonable limits. But they didn't warn me and informed me when I could change nothing.
They refunded money for the absent position but as a result I've bought vitamins 50% more expensive (with a glance of shipping cost) than I ordered! Nice difference!
Moreover, shipment cost with such a cut order had to be cheaper but they didn't cut it for the less weight.
I wrote to Customer Help explaining situation. I hoped they compensate my loss by some way but the answer was "We are sorry, bla-bla-bla, please order again."
Who would buy again after that? I don't want to get vitamins 50% more expensive than I paid for.
Shame on you, Puritan's Pride!
P.S.
After this review (on another platform) I got reply from the company. They refunded $5 for wrong shipment cost and sent $5 as apology.
Nobody in Puritan's Pride tried to calculate how much I really lost. I wrote to them again with detail calculation but they don't need to keep loyal customers: still no answer.

Rick H
I got three bottles of the Red Panax Ginsens Extract and have been taking it for a month now. All it can tell that I am getting out of it is that it is turning my poop to light brown paste.

Larry D
Customer Ordering Center now located in South Africa
I have been a customer of Puritan's Pride products for over 20 years. While placing an order most recently I learned that they had outsourced their Customer Ordering business to a firm in South Africa. This is not the Puritan's Pride with which I have been dealing with for such a long time. So, I contacted them via email and was told the South Africa handles their "overflow" when the New York Customer Order Center is busy. Now, I have attempted to contact their New York Customer Order Center and have had no success at all, instead I keep getting the one in South Africa...strange, huh. As they both use the same number 1-800-645-1030, you cannot specify the Customer Order Center you wish to use. Should this continue to be the case, Puritan's Pride will lost my business and I will advise others of their current practice as well.

Mike W
Don't buy from them, bad ingredients.
I bought 5 bottles of Passion Flower pills. They were not Passion Flower. I have taken passion Flower for years from a different company, and decided to try Puritan's Pride because they were cheaper. It wasn't even Passion Flower. I suspect it was Melatonin instead, and I cannot take Melatonin as it makes my blood pressure go up seriously and have AFIB. I had to throw out all 5 bottles. I wouldn't give Melatonin to my worst enemy. It's poison. I was very unhappy that they are using fake or replacement ingredients.
Do NOT buy from this company. You don't know what you are getting, and it could kill you.
Mike.

Jordy
Fraudulent Pricing and fake "sales"
This company has fake and fradulent "sales." For instance, their coconut oil is normally $8. But during a BOGO sake, it is $15.99. And during a Buy four, save 65℅ sale, it shows the original price to be $27$ and the special deal by buying four - saves you nothing.
The vitamins are good, but their sales tactics are shameful.
Look elsewhere.