Pure Flix Reviews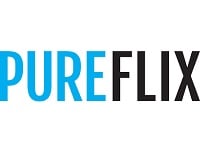 Pure Flix is a subscription-based video-streaming platform that focuses on Christ- and family-centered content.
A hub for family-friendly videos on education, hobbies, health and fitness as well as documentaries, Pure Flix offers a wide range of content suitable for all ages.
How Does it Work?
Just like other subscription-based video-streaming platforms, Pure Flix offers several tiered membership plans through both a monthly or a yearly subscription.
Pure Flix content can be streamed on a computer, tablet, TV, mobile phone, as well as on a Roku device or an Amazon Fire Stick.
The profits made by Pure Flix are distributed among the several charitable foundations they support, such as Adopt Together, which helps narrow the gap between families wanting to adopt and children in need of families.
They also support Reboot, which helps veterans overcome their struggles and integrate themselves back to their loved ones as well as Association Gospel Rescue Mission, which aims to provide meals, shelter and even counsel for victims of substance abuse.
Products
With the purpose of being an alternative to other subscription-based video-streaming platforms, Pure Flix offers a lineup that will give families a clean, fun, wholesome experience.
Pure Flix offers videos on essentially five different categories: educational, faith, kids, movies & short films and series. Have a wonderful time with your loved ones learning more about the world with educational videos on Pure Flix.
You will find everything - from animals, biographies, documentaries, geography, health, history, government, language, science and nature. Hours upon hours of educational material are available on Pure Flix.
Pure Flix has a wide variety of videos on Christianity too, including content about church history, the creation, revelations, prophecies, evangelism, Jesus, missions and missionaries, relationships, the power of prayer and Bible stories.
Pure Flix makes it easier for parents to choose videos for children because the website categorizes the videos by age brackets such as one to four (1 to 4), five to seven (5 to 7), eight to twelve (8 to 12) and for teens.
Parents can rest easy knowing that Pure Flix has already pre-selected suitable content for children of all ages.
Cost and Price Plans
There are two types of memberships available at Pure Flix. The first type is a monthly subscription, where you have to pay and renew your membership for $10.99 every month to enjoy their content.
The second type of membership that Pure Flix offers is the annual subscription worth $99.99.
This type of membership has to be renewed only once a year and the worth of the annual subscription is estimated to be 24% cheaper than renewing a monthly subscription throughout a year.
If you wish to commit to Pure Flix, feel good knowing that you can enjoy your first month's subscription for free as a trial period. This free trial period is given regardless of which type of membership you choose to subscribe to.
Customer Service
There are a couple of ways to get in touch with the Pure Flix support team. You can call them up via phone on their customer service phone number which is 1-844-426-3549.
Their website says that if the phone agent was not able to help address your problem, an advanced support staff member will respond to you via email within 24 hours.
You can also reach their support team via their email address [email protected] Contact them anytime and expect a reply within 24 hours except on Sundays. In the event that you decide Pure Flix is not for you, the website makes it easy to cancel subscription anytime.
Simply go to the website and log in to your account. Once inside, go to My Account and select Cancel My Subscription and confirm. This can be done either through the website or their app.
Online Reviews & Complaints
The majority of the reviews and opinions on Pure Flix are all positive. People enjoy the wholesome content available and are surprised as to how extensive the available content is for the platform.
Reviews on other platforms such as Amazon are saying that most people do enjoy Pure Flix, giving it an average of 4.5 stars online. Subscribers are also happy knowing that the proceeds are going to charitable foundations.
The only criticism found regarding Pure Flix is that it has a substantial amount of content with Protestant views, which may have a few contradictory points to Catholic families teaching their children on their own faith.
Competitors and Alternatives
Subscription-based video-streaming platforms are not a new concept and there have been several available for some time now.
The most popular of all of these might be Netflix.
However, while their selections are often praised for quality, not all their content are suitable for young ages and family viewing like Pure Flix. This is the case if you compare Pure Flix vs Netflix.
The better platforms to compare Pure Flix to would be the Dove Channel and Crossflix, since these two offer catered selections for family viewing as well.
If you compare Pure Flix vs Dove Channel by the Dove Foundation, the latter provides videos and movies that are up to their "Faith & Family Dove Seals of Approval."
Likewise, Crossflix also provides wholesome content attributable to their Christian views.
Where to Buy?
If interested, head on over to www.pureflix.com and start your membership right away. Don't forget to opt for the free trial month so that you can dip your toe in and make sure if it's alright for you.
The Bottom Line
If you have a difficult time looking for videos and movies that are clean and appropriate for the entire family, then you may just want to give Pure Flix a try.
With their wholesome and Christian-focused content, you will surely be able to find something for the whole family to enjoy – even dads.
If you have any experience with Pure Flix or their services, please leave your reviews below.
You may also be interested in
Pure Flix Customer Reviews