PuppySpot Reviews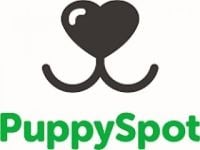 PuppySpot is a website that aims to connect users to dog breeders that are vetted and screened in partnership with USDA.
PuppySpot states they have a zero tolerance policy for puppy mills or substandard breeding practices, and have successfully placed over 200,000 puppies into homes.
How Does PuppySpot Work?
According to their website, PuppySpot believes that owners should be able to expect trust, confidence, and transparency when finding a new puppy to bring home.
This website promises their customers that they have zero tolerance for puppy mills or substandard breeding practices, and that all of their puppies are raised by breeders who are held to industry-leading standards.
PuppySpot screens and vets all the breeders they work with, saying that they hold breeders to the highest standards with the health and safety of the dogs as the top priority.
They state that less than 15% of breeders that apply to work with their company are actually approved, which they say ensures that their dogs and owners will have a premium experience.
To search for your future puppy on this website, customers can look by breed in two different categories, Purebred Puppies and Designer Puppies.
For those who don't know, Designer Puppies are brands that have become famous for blending the appearance and character traits of two different Purebred breeds.
Cost/Price Plans
The cost of using this company to find your perfect puppy is completely free of charge, but the actual cost of the puppy will vary depending on the specific puppy you have chosen.
Qualified customers will actually be able to finance the cost of the purebred or designer puppy through this website, but this option will not be available to everyone.
Customers will need to apply to see what kinds of financing they may be able to take advantage of.
Refund Policy
Surprisingly this company does provide their customers with a Health Guarantee for their puppies.
This Guarantee states that their breeders are required to keep their puppies up-to-date on all vaccinations and de-wormings and every puppy must pass a thorough health check before being allowed to travel.
In order to activate your puppy's Health Guarantee, you will need to take them to the vet within 48 hours of the puppy arriving home. This ensures that your puppy is happy and healthy right away.
The Health Guarantee has a One Year Guarantee, which states that
"If, within one year of purchase, your puppy is found to have a congenital or hereditary condition which adversely affects your puppy's health, we will provide you with a replacement puppy of equivalent value."
The Health Guarantee continues throughout years two through ten of your puppy's life.
If your puppy is found to have a congenital or hereditary condition that adversely affects your dog, you will be provided with a credit of 50% to put toward the purchase of another puppy from their website.
Customer Service Contact Info
Customers who would like to contact Customer Service with any questions, concerns, or complaints can do so by phone at 866-306-6064 or by submitting them directly to their website through their Email Us link.
Reputation
This company actually appears to have many positive reviews and a following of very happy customers who use and re-use their services whenever they are looking for a new friend and companion to bring home.
PuppySpot also offers their customers financing and a Health Guarantee which is also very important and impressive.
Customers will need to pay close attention to the details of this Guarantee policy, however, to make sure that they are doing what needs to be done to maintain the Guarantee.
Competitors and Alternatives?
Probably the most relevant competitor to this website is the American Kennel Club, which provides a page where they display purebred puppies for sale by breeders that are registered with the AKC.
Additionally, people who are simply looking for a family pet will be able to find them at local shelters, rescue organizations, and from private sellers.
If you have any experience with PuppySpot or their services, please leave your reviews below.
You may also be interested in
PuppySpot Customer Reviews