Power Swabs Reviews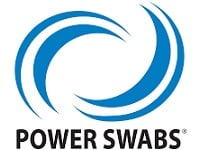 Power Swabs are a teeth whitening system created by Dr. Martin Giniger, who states that it uses a patented formula of clinically-researched ingredients to whiten teeth at the molecular level.
How Do Power Swabs Work?
According to their website, Power Swabs were developed by celebrated dentist Dr. Martin Giniger and when they were introduced in 2008, they were considered a breakthrough, patented teeth whitening technology.
Since they were first launched, their website states they have won many awards as the world's best teeth whitening product.
The concept behind Power Swabs is very similar to the concept behind stain pre-treaters that people use for their laundry.
While you could throw a shirt with a stain directly into the wash and let the detergent do its job, the pre-treatment is able to begin the process of lifting the stain in advance and allowing the detergent to do its job better.
Power Swabs uses this same premise for teeth whitening. Most at home bleaches are made from thick gels that are simply too dense to penetrate teeth efficiently.
Power Swabs, on the other hand, uses an extremely thin liquid that penetrates deeply and rapidly into the enamel, allowing the follow up whitening liquid to do its job both better and faster.
Reputation
This product does not have very many reviews, but the few that are available generally seem fairly negative, with customers complaining that Power Swabs are ineffective and don't seem to do what is claimed.
Most reviewers agreed that the swabs were easy to use, but complained that the whitening results simply weren't as dramatic as claimed by the company.
Some reviewers said that using this product every day for a week didn't do anything more than simply using a whitening toothpaste, much less whiten their teeth six shades as promised.
And even though this company states that they provide a good Refund Policy, customers who want to try Power Swabs for themselves might be better protected if they purchased this product through a third party retailer that provides an additional Refund Policy that they stand behind.
Customer Service
Customers who would like to contact Customer Service with any questions, concerns, or complaints can do so by phone at 800-535-4693, by email at [email protected], or by submitting them directly to their website through their Contact Us link.
Cost & Price Plans
This company offers their products in a few different packages.
Their most affordable offering is their one month package which simply includes 7 White Swabs Ultra, 7 Stain Out Swabs, and a free Stain Out Quick Stick, and is priced at $59.90.
They also have a Summer Sale Kit, which is priced at $79.90 and includes 7 Stain-Out Swabs, 7 White Swabs Ultra, 12 Maintenance Stain-Out Swabs, 12 Maintenance White Swabs Ultra, a Stain-Out Quick Stick, and a Tooth Gloss.
Their most expensive package at this time is their Intensive Whitening And 3 Month Maintenance Kit, which is priced at $149.95 and includes 7 Stain Out Swabs, 7 White Swabs Ultra, 12 Maintenance Stain Out Swabs, 12 Maintenance White Swabs Ultra, 50ml Power Gloss Toothpaste, and 3 Stain Out Quick Sticks.
Refund Policy
The website states that all Power Swabs products can be used for the first 30 days risk-free.
Customers who do not see the results that they expected are welcome to call their Customer Service department within 30 days of your order and return any new and unused products for a full product refund.
In order to successfully receive your refund, you will need to return all merchandise, opened and unopened, within 30 days of delivery and all items must be in original packaging.
Power Swabs Alternatives?
There are many different at home teeth whitening products available, including Supersmile and others.
If you have any experience with Power Swabs or their products, please leave your reviews below.
You may also be interested in
Power Swabs Customer Reviews

Denise
Will make gums recede. Careful!!
Careful!! This product made my gums recede. I missed the part under caution that states "Avoid applying gel directly on lips and gums." It's hard using this product not to get the gel on your gums. I've had to make an appointment with my dentist to see what can be done.

Danakrueger
I tried power swabs and immediately had blisters on my lips

KEM
In the first use of box 1, a noticeable improvement was indicated. Using 2nd and 3 box the changed was maintained. I did not use the special stain removing stick but will shortly.
Am going to continue with product, price permitting.