Petlab Co Reviews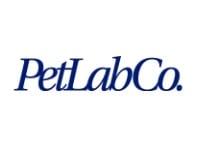 Petlab Co is a company marketing a number of pet care dietary products, mainly geared towards dogs, that include calming chews, joint health chews, multivitamin chews, and dental chews.
How Does it Work?
Petlab Co states their joint health chews are scientifically formulated to ease joint discomfort and guard against joint damage.
They contain glucosamine to cushion joints, reduce pain, and improve flexibility. They also contain Vitamins C and E to stimulate collagen production.
Most dogs will only need about half a chew to two chews per day, depending on size.
The dental chews are similar to the standard chews you would purchase for your dog at the grocery store, but they help to clean the teeth and gums and to prevent the harmful build-up of plaque and tartar. They also happen to freshen breath.
These chews contain key ingredients such as beef hide, vegetable protein, dried whey protein, and poultry digest.
The shedding formula can be purchased as a single dose or in a bulk pack. This unique drinkable supplement helps eliminate excess fur shedding in a completely natural way.
It contains Omega 3 and 6, vitamins, flaxseed oil, and wheat germ oil to give your dog proper nutrition while improving the condition of his skin.
Dogs also love the heart health chews. These support heart health with omega 3 fish oils, dicalcium phosphate, and vitamin C. They also contain glycerin to help add nutrients and improve the shine of your dog's coat.
Petlab Co calming chews are a great product for dogs with anxiety. These soft chews help your dog feel calm and relaxed in stressful situations, and can also help to reduce separation anxiety and nervousness.
They contain chamomile, valerian root, L-Tryptophan, and hemp extract to help naturally calm your pet.
The chews can be used as treats for dogs of any age, but make sure you give your dog the right amount based on his or her weight.
The company states their joint care chews for dogs are also safe for cats. These treats are a little soft and a little hard, meaning they are easy to eat and digest but also help to keep your pet's mouth clean and healthy.
Cost and Price Plans
Unfortunately, because this company is so new, they do not yet offer sample packs. While this is a feature that is expected to be offered in the near future, it is not yet available for customers.
However, you can take advantage of the company's generous 30-day money back guarantee, which allows you to try out the product for a full month to make sure your pup likes it.
Prices vary per product. Most start at $42.29 plus shipping and handling.
However, the company offers substantial discounts for purchases in bulk. You can purchase a 2 pack of any product and receive nearly a fifty percent discount on the second.
Buying a three-pack produces even more savings for you. If you purchase more than one tub, you can get free shipment to anywhere in the United States.
You can cancel your monthly subscription at any time by emailing [email protected].
Customer Reviews Complaints
Customer reviews of this company are wholly positive, with the manufacturer receiving a 4.⅗ star rating on Amazon. Many reviewers go so far as to state that "if they made a human version," they'd take it!
Some customers report having had trouble getting their pets to take the chews.
Most pets will consume these and like the taste just fine. However, you can always resort to familiar tricks of hiding it inside his favorite food, treat, or food toy, too.
Customer Service
If you have a question about your pet's health about your specific product, shipping, or your payment - the customer service department at Pet Lab Co is easy to reach.
For general inquiries, you can reach an associate by phone at +1 (941) 217-1456.
Alternatively, you can email [email protected] or reach them via one of their many social media challenges.
The company also has active profiles on Pinterest, Instagram, Facebook, Twitter, and YouTube.
Where to Buy?
Petlab Co doesn't have a retail store.
Maintaining an online-only presence allows the brand to be more affordable, so as of right now, you can only purchase soft chews, dental wash, and other products via the manufacturer's website.
Petlab Co products are also available on Amazon.
Competitors and Alternatives
If you are looking for a solution to your pet's health conditions, there is no shortage of viable alternatives. Some of the ones you might consider include the products made by Zesty Paws, Doggie Dailies, and Genuine Naturals.
Zesty Paws offers products that are priced comparably to Pet Lab Co products. These are flavored specifically for pet's enjoyment (usually chicken) and can treat a number of conditions.
Currently, Zesty Paws has products to treat arthritis and joint problems, hip issues, mobility issues, anxiety, allergies, and more.
Doggie Dailies also produces supplements for dogs with joint problems. They are somewhat more affordable than Pet Lab Co, with 225 soft chews starting at $33.97 per bottle.
This company offers a range of products in addition to the joint formula, including shampoos and conditioners, probiotics and prebiotics, ear cleansers, and more.
Genuine Naturals produces two all-natural products, including joint supplement chews, digestive supplements, and more.
While both products have excellent reviews and are affordable, they do not produce any items for dogs suffering from dental issues or anxiety, like Pet Lab Co does.
The Bottom Line
If your pet is suffering from an illness that medication, exercise, and a diet have failed to treat, it may be time to give another treatment a try.
While Petlab Co's products may not be for everyone, there are countless positive reviews claiming that these products are the way to go.
Though still relatively new, they are derived from mostly all-natural ingredients and are a smarter bet for people who want to help their pets feel better soon.
If you have any experience with Petlab Co or their products, please leave your reviews below.
You may also be interested in
Petlab Co Customer Reviews