Peppy Pet Ball Reviews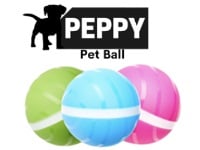 Reviewopedia is supported by our readers. This page contains links through which we may earn a small commission for purchases.
One thing is shared across all types of dog breeds: their ability to be super tough on their toys. As a pet owner, you often feel like you are replacing toys every few weeks to keep up with the need for new ones.
Having a dog toy that will last a long time and entertain your pet is a dream come true. Thankfully, several options on the market fit the need. One of them is the Peppy Pet Ball, which is an interactive pet ball for dogs and for cats.
How Does Peppy Pet Ball Work?
During the day, our pets require a lot of attention to stay entertained. The Peppy Pet Ball utilizes a simple ball that many pet owners already have in their possession.
However, this toy ball has a sensor in it that allows the ball to continually move around, keeping your pet's attention the whole time.
The Peppy Pet Ball uses a USB charger to get power. Once charged, it starts working as soon as your dog or cat touches it.
The ball will continue to move around in random patterns until your pet ceases to use it any longer. The toy will then go into sleep mode until the subsequent use.
By utilizing motion sensors, the Peppy Pet Ball can tell when it is being touched and when it is coming up against hard-to-reach areas. The toy creators purposefully tapped into a dog's hunting instinct, and the toy is programmed to reflect those intuitions.
In addition to the above, the Peppy Pet Ball has the following features:
Made of waterproof materials that resist drooling and slobber
It comes in various bright colors (not black, but green, blue, and pink)
An external shell created from non-tearing rubber
The toy runs for eight hours on a single charge
Operating the toy does not necessitate a remote, allowing for continuous hands-off play for your pets
One area of concern lies in the fact that there isn't much detail surrounding how the sensors work and what technology is incorporated into the toy.
Additionally, it is difficult to find an official website. Each page that speaks about the product and has the toy name in the domain states it is an advertisement and not an actual article or blog.
There are many of these toys available online, most of which come from China. Almost all of the designs are identical, but the company's name differs.
Is the Peppy Pet Ball Legit?
Yes, the Peppy Pet Ball is legit. However, it is not a unique and innovative product.
Many different types of motion sensor toys on the market fulfill the same purpose as the Peppy Pet Ball.
When you view the video on one of the Peppy Pet Ball websites, you will see that it does not come in different sizes. This lack of options can be problematic for those with larger dogs who are used to toys of more considerable size.
Animal Wellness Magazine talks extensively about the benefits of interactive toys for pets. Some of the top reasons to utilize them for your dog or cat include:
Mental Stimulation
Self-Entertainment
Weight Management
Stress Relief
Anxiety Relief
Separation Anxiety Relief
Ability to Utilize Natural Hunting Instincts
Helps Combat Fast Eating Habits
Alleviates Boredom
The magazine also gives examples of the different interactive toys you can obtain for your pets. These additional options include:
Vessel toys
Sensory toys
Treat dispensers
Ball launchers
Puzzle toys
Video games
The Peppy Pet Ball has the capabilities that interactive toys offer but isn't the only option on the market.
Customer Reviews & Complaints
When you visit any of the Peppy Pet Ball websites, you will see many positive testimonials from customers that found success with the product.
However, you don't see any independent reviews on the product. All you get on the available websites are a limited number of instructions and positive testimonials.
Additional reviews online are all done in the form of advertisements, and all have very similar language as though they were created as press releases from the company itself.
The only place you can get authentic feedback on the product is on the company's Facebook page, which the company hasn't updated since January 2021. However, customers have been leaving reviews consistently, all of which are negative.
One customer stated that her 21-pound dog was able to destroy the ball in just one hour, even though it claims to be tear-resistant. Many other customers never received the product and can't get responses to calls or emails.
The company is not accredited with the Better Business Bureau (BBB).
Customer Service
If you would like to get more information on Peppy Pet Ball, you can try contacting the company via their phone number at (844) 852-6886 or through Email: [email protected].
It is worth noting that this phone number also corresponds to Wow Home Trends, an online shop that carries various products, including the Peppy Pet Ball (but at a much higher price!)
The business address is:
600 Broadway Ste 200 #1453
Albany, New York 12207
Cost and Price Plans
The cost of one Peppy Pet Ball is $43. However, if you purchase it in multi-packs, you will save on the per ball cost.
Therefore, the price will be $36.99 each if you buy two, $34.99 each if you purchase three, and $31.99 each if you buy four.
If you purchase it on the Wow Home Trends website, the cost is $86 for one ball.
The company website states that they offer a refund within thirty days of purchase. However, many customers have had difficulty getting their funds returned to them.
Competitors and Alternatives
Many brands are nearly identical to Peppy Pet Ball but come at more appropriate price points and higher quality.
One of the top options is Wicked Ball, sold at Chewy and Amazon.
Additionally, options like Bark and Bounce and BentoPal offer the same form of play for lower cost and higher reviews.
FAQ
Where to Buy?
You can buy the Peppy Pet Ball on one of the affiliated websites or Wow Home Trends. While the Peppy Pet Ball is not available on Amazon, Chewy, or other retail outlets, many product alternatives are sold through those sites.
Where is Peppy Pet Ball Made?
This information is not disclosed on the affiliated websites for the product. However, many of the eerily similar alternatives in design are made in China. The headquarters for Peppy Pet Ball is in Albany, New York.
Is Peppy Pet Ball Safe?
Although the marketing materials state that the toy is tear-resistant and safe, customer reviews say that the ball is easily broken and chewed. The lack of quality has led to near-dangerous situations for pets.
Is Peppy Pet Ball Worth it?
Finding pet toys that keep your cat and dog's attention for a long duration can be challenging. When you see options like the Peppy Pet Ball, it brings hope that you might be on the right path.
Interactive toys are highly beneficial for pets, as it provides mental stimulation and exercise, among other positive traits. The Peppy Pet Ball falls into this category.
However, many negative reviews and complaints state that the company's claims are not legitimate. The toy breaks easily and poses a safety risk to pets.
With that, we determine that the Peppy Pet Ball is not worth it due to its faulty design and high price tag.
There are many other interactive balls and other interactive play options for your pets that are a safer, more affordable option.
If you have any experience with Peppy Pet Ball, please leave your reviews below.
You may also be interested in
Peppy Pet Ball Customer Reviews