Pelvic Floor Strong Reviews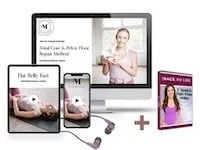 Pelvic Floor Strong is a workout product marketed by by Alex Miller that's focused on core and pelvic floor strengthening exercises.
Who is Alex Miller?
A fitness instructor and Youtube influencer from Vancouver, British Columbia, in Canada, Alex Miller has helped people of all shapes and sizes to get fit over the years.
However, it wasn't until her mother was diagnosed with cancer and began experiencing bladder issues that her eyes were open to the effect it can have on your life and relationships.
Over time she too started to develop bladder control and pelvic floor issues. She saw for herself the strain it was bringing to her relationship with her husband and the embarrassment that she felt.
As a result of her and her mother's misfortunes, Alex Miller decided to research and implement new and revolutionary ways to control the pelvic floor and subsequent bladder and bowel control issues.
With her research, she was able to develop the Pelvic Floor Strong System that is used by women everywhere today. This system combines video and print resources that provide at-home exercises that help strengthen your pelvic floor and prevent leaking.
What Does Pelvic Floor Strong Do?
Through special exercises aimed at increasing the endurance of your pelvic floor, the Pelvic Floor Strong System helps women in the following ways:


Reduces Vaginal Bulge
Regains Bladder and Bowel Control
Improves Posture and Balance
Creates a Higher Level of Confidence
Improves Sex
Alleviates Back and Hip Pain
Improves Abdominal Tone


The program targets women over 40 years old who have either given birth or have not.
The FAQ states that the further removed a woman is from her child-bearing years, the easier it is to remedy the situation promptly.
What's Included?
Alex Miller's Pelvic Floor Strong System comes with five different components to help you increase your stamina and support your lower muscle function. The five different components include:


Pelvic Floor Strong Informational Manual
Flat Belly Fast 10-minute Quick Start Manual
Pelvic Floor Strong Informational DVD Video
Flat Belly Fast Informational DVD Video
Back To Life Three Stretch Pain-Free Program


Additionally, you will receive the Diastasis Recti Improvement Checklist that helps you keep track of the different steps and procedures to follow.
Customer Reviews & Complaints
Although Alex Miller Fitness has very little online presence outside its company website and Facebook, they do not have a profile on Trustpilot, the independent reviews source, or the Better Business Bureau.
On Facebook, some reviews claim that the product is a scam and promises results that do not happen.
Additionally, they have many issues getting in contact with the company to resolve problems that arise or take advantage of the 60-day refund guarantee.
Some buyers did not receive a download link after completing their purchase. The company was unreachable to obtain the link, and they had already completed the payment process.
Therefore, they paid the money but received nothing for their purchase and couldn't get assistance.
Customer Service
Alex Miller Fitness offers various methods of contact via its website for customer service needs.
Email: [email protected]
Phone Number: 1-800-390-6035
Order Issues: www.clkbank.com
Alex Miller Fitness does not have an online presence outside of its website and Facebook.
However, many complaints state that people have struggled to get a response from the company concerning order issues, refund problems, or general questions.
Cost & Price Plans
The cost to purchase Alex Miller Fitness's Pelvic Floor Strong System is $37. By purchasing the program, you gain immediate access by digital download to all of the listed components above.
Additionally, the program comes with a 60-day money-back guarantee.
If you purchase the system and do not notice results within the first 60 days of purchase, the company will refund you the purchase price of the program package.
Where To Buy?
You can only purchase the Alex Miller Fitness Pelvic Floor Strong System through the official company website.
This method allows you to acquire an automatic digital download of your purchased items and comes with a 60-day refund guarantee.
The program is not available on any other online websites or in any retail outlets.
Competitors and Alternatives
Several therapeutic relief options on the market are similar to Pelvic Floor Strong System. Some of the closest competitors include:
Pelvic Floor Strong System vs. Innovo: Innovo has a different approach to strengthening your pelvic floor that doesn't utilize particular exercise or medications.
Innovo, which has high reviews, is a specialized set of shorts that acts similar to a tens device for back pain. However, it sends signals to your pelvic region, strengthening the area.
Vs. In Control: With their kegel exerciser, In Control offers women the ability to strengthen their pelvic floor without medication or surgery. The device does the work for you and requires no extra effort.
Vs. Perifit: Not only does this device help you to preserve and strengthen your pelvic floor, but you also play games while doing it. The kegel exercises are in tune with the different parts of a game, allowing your entertainment while exercising.
The Bottom Line
Bladder leakage is an issue that many women struggle with. As a woman, your pelvic floor goes through a lot of adjusting over the years.
Childbirth, in particular, wreaks havoc on the muscle structure that is in place down there and weakens what was once firm.
It can be embarrassing to deal with and cause you to limit your social interactions due to fear of leaking. Finding a solution to the problem can become a high priority in these situations.
Although there are many options that we have come across for helping this type of issue, many of them have high price points or are pretty invasive.
The Pelvic Floor Strong System has a meager out-of-pocket cost and requires no additional medications or procedures.
However, the program does have low reviews on the online platforms it is a part of, with some of their previous customers referring to it as a scam.
If you have any experience with Pelvic Floor Strong, please leave your reviews below.
You may also be interested in
Pelvic Floor Strong Customer Reviews

Daphne K
Unable to download; thus unable to use yet charged!
Was unable to download the Pelvic Floor Strong nor Total Body Strength & Simple Strength 'Digital Only' download programs, thus couldn't use. There was no contact information; albeit, I was charged under the merchant Clickbank $39.22 & $26.82 on my credit card for items not received. I'm disputing & filing with the BBB. I still can't reach anyone at PelvicFloorStrong, Alex Miller nor Click Bank. Very frustrating. I wouldn't suggest.

Molly B
Over charged without consent - BEWARE!
The program may be worth the hour I had to spend to get through the infomercial but I was MOST unimpressed that while I agreed to buy the basic program at $37 CAD and an add on at $27 CAD my credit card was immediately charged $58.24 and $42.50 with no chance to look at an invoice. This is a bait and switch. NOT OK. I will be making a fraud claim with my credit card company.

Andrea G
I purchased the program only to find the charges were a lot more than I expected.
I then went to the Citibank site and signed up. As a customer you can then use their talk system and as I did ask for a refund. Giving the order details they then found the purchase and I ended up with a quick refund. With most purchases, there is generally a 60 day money back etc so you have that time limit. Which ever payment process you go thru it will have a similar format. When you don't get a response from the company go to the payment site. Much better...