NeckRelax Reviews
Reviewopedia is supported by our readers. This page contains Amazon links through which we may earn a small commission for purchases.
The NeckRelax is a personal massage device whose developers claim can offer relief from a variety of muscle pains in the neck and body.
According to the Mayo Clinic roughly 1 in 3 people experience neck and shoulder pains at least once per year, making it one of the most common health issues that people deal with.
Neck pain can be the result of a variety of causes:
Osteoarthritis
Herniated disc
Pinched nerve
Mental and physical stress
Poor posture
Injury
Tumors
Other health conditions
With such a high number of cases there are many guides, products, and services claiming to ease pain and help get you back to feeling your best.
Below we take a closer look at the NeckRelax to see if it's a viable solution or just another gimmick taking advantage of customers.
How Does NeckRelax Work?
Often, neck pain is caused by tension in the muscles that encase the neck vertebrae.
Neck Relax creators state that their device uses Electronic Pulse Massage to treat pain and soreness in these muscles. They also claim that it can help release tension in the neck, back, and shoulders in as little as 10 minutes.
In addition to the neck massager the device also comes with additional Pulse Patches that can be used to send electrical pulses anywhere on the body.
Using this device is relatively straightforward. Just wrap the machine around your neck and select the mode, choosing from six different types of modes:
Automatic
Acupuncture
Soft Massage
Shiatsu
Kneading
Deep
There is also an option for high or low intensity.
The seller claims that a single session of using the NeckRelax can make a world of difference, helping to reduce anxiety and stress.
The manual states that the NeckRelax device should be used 10-20 minutes per day, and that it is programmed to shut off after 15 minutes of continual use.
Cost and Price Plans
The Neck Relax costs $59.95 and comes with free shipping. It requires two AAA batteries which are not included.
The cost per unit decreases if you purchase more than one massagers.
Customer Service
The customer service for the product is a bit tricky since the device is sold through a variety of sellers.
The contact info and return policies will be based on who you purchase it from.
There are also versions of this item sold through Amazon that will have their own set of terms and conditions.
When you Google search "Neck Relax" you'll see a variety of ads for the same product from many very similar looking websites.
Two examples are the website YourNeckRelaxOfficial.com which gives the contact info as:
Complete Performance Commerce PTE LTD
Singapore 33 Ubi Avenue 3, #08-03, Vertex, Singapore
+65-6347 5958
and YourNeckRelax.com address is listed as:
Quality Performance Limited
377 Valley Rd #1123, Clifton, NJ 07013
The difficulty comes in when you have issues with one of these devices. The refund terms are designed specifically to deter you from proceeding.
For instance, YourNeckRelax.com states customers have 30 days from delivery and it must be in brand new condition, unused/unworn, in its original packaging, and returned to the facility address provided by customer service.
This address is usually overseas and the shipping costs that you'll have to pay to send it back will be prohibitively high, not to mention the time and effort required.
Online Customer Reviews & Complaints
When looking for NeckRelax reviews you'll generally come across one of two scenarios.
An affiliate website that essentially parrots the sales page of the company, claiming that this is a great device that will cure neck pain. These websites earn commissions through the promotion of Neck Relax.


Customer review sites such as Reviewopedia where real people leave reviews.
Genuine customer reviews of the Neck Relax device paint a very negative picture, with many customers complaining that the product does not work, the neck stimulus is faint or close to nothing, and they've had a difficult time resolving their issues with customer service.
Is NeckRelax Legit?
The bottom line is that this is a cheap gadget, bought wholesale by online marketers who rebrand it and use aggressive sales tactics to sell as many units as possible.
You can see the listing for it on the popular overseas wholesale website Alibaba.com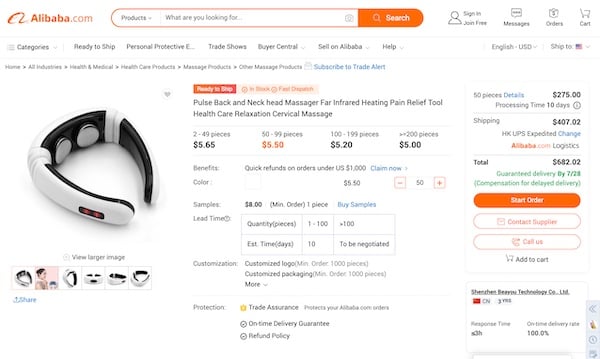 ( An unbranded device identical to the NeckRelax heater on AliBaba priced much lower )
These resellers can buy 50 of these massagers at $682 or $13.64 per piece. They then make a basic website and sell these at a large markup.
While there's nothing inherently wrong with this business model, negative customer reviews support the belief that this not a useful product for treating neck pain.
Competitors and Alternatives
If you're looking for lasting neck pain relief, you may want to try some commonly recognized remedies, such as massage and gentle stretching.
These are usually effective ways to get long-lasting relief from neck and shoulder pain.
However, if a neck massaging device is truly what you're interested in, keep in mind that there are more reliable alternatives to the NeckRelax.
Below are a few brands that make top of the line massagers most often recommended by health and exercise professionals.
This list is in order of most to least expensive:
Ekrin Athletics B37 Massage Gun - This is a high-end massage gun that's a good alternative to the top of the line Theragun brand.

The Ekrin is an 'Amazon Choice' and New York Times selection. It's very powerful with 5 Speeds and 4 Attachments for faster recovery and relief.


HoMedics Therapist Select Percussion Massager - This machine offers a deep tissue massage for back, shoulder, and full body muscle relief.

It has fewer features and speeds than some of the competitors, but is a good option for those who want an entry level product. It's also an 'Amazon Choice' product.


InvoSpa Back Neck and Shoulder Massager - A different style of massager that has many innovative features which specifically target the neck and shoulders.

It uses eight massage roller balls to provide deep tissue massage. It is rated 4.4/5 from 45,000+ reviews on Amazon.
It's important to note that you should not try to treat neck injuries with massage products.
If your neck pain is accompanied by numbness, loss of strength in your arms or hands, shooting pain in your shoulder or down your arm, or if your neck pain is not improving, you should seek medical attention.
The Bottom Line
If you're looking for long-lasting relief to your neck pain, it might be best to skip Neck Relax.
When compared to modern massage guns this one seems underpowered and unlikely to resolve any muscle knots or alleviate any soreness.
Moreover, there are plenty of red flags for this product, from the poor customer reviews to the fact that this is a wholesale product with no one company providing adequate customer service.
If you have any experience with Neck Relax or their products, please leave your reviews below.
You may also be interested in
NeckRelax Customer Reviews