Nano Socks Reviews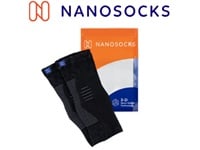 Reviewopedia is supported by our readers. This page contains links through which we may earn a small commission for purchases.
NanoSocks are a brand of compression socks whose creators state can help relieve foot pain, reduce foot fatigue, improve balance, and aid in ankle stabilization.
The company states that NanoSocks can be a good choice for diabetes sufferers, as well as for people suffering from all kinds of nerve pain and other foot-related conditions.
Compression Socks Effectiveness
Compression socks are designed to provide targeted compression to the feet and lower legs.
They work by applying pressure to the legs to help improve blood flow and reduce swelling, which can help to alleviate pain and discomfort caused by conditions such as varicose veins, deep vein thrombosis, and edema.
They can also help to reduce the risk of blood clots and improve overall circulation.
Compression socks are often recommended for people who spend a lot of time on their feet or sitting for long periods, as well as for athletes, pregnant women, and people with conditions that affect blood flow, such as diabetes.
They are also often worn by people who have circulation problems, varicose veins, neuropathy, symptoms of plantar fasciitis, or are at risk of deep vein thrombosis (DVT).
Some studies have also suggested that compression socks may help to improve athletic performance, reduce muscle soreness, and prevent injuries.
However, it's important to consult a doctor or a specialist before buying and using compression socks.


Pros and Cons of Compression Socks:


Pros: Compression socks can help improve blood flow, reduce swelling, and prevent DVT. They may also help to improve athletic performance and reduce fatigue.

Cons: Compression socks can be difficult to put on and take off, especially for people with limited mobility. They can be quite warm and uncomfortable to wear in hot weather.

They may also be costly compared to regular socks and are not meant to be worn for extended periods of time.


How Do NanoSocks Work?
The company claims that their socks have unique Compression Zone Technology designed to provide 360 degrees of targeted compression, support, structure, strength and comfort.
NanoSocks are made from a blend of 70% nylon and 30% spandex, which the company calls a proprietary 3-D Nano-Weave. This blend is said to provide a soft compress with a compression level of 20-30 mmHg.
The band that wraps around the foot is made of soft neoprene.
Nano Socks are open-toed, which the company claims is beneficial for people with sensory neuropathy in their feet as they tend to be more comfortable.
Additionally, the open-toe design offers added breathability and freedom of movement, which can be especially beneficial for individuals who find traditional compression socks to be too hot.
Both male and female sizing options of NanoSocks are available.
NanoSocks have also developed other products to help other parts of the body such as the wrist, elbow, and back.
Cost and Price Plans
On the company's website, www.NanoSocks.com, one pair of NanoSocks is priced at $29.95.
The company's other products are priced as follows:
NanoSleeve - $19.95

NanoBall - $14.99

NanoBack - $39.95

NanoSoles - $29.95

NanoWrist - $14.95

Nano WashBag - $9.95
Customer Service
NanoSocks ships products from Pacoima, CA and typically takes 4-7 days for delivery. However, the company notes that there may be occasional delays.
If customers have any concerns about their order, they can contact the company's customer service department at (888) 205-9526 or via email at [email protected]
NanoSocks states that returns must be received by NanoSocks within 30 days from the initial delivery date and return shipping is the responsibility of the customer. The return address is:
ATTN: Nano Socks
13507 Van Nuys Blvd, #4908
Pacoima, CA 91333-4908
NanoSocks lists its corporate address as:
Nano Media Inc.
P. O. Box 3540
Silver Springs, NV 89429
Customer Reviews & Complaints
While on their own website NanoSocks boast glowing customer reviews, on other review websites, including Reviewopedia, customer reviews are more mixed to negative.
Customer most often complain about issues with returns, customer service, and recurring billing that they were unaware of.
The also sometimes complain about poor fit, which can be expected considering that compression socks can be difficult to fit well.
The company Nano Socks holds an 'F' rating from the BBB and has several unresolved complaints there.
On Amazon, however, NanoSocks hold a good rating of 4/5 from over 700 customer reviews.
Competitors and Alternatives
On the whole, we find that Nano Socks are generally priced higher than many competitors. Here are a few suggestions for alternative brand of compression socks with great customer reviews that you may want to give a try.


TechWare Pro Ankle Brace - $16.99 on Amazon - 4.2/5 rating - 35,000+ customer reviews
Plantar Fasciitis Sock (6 Pairs) - $18.99 on Amazon - 4.2/5 rating - 8,000+ customer reviews
SB SOX Plantar Fasciitis Relief Socks - $14.95 on Amazon - 4.3/5 rating - 50,000+ customer reviews
The Bottom Line
Compression socks have been shown to have a wide range of benefits for people suffering from foot pain, fatigue, and other foot-related conditions.
They work by providing targeted compression to certain points in the feet to improve blood flow and relieve pain.
It's important to note that it may take a few weeks to see results and the effectiveness of compression socks can vary from person to person.
That, coupled with how difficult it may be to find the right fit for you, makes choosing the right compression socks a potentially difficult task.
Therefore, we think it's important to select from company's that you're confident stand behind their products and return policy, in case you need to exchange your purchase for one that's a better fit.
It's also important to consult with your healthcare provider before trying any new treatment such as compression clothing.



If you have any experience with NanoSocks or their products, please leave your reviews below.
You may also be interested in
Nano Socks Customer Reviews

Eparks
Byers beware. UF you decide to return the nano socks bc they roll up inside your shoes you will NOT be refunded.
You will get all kinds of crazy like you were a sock of the month club member and that's why you were charged an extra 22.09!
Tony the Manager will be no help. He will yell at you and tell you to call your credit card company.
Buyers beware! You better live your nasty socks bc you aren't getting a refund!

J L
I also got "taken advantage of" by this company. I purchased a couple of pairs of nano socks and my credit card was billed multiple times. I called the company and they told me that I had signed up for their service. Who needs a service to wear a pair of socks? I never signed up for this and I am totally disappointed and angry at this scam!

randonee
Warning - reoccurring charges
Ordered one pair of socks and they starting charging my account $29.77 every 60 days. Scammers.

Robert B
When I received the confirmation of what I bot I noticed it was for white socks. I thought I ordered black and immediately sent a message to correct this. I received a message back saying that it was changed to black. I just received white. I want to exchange.

Simah S
Horrible socks and Horrible customer service!!
ONE MINUTE after ordering I noticed it charged more than listed after I submitted my card. I emailed them and said it charged more and to cancel my order.
I gave my order # but they said it was too early try tomorrow. I emailed the next day gave order#, name, email they still claimed couldn't find my order.
The next day I sent a snapshot of my confirmation with ALL MY INFO. and they couldn't find it. 5 days later I get an email the socks shipped. I emailed them again saying they shipped and coincidently now they found my order.
I said when I get them i want to send it back but shouldn't have to pay to ship since I called right away to cancel. I was told sorry I would have to pay to ship back.
Scammers!! I decided I'm not going to post office and paying to ship so tried them on hoping at least they would work. Wrong!! Nothing but a pair of socks with end cut off. Don't waste your time and money!!

Kim H
They are not as described.
These socks are not as described, they cut off your circulation and increase your neuropathy pain. They charge a restocking fee and only take back the socks that are unopened. So you are stuck throwing them out. Waste of money. They also make you pay to send them back. Not a good company to it's customers.

Michael C
I have an ankle problem, that I was told I would be recovering for a year. if operated on, so that was not and option! I found that wrapping the foot would relive the ankle and top of foot pain. but I wrapped daily with an Ace bandage using tons of tape everyday to hold it in place!
I saw the Nano Sock online and purchased them, it was easy to put on and gives me all day relief from the pain! it really does the trick for me, and they have thanks for this horrible pain relief,
Thank You !