Nano Socks Reviews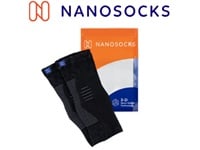 Nano Socks are compression socks whose creators state can help relieve foot pain, reduce foot fatigue, improve balance, and aid in ankle stabilization, making them a good choice for people suffering from past injuries or current medical conditions.
The company goes on to say that Nano Socks can be a good choice for diabetes sufferers, as well as for people suffering from all kinds of nerve pain and other foot-related conditions.
How Do Nano Socks Work?
Compression socks aims to target certain points in the feet to improve blood flow and relieve pain.
While some people use Nano Socks for neuropathy, others have found that they are highly effective at treating symptoms of plantar fasciitis.
No matter what you might be looking for, know that this product can offer improved support and promote better posture. They have a nice, easy fit that can allow for superior comfort - they are breathable and soft as they compress your feet, yet they also won't disturb your foot.
Nano Socks also have unique Compression Zone Technology. This technology is one-of-the-king and helps stabilize your ankle while maintaining your comfort. These socks are just as comfortable as your favorite pair of regular socks, and even offer excellent moisture tension.
There are both male and female sizing options available. The benefits of Nano Socks cannot be overstated - not only can they treat plantar fasciitis and other types of foot pain, but they can even be used to improve and hasten healing from athletic events.
The directions are simple. Just put the socks on instead of your regular pair and wear them for the majority of the day. It may take a few weeks to see results, but you'll likely notice how comfortable the socks are from the moment you put them on.
Cost and Price Plans
You can purchase Nano Socks by visiting the company's website. Here, you can buy one pair of socks at just $22. You can buy two and get one free, too, which will drop your per-pair price down to $21.56.
You can also buy three and get two free for $21.12 per pair or buy four and get three free for $20.68 per pair. You can also buy bundles of five, six, or seven.
Occasionally, the company offers promotions such as membership or subscription plans. These allow users to access membership sites with more information and products for just $9.99 per month.
Competitors and Alternatives
Nano Socks is not the only company that manufactures compression socks to heal conditions like neuropathy, nerve pain, and plantar fasciitis. There are several options for you to consider in the hunt for the perfect pair.
First, you should start by comparing Nano Socks vs. compression socks from companies like Laneco and Run Forever Sports. These are designed specifically for people with fallen arches, heel spurs, plantar fasciitis, and other similar conditions.
While they work well for those situations, they do not have toes - therefore, they are not true socks and might not be as useful for people with diabetic nerve pain.
Another option for you to consider is the OrthoSleeve Wellness Care Socks. These are perfect for people with diabetes, neuropathy, and other issues with edema or circulation. They are attractive and wearable, designed to offer moisture-wicking compression right where you need it most.
Online Customer Reviews/Complaints
Customer reviews of Nano Socks are overwhelmingly positive. Each purchase is backed by a 30-day money-back guarantee and all socks ship (and deliver) within just three to five business days.
Ratings are generally positive, with customers claiming, "I bought/received 5 pairs of these socks and so far it is working for me. The tingling sensation on my toes are much less. In addition, I am no longer having leg cramps during my sleep" and "so like them!"
Customer Service
The socks are a product line manufactured by Nano Media, Inc, a retailer out of Silver Springs, NV. Customer inquiries can be directed to 1-888-205-9526. You can also email at [email protected]
All returns or refunds must be conducted within 30 days of the date of purchase. Return shipping costs must be paid by the customer.
Where to Buy?
As of right now, the only place you can purchase Nano Socks is from the company's website.
The Bottom Line
If you like to be active but find yourself suffering from aches and pains constantly, it can be difficult to maintain the kind of lifestyle you want.
Foot pain can really set you back. No matter how much or how little it hurts, it can lead to other issues related to your legs, hips, and the rest of your body.
The same goes for people suffering from conditions like diabetes, which makes it difficult to enjoy the activities you love.
Additionally, it can really put a damper on how easily you are able to enjoy the activities of daily living. So, do Nano Socks really work? It's up to you to decide.
However, keep in mind that compression socks aren't just for the sick or elderly. They are also perfect for athletes or for people who just want to live a pain-free life. If that sounds like you, you may want to give Nano Socks a try.
If you have any experience with Nano Socks or their products, please leave your reviews below.
You may also be interested in
Nano Socks Customer Reviews

Kim H
They are not as described.
These socks are not as described, they cut off your circulation and increase your neuropathy pain. They charge a restocking fee and only take back the socks that are unopened. So you are stuck throwing them out. Waste of money. They also make you pay to send them back. Not a good company to it's customers.

Michael C
I have an ankle problem, that I was told I would be recovering for a year. if operated on, so that was not and option! I found that wrapping the foot would relive the ankle and top of foot pain. but I wrapped daily with an Ace bandage using tons of tape everyday to hold it in place!
I saw the Nano Sock online and purchased them, it was easy to put on and gives me all day relief from the pain! it really does the trick for me, and they have thanks for this horrible pain relief,
Thank You !