Nano Hearing Aids Reviews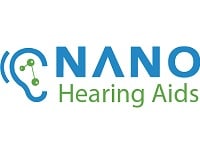 Nano Hearing Aids provides a few different products that all have the goal of restoring hearing. Their best-selling product lineup includes the X2R, Nano Sigma, X2 and RX2000.
Two of those devices, the X2R and the RX2000, are rechargeable, whereas the Nano X2 and Nano Sigma run on a battery that must be replaced once empty.
How Does It Work?
The way they work is described as rather simple: all the user has to do is put the hearing aids into the entrance of their ear canal after finding the right size of and adjusting the included ear tip.
The small control device can be put behind the ear – this adjusts the incoming volume. If you are wondering how to turn on the aids, there is an easily accessible button on the control device.
Are Nano Hearing Aids just amplifiers? Yes, and that is why the volume control is so important and, based on customer reviews, very seamless.
If the customer follows the instructions and manual, the installation is easy and can be finished very quickly. The Nano Sigma can be controlled from a smartphone with a downloadable app via Bluetooth.
The battery life of the rechargeable devices is about 16 hours; a low beeping noise will be played from the earbuds if a recharge is needed.
Nano Hearing Aids are FDA approved and made in the USA.
Cost & Price Plans
The company claims to want to make hearing aids affordable to everyone even without insurance. They are not covered by medicare or insurance.
The price varies depending on the device. For the bestsellers, the cheapest is the rechargeable RX2000 for $397 per Pair. It lacks some of the features of the more expensive devices, such as Digital Sound Processing or Feedback Cancellation.
The Nano X2 costs $697 per Pair. The Nano Sigma and the X2R both cost $797.
There are several different price plans available to help customers pay for the hearing aids, including monthly payments.
There is also a money back guarantee that lasts for 45 days, so the device can be sent back if parts are missing or it is not working.
Customer Service
The customer service for Nano Hearing Aids can be reached by clicking the "Contact" button on their website.
There you can find the address of the company as well as several contact methods. You can fill out a contact form on their website or call their phone number 480-680-8266.
They also have an E-Mail: [email protected]. The customer service operates Monday through Sunday, 9am-6pm ET.
Customer Reviews & Complaints
Generally, buyers seem to be happy with their Nano Hearing Aids. Their website has their own reviews section where most people seem to be satisfied and there are hardly any negative reviews in sight.
Looking on other pages for reviews about the company, like on the BBB, the company still maintains a high star rating of 3.92/5.
There were pros and cons; some negative reviews brought up a few problems about the hearing aids not fitting properly or there not being a lot of improvement in hearing ability.
Most people, however, seem to be happy with the product and the return policy.
Competitors and Alternatives
Of course, there are many other alternatives to hearing aids on the market.
Looking at Walmart, they offer cheap alternatives to Hearing Aids, with the disadvantage being that many of the additional functions that Nano Hearing Aids offers are not present.
Many of those devices are also made in China, whereas Nano Hearing Aids is manufactured in Minnesota.
Many concerns are raised about hearing aids not being legitimate and many users will wonder whether a hearing aid is made by a reputable company.
Where to Buy?
You can buy Nano Hearing Aids primarily online at their website. There you can see the different models and their prices and get the devices shipped within a few days.
Buying through the official website also has the advantage of getting the 45-day warranty. Should you not like the hearing aids or encounter problems, you can return them and get your money back within that time.
You can find Nano Hearing Aids on other websites too, like Amazon, WonderEar or EarGenie. The prices on those pages may differ and you may not be able to use the 45-day warranty.
The Bottom Line
While many people recommend Nano Hearing Aids for their ease of use, there are also negative reviews floating around online that do not recommend buying them due to a high price and cheap materials.
Nano Hearing Aids do seem to be a good choice for people without insurance and the 45-day return guarantee makes the decision a little easier, as it is simple to get your money back if you aren't satisfied.
Additional features like the app control or recharging of the device seem to lift Hearing Aids into the modern age – it just might be worth a try.
If you have any experience with Nano Hearing Aids or their products, please leave your reviews below.
You may also be interested in
Nano Hearing Aids Customer Reviews

nf
Hello AG of North Carolina !
Day One 2-27-23:
The delivery date for my Nano CIC was 2-27-23.
Charged them per their instructions.
Got in my car, drove less than a mile and the bumps in the road made my aids do loud static noise all the way back home.
Sent in a complaint and received and answer to drain the aid's battery and do a complete recharge,
2-28-23 Day two:
Placed the new recharge aids, got in my car did the same thing, down the road, same issue... STATIC ! A LOT OF STATIC !!!
Sent in another complaint and received new instructions which I already tried... nothing new and now they want to call me within the next 24 to 48 hours.
I'll keep you posted...
...nick F.
North Carolina

john H
Their in the ear is a screaming joke, for 200 bucks more they sent the behind the ear unit with promises...So 500 bucks later I have a useless unit and no offer to help at all. I rate their products as a rip-off.

Larry f
Nano does not back up their return policy
My hearing aid came apart within two weeks of purchase when I pulled out of my ear. Nano is claiming they are damaged. The damage brought on by defective quality was the reason for the return.

Mlf
Do Not Buy Nano Products! Total Scam
Nano Hearing Aids are a scam. They don't work. We paid $347.00 for the in the ear hearing aids for my husband. Keep in mind we are retired. They did nothing but squeal loudly in his ears.
They advertised full refund if returned in 45 days. He only wore them twice. I got a RA# from Nano, boxed them up exactly like we received them. Same container, same box, all brochures and attachments.
We sent them back no word from them at all. After I started emailing them they told me that the left one was damaged and we would not be getting our $347.00 back. They were not damaged! They were in perfect condition, he only wore them twice!
I believe they damaged them purposely so they don't have to return the money. We did nothing to damage them. I filed a complaint with the BBB. They then told BBB the same lie about being damaged and offered us another pair.
Now why in the world would we do that. We want our refund back. This company is the biggest scam since Twitter! Do Not buy any product from them, if you do just kiss your money goodbye because they are a scam company! I will be posting more reviews on other sites.
I feel someone needs to get the word out that this company is full of bad people and will do and say anything so you will never get your money back. I have heard there may be a class action lawsuit happening, if anyone know about this please let me know.

Carl B
REFUND REQUEST DENIED
I returned the complete "CIC" package with a defective left earpiece which separated at the joint of the earpiece. The defective left earpiece, working right earpiece, charger case, documentation and accessories were all returned in the original box per NANO instructions. NANO acknowledged that they were received at NANO per their RMA. NANO claimed that I am not entitled to any refund because the left earpiece was damaged by me. It was in my possession but only used gently and according to directions. In processing my RMA return NANO stated that they would send me a replacement earpiece for $79 but is completely ignoring the fact that all other components were returned in pristine condition. Without the charger etc the earpiece is useless so I have requested a full refund.
NANO spends alot of money on advertising but apparently does not care about its customers or honor their warranty.
"It's our 100% satisfaction guaranteed promise to you! Try Nano Hearing Aids for 45 days and if you're not fully satisfied, return them for a full refund. And we mean a FULL refund. Call our great agents, any time, day or night. We make is easy."
In summary NANO has accepted my return but refuses me a refund, I am out $297 and do not have any hearing aids.

Bunny B
Ordered for my Mother and could not get the volume to work and called to return within 45 day return period and waited and waited for my refund. Then I get another set of hearing aids in the mail which I did not want and did not order. I was furious. Called and customer service made a mistake yell right! Told them I'm not paying to return these that I did not order and did not want and after some strong language they are supposed to be sending me a postage paid label to return them but will not get my refund until they get the second set back which was their screwup. It will probably be a total of 2-3 months before I get my money back.

Bruce C
Don't Waste Your Money on Nano!
FORGET NANO!
My wife has been on me for years to get hearing aids. Since I was a child I have seen countless ENT specialists and hundreds of hearing tests all resulting in "profound hearing loss." I'm fine if I can lip-read, or if someone is facing me, but otherwise it may be difficult.
In SEP 2022 I purchased the Nano CIC rechargeable aids. I was rather impressed...for about a week. I went to remove the right-side aid using their plastic 'string' and the entire top of the aid came off and would not snap back on. It is now useless.
I wrote to Nano who sent me a return envelope which they acknowledged receiving near the end of September, however no communication from the folks at Nano at all.
I called Nano and they acknowledged receipt of my faulty hearing aids and gave me a separate phone number for their Returns Department. "Just send them an email explaining your situation, which I had already done and enclosed in the returned package.
After four, or so, emails back and forth they are claiming that I damaged the hearing aid. Removing the aid from my ear for the 50th time, I found them easy to remove until the red top cover came off along with the string.
Net/net, they want me to pay about $80 for the repair and sending it back to me when I clearly stated that if anything I purchase breaks in a week, I want a complete refund as stated on your website. They continue to say that I caused the damage! Removing, as per instructions, the aid from my ear??!!
Forget about the "As a manufacturer's warranty, this means that you will be fully covered for any manufacturing or design faults which impact negatively on your experience. This is a guarantee, however, we're confident that you won't need to call for hearing aid repairs providing you use your hearing aids carefully."
Probably my fault for buying something cheap and expecting something that would last longer than a week.

gerry
Do not buy, run away fast, bad product.
Nano hearing aids are horrible I have tried several because as I upgraded from one to another to hope I'd get something that worked ....wrong they stink. I really don't know how they stay in business. The in the ear thing that I have now I don't wear, can't hear anything with them. Save your $. 1 star is too good.

Kevin
Binowav better and cheaper
I bought the CIC rechargeable hearing aids and when I got them they seemed to work ok but when I went to remove the red one from my right ear it came apart, I told them what happened and they said to replace it would cost me $54 or so I refused, I bought a cheaper pair (Same technology) for $70 dollars on eBay called Binowav, They turned to be better than the nano's I paid $297 for, Trust me, The Binowav are better and you can buy 4 sets for less than $297, Good hearing and God bless.

GAIL
Nano will not return your money !
It's a scam !
They claim you damaged the hearing aids and no money will be returned !

steve k
they don't back up warranty
would not fix had 2 tears had 5 year warranty. so don't buy them

Missy K
Very very poor after care!!!!
Had problems two months after getting them. Nothing but problems. Called many times but no one would help. They kept sending me all over the place..no help. Just kept telling me they were from sales. All of them?
NEVER, NEVER DEAL WITH THEM, they are all carpetbaggers who happily take your hard earned money then don't know who you are after wards.
They did say they would send new ones, ( I doubt that) but I had to send the others back before they would. Sound strange? You can count on it.
People, get the real thing. They cost more, but at least you won't be spending half that amount on getting planned obsolescent garbage.
I have had hearing aids and though I could get them cheaper when they finally died in six years, but I never had a problem with them and when I did need help all my problems were taken care of promptly .AND. I got all my supplied for nothing.
I couldn't even talk with a real supervisor. One more thing. They come from China and your warranty starts the day you order them, not the day you get them. Know how long it takes to get an order from China? We do; over a month. See a pattern?