MyHeritage.com Reviews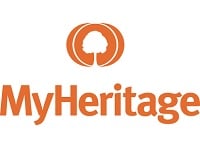 MyHeritage.com is the online home of MyHeritage, a genealogy website which promises to help users find information on their ancestry and heritage, as well as the ability to build a complete family tree.
How Does It Work?
According to their website, MyHeritage.com is dedicated to helping people discover, preserve, and share their family history. To do this, they have structured their website around the concept of building an online family tree.
To begin with, customers will add the names, dates, photos, and stories of family members they know and are familiar with.
Once you've begun building your family tree, their website will automatically begin searching for additional information for you. They say that "with exclusive content and accurate results we'll help you uncover more than you ever imagined."
As more information is discovered or becomes available, MyHeritage.com will send you email alerts for Smart Matches and Record Matches that reveal new family tree connections, records, and newspaper articles about your ancestors.
Their website says that their users will have access to more than 7 billion historical records, including birth, marriage, and death records; census, military, immigration, and legal records; newspapers, yearbooks, and directories; family trees, photos, documents, and maps; and much more.
Mobile Options
Currently this website is offering their customers use of their services through a mobile application which can be downloaded for free to either Android or iOS smart phones and tablets.
Cost/Price Plans
This company does provide people with a way to use their website and information for free, though the information that is available through their free service is very limited.
In order to get access to their full offerings of information and services, customers will need to upgrade to their Premium Subscription, which they say is priced at $9.95 per month.
However, they only allow customers to sign up for this subscription on an annual basis, so in reality it is a $119.40 fee.
Refund Policy
This website does say that they value the satisfaction of their customers, which is why they provide their members with a 30 Day Money Back Guarantee.
In order to request your refund, all you have to do is contact their Customer Service team within the first 30 days of purchase.
It is important to note, however, that this Refund Policy only applies to their Data subscriptions and not to any physical products that you would order from their website, like Family Tree Posters.
Customers who have an issue with a physical product they have ordered will want to contact their Customer Service team right away for more information.
Customer Service Contact Info
Customers who would like to contact their Customer Service team with any questions, concerns, or complaints can do so by phone at 877-432-3135 for US based customers.
Customers calling from other countries will want to find their country specific phone number on their website.
Reputation
This company seems to have two different reputations. The first is the impression that you get from blogs and websites that regularly review or work with genealogy websites, all of which seem to have a very favorable review of this website and often rank this website very high in comparison to the field of genealogy websites.
The second impression comes from customer reviews, which appear to be dramatically mixed in tone and opinion, with some people having great experiences and others complaining about how severely inaccurate the information they found on this website was.
Another concern from reviewers of this website is that MyHeritage.com only offers their customers Annual Subscriptions, which isn't always best suited to customer needs, and while they do offer some of their information for free, in general this information is very limited.
Competitors and Alternatives?
Certainly there are many, many other genealogy websites available if this website does not meet your needs for any reason. They include FindMyPast.com, Archives.com, and many others.
If you have any experience with MyHeritage.com or their services, please leave your reviews below.
You may also be interested in
MyHeritage.com Customer Reviews