My Patriot Supply Reviews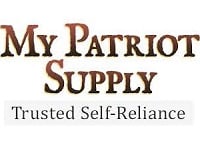 My Patriot Supply Customer Reviews

Mark A
My Patriot Supply & Patriot Pantry
I have been doing business with My Patriot Supply since 2011. I have about three years worth of food (bought over a period of time as I could afford it), some of their water filtration devices, etc. I don't know if the other two folks are just competitors or what but I have had a hands down amazing experience with the people and the product every time I order. I've referred a lot of my friends and family and we all love My Patriot Supply! I wouldn't dream of preparing anywhere else!

Dwayne H
We ordered brand name food and got unmarked generic instead. Plain paper labels on mylar bags without any brand. Chocolate pudding was totally unmarked except for small printing "chocolate" Had to go on website to see what this stuff was and how to reconstitute it. When we complained, they refused to take back food but offered 50% off the price we paid. If there is no name on it or country of origin I'm not eating it.
I won't buy from them again.