My Patriot Supply Reviews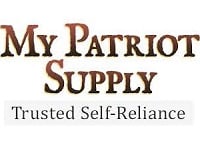 My Patriot Supply Customer Reviews

Charles E
Waste of money! Almost all rice! Almost zero protein!
They refer to this as a two week emergency food supply. I would have been MUCH better off buying a big bag of rice because that's the main ingredient in almost all the "food" I received. I spent $97 and it is the worst purchase for survival food I have EVER made.
I suggest you DO NOT BUY from this company. Totally unscrupulous company feeding off tenuous times and uninformed customers. In the past I bought Mountain House and their products are great.
I bought this "My Patrot Supply" crap at the start of covid after a YouTube vlogger I subscribe to started advertising for them. BIG MISTAKE!

Lee F
Money is better spent elsewhere
This is a survival company that has had a worse survival response than Jeffrey Epstein's suicide watcher.
They disclose orders will take up to 8 weeks or more. OK, but after 2 emails that have gone unanswered and 12 weeks that have gone by... an update would be cool. Instead the company chooses to give some vague update on their page, absolving themselves from any responsibility, and still their customers wait with no answers or any assurance that their order is even remembered.
What makes it worse is I'm getting orders of their products from outside vendors quicker than I'm getting it from them direct. After ordering a 1 month supply of food direct from Patriot, I ordered another month from Camping Gear a week later. That order has been here for a week already.
If this is the a company that has spent as much as they say they have in revamping and tooling to keep up demand, they may have wasted their time and money as much as I have.

Mark
Cannot handle an easy fix
It took almost 90 days to get my purchase which was the three month supply. The order was sent with 3 of the 6 buckets being the wrong food. Have tried to get replacement buckets now for almost three weeks with no success. My credit card company has put pressure on them by giving me full credit till this situation is rectified. MPS has gone into full stealth mode for three weeks now.

Dave S
Horrible Customer Service
I ordered several products at once and received order numbers for only one. After two weeks of email volleyball, they finally found the other order but it would take another 10 weeks for shipping. This was after 6 weeks for the first order. I told them to cancel and give me a refund.
That was over three weeks ago and no refund, returned email, or returned phone calls. May call the AG in that state and get action.
STAY AWAY.

Jason C
Worst purchase I've ever made!
I've had no communication with them after placing an order a month ago, I was supposed to be refunded $100 after being over charged, that was 3 weeks ago, 2 weeks ago I wanted a 100% refund after not receiving my first refund or my food buckets, still nothing! No food buckets, no refund(s).
I talked with a woman named Linda. Worst customer service, very dishonest and I highly doubt I'll receive anything from them! Do not order from them!

Pamela R
MY PATRIOT SUPPLIES lies about certain ingredients! BEWARE!
My roommate recently ordered some emergency food supplies from MY PATRIOT SUPPLY. She wanted to be ready for emergencies. I said "great," but let me first CHECK THE INGREDIENTS LISTINGS. I am a professional health care provider and researching nutritionist as well.
Honestly, I was deeply disturbed when I read the ingredients listed on one product. While MPS clearly states there is NO MSG ADDED, I discovered this to be deceitful and misleading advertising.
The ingredients listed in this one meal included HYDROLYZED SOY OR CORN PROTEIN!As all nutritionists know, this is just a cover-up for MSG!
Furthermore, all corn or soy, unless specifically stated that it is ORGANIC OR NON-GMO, is highly contaminated with pesticides and is typically GMO.
Corn syrup is extremely unhealthy, as well as other dubious ingredients with long chemical sounding names.
If MPS is being deceitful, actually LYING TO THEIR CUSTOMERS about "NO MSG" in their products, when in FACT HYDROLYZED CORN OR SOY PROTEIN is MSG and unhealthy and used as a flavor enhancer..then HOW CAN MPS be trusted with the REST of their information they publish about their products or ingredients???
As I read reviews online, I am discovering some other customers have the same kind of problems with deceitful or misleading advertising regarding food quality also.
I have advised my mislead friend to quickly cancel her order and purchase survival food supplies from a more honest and trustworthy company that conceals nothing from the customers.
-Pamela R S

William W
I tried three pouches of their granola packaged in 2013, just as a test and it was awful! VERY Metallic tasting in all three bags.
I had to toss it. it really makes me wonder what the rest of their foot tastes like.

Kevin B
The REAL DEAL! Trustworthy & Professional.
I started off by buying one of their advertised 72 hour preparedness meals for a total cost of $4.95 so I said "What the heck..." & Ordered it & was received withing 10 days.
I tried the food & found it tasty & thought it would make a good back up plan. After that 1st purchase I would receive emails for the $29.95 worth of 3 day food rations for a shipping cost of $9.95 so I ordered a total of 6 more 72 hour Food Kits, 1 per month with NO ISSUES AT ALL!
Then I kept reading emails for all the great food & different packages they have so I ordered up a 3 Month Kit under a promotion of Buy One Get One Free & got 6 months of 25 year storage food rations for the sale price of $497.
Since August of 2016 I have purchased Survival Coffee & Condiments, Meat Protein Kit & Breakfast Kit & Even the Alexapure Pro Water Filter System WITHOUT 1 ISSUE! Shipping being free I didn't expect it in 2 days like Amazon gives.
They all arrived quickly enough & were in the shown storage totes that are awesome by the way. Order without worry, they are honest & professional all the way.

Daniel H
Patriot Pantry foods from My Patriot Supply
Great food ! Can't believe how good it is, it certainly doesn't taste like what I expected 25 year shelf life food to be like. We started prepping recently and ought the 1 year food supply, but as soon as it arrived we tried some, and we so impressed we have added some of the foods to our weekly menu !! The soup dare great, the stew is tasty, and the creamy rice we take on our camping trips.
Wear e now looking at adding to our supply, and getting the coffee and perhaps the veggie kits. Thanks again My Patriot Supply !

Mark A
My Patriot Supply & Patriot Pantry
I have been doing business with My Patriot Supply since 2011. I have about three years worth of food (bought over a period of time as I could afford it), some of their water filtration devices, etc. I don't know if the other two folks are just competitors or what but I have had a hands down amazing experience with the people and the product every time I order. I've referred a lot of my friends and family and we all love My Patriot Supply! I wouldn't dream of preparing anywhere else!

Dwayne H
We ordered brand name food and got unmarked generic instead. Plain paper labels on mylar bags without any brand. Chocolate pudding was totally unmarked except for small printing "chocolate" Had to go on website to see what this stuff was and how to reconstitute it. When we complained, they refused to take back food but offered 50% off the price we paid. If there is no name on it or country of origin I'm not eating it.
I won't buy from them again.