My Happy Feet Socks Reviews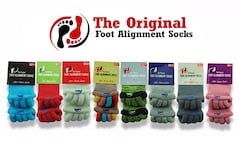 My Happy Feet Socks are a brand of foot alignment socks that the company states can help customers alleviate pain from a variety of foot issues.
The company's product, also known as "The Original Foot Alignment Sock", was patented in 2010.
Below we take a closer look at the company's claims, examine customer reviews, and see if these socks actually works.
How Do My Happy Feet Work?
My Happy Feet Socks were created as a homemade alternative to surgical interventions for foot pain, with the theory that misalignment of the toes is often the common cause of such pain.
Three of the most most common foot issues are:


Plantar fasciitis - The result of inflammation to the plantar fascia, a band of tissue that spans the bottom of your foot from the toes to the heel bone.

Plantar fasciitis can result from injury, heavy repetitive use, inflammation, and often for unknown reasons. [1]

The main symptom is a sharp pain at the heel of the foot, often first thing in the morning or after periods of being on your feet.



Bunions - Form due to a misalignment of the big or small toes that are then turned inwards towards the rest of the foot while simultaneously causing a protrusion of the afflicted joint.

This unnatural position of the toe results from "crowding" of the toes and the bump that develops on the outside of the foot may make wearing shoes or walking painful.

Bunions can develop over time from a persistent use of improper footwear or can be hereditary. [2]



Hammer Toe/Mallet toe - A condition where one of the middle toes develops a bend in the joint, forcing it to curl upwards.

Hammer Toe can be caused by improper footwear, trauma to the toe, or an imbalance in the toe muscles. [3]

On their website, My Happy Feet claim that their alignment socks can be used as a non surgical intervention for these common conditions.
They state that when you wear the socks for a few hours each day, or wear them overnight, then their unique design will help keep your toes in their natural positions and relieve the potential pain associated with misalignment.
The spacers in My Happy Feet are intended to help stretch and straighten the toes for further relief.
The company recommends starting out slowly and gradually increasing the duration that you wear My Happy Feet Socks over time.
This is due to the fact that, depending on the current state of your foot issue, wearing alignment socks for extended periods of time may be too painful.
By using their alignment socks, the company states that some people can start seeing relief in as little as one week.
The materials used in My Happy Feet Alignment Socks are 90% Cotton, 7% Polyester, 3% Elastane. The socks come in a variety of sizes and colors.
Do Foot Alignment Socks & Toe Separators Work?
There are many products on the market catering to those suffering from chronic foot pain, and even to high level athletes wanting to improve recovery and performance.
Some products are designed to be worn all day while others to be used in shorter intervals.
It's important to do your research and find the best solution for your own personal needs since improper use and self treatment with these products may cause additional harm.
The advertisements for alignment socks and toe separators claim that they can:


Assist with balance
Improve posture
Increase athletic performance
Alleviate foot pain
Help with injury prevention
Improve symptoms associated with: plantar fasciitis, hammertoe, corns, bunions, blisters, and crowded toes


Opinions from podiatrists and other experts about these types of products trend positive but are still mixed.
There have been some studies conducted that show similar products along with a lab issued shoe helped with balance. [4]
Another study using a silicone toe separator found that participants wearing it for 6 hours per night for 12 months had statistically significant improvement for hallux valgus (bunion) over the control group, concluding that


"a custom-mold room temperature vulcanizing silicone toe separator for treatment of hallux valgus reduces deformity and hallux pain." [6]

Another small study had similar results. [7]
While this research is promising it may still be too early to draw broad conclusions about these products' effectiveness.
Many podiatrists have said that toe separators, while they may provide relief and help with temporary toe alignment, won't permanently alter your toes or completely get rid of bunions.
Other movement experts believe that focusing on one specific intervention in the foot may lead to imbalances elsewhere in the body. They usually recommend a more holistic approach to restoring mobility and treating foot issues.
Overall though, it seems that foot alignment socks such as My Happy Feet Socks or other rigid silicone/gel toe spacers can be a benefit to those looking for some level of pain relief or correction.
The ideal foot shape has been compared to a slice of pizza, with the toes splayed out in a wide array tapering down to your heel. If your foot doesn't have that general look then you may want to look into using these products.
However, it is a good idea to consult with a podiatrist to see what their recommendation for long term treatment may be.
Are My Happy Feet Safe?
When used correctly alignment socks are considered to be very low risk.
However, if you have diabetes or foot issues related to diabetes, neuropathy, or frequent sores on your feet, you may want to consult with your doctor before using alignment socks.
Customer Service
If you have any questions about My Happy Feet you can reach a representative by email at [email protected] or by phone at 440-256-1526.
If you purchase the Original Alignment Socks from the company website they offer a 60-day money back guarantee.
If you are unhappy with the product, contact support to initiate a refund. The company offers no charge exchanges for wrong or defective items.
The company address is listed as:
Happy Feet Company LLC
6950 Spinach Drive
Mentor, OH 44060
Customer Reviews & Complaints
My Happy Feet Socks generally have good customer reviews. The company is not currently accredited by the BBB but has an A+ rating with that platform.
The socks are also also sold through Amazon where they have a solid rating of 4.4/5 stars from over 2000 customer reviews.
There the majority of customer reviews stated that they felt the product provided some pain relief and helped stretch out toes.
Some reviews mentioned that My Happy Feet Socks provided relief for bunion pain and helped with overlapping toes.
One recurring customer complaint was that some users wished the socks had tapered spacers instead of the same width for all the toes.
For some customers the socks felt great on the big toe but were too uncomfortable nearer to the smaller toes.
Competitors and Alternatives
There are a number of different brands marketing similar products to My Happy Feet Socks
One that particularly stands out and is most often recommended is Correct Toes.


Correct Toes - These flexible silicone toe spacers can be worn all day and in shoes. Designed by a Podiatrist they were engineered to be highly modifiable to work with any feet and be tailored for specific issues.

They are considered to be the premier brand for toe spacers and unfortunately that does come with a higher price tag of $65 per set.



Yoga Toes - A more affordable alternative for a similar product. They are made with hypoallergenic, medical grade gel designed to give your toes a firm stretch.

They have the same Amazon score as My Happy Feet at 4.4 from 3k+ reviews. There you can pick up a pair for $36.95.
The Bottom Line
Addressing your foot issues before they become worse is one of the best things that you can do. Failure to change footwear or behaviors that have led to foot pain will likely make it worse over time.
Toe spacers and alignment socks are not a cure-all, but they can play a role in alleviating pain and preventing further injury.
Serious structural foot problems may require surgery, which comes with its own set of risks and drawbacks so anything that can be done to avoid such a severe intervention should be explored.
Using My Happy Feet Socks in conjunction with a regular foot stretching and rehabilitation routine can be a good start to addressing your foot pain.
If you have any experience with My Happy Feet Socks, Please leave your reviews below.
You may also be interested in
My Happy Feet Socks Customer Reviews