MUD WTR Reviews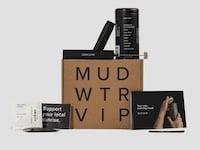 MUD WTR is a coffee alternative that's made with organic ingredients. The herbal components give it 1/7th the amount of caffeine that coffee has, providing energy with fewer jitters and less dependence.
The company was founded by Shane Heath, an entrepreneur, who wanted to maintain everything he loved about his morning coffee ritual without the downsides of a caffeine habit.
According to him, the natural energy that you get from their product mimics the effect you would otherwise get from coffee. However, MUD\WTR does not contain ingredients that may bring about anxiety or give you the crash that coffee often does.
Instead this beverage employs functional mushrooms as its base with a variety of other healing and beneficial ingredients.
Product and Ingredients
MUD\WTR is made with all organic components and is Whole 30 approved. Additionally, it is gluten-free, non-GMO, vegan, and kosher. The ingredients include:
Chaga
Reishi
Lion's Mane
Cordyceps Mycelial Biomass
Organic Oats
Organic Cacao
Organic Cinnamon
Organic Turmeric
Organic Ginger
Organic Cardamom
Organic Black Pepper
Organic Nutmeg
Organic Cloves
Organic Black Tea Powder
Himalayan Pink Salt
Many of the ingredients in MUD\WTR come from mushrooms sourced from California. MUD\WTR claims to personally oversee the growth of these mushrooms, and they attest to the safety and nutrition that comes from them. Organic Black Tea Powder adds caffeine to the drink.
MUD\WTR's Evening ritual starter kit is a caffeine free version of the drink with slightly different ingredients like the adaptogen Ashwanagnada, and other extracts that promote sleep.
What Are Functional Mushrooms?
This group of mushrooms have shown to have some kind of health benefit to people.
Although widely used in traditional eastern medicine, these mushrooms are now being popularized by mainstream health and wellness companies.
You can find a variety of powders, supplements, and beverages on the market using these ingredients. While more research needs to be done it is widely believed that mushrooms like Chaga and Reishi:
are high in antioxidants
support the immune system
may reduce mild symptoms of anxiety and depression
reduce inflammation
Further, Studies on lab mice, have suggested that they have positive effects for treating diabetes, suppressing tumor growth, and treating cancer.
Are There Any Side Effects?
Despite their health benefits, functional mushrooms may cause side effects in some people.
Symptoms can be mild like upset stomach or dry mouth, but if you have low blood pressure, are taking diabetes medications, have immune system disorders, pregnant/breastfeeding, or other health issues you should consult with a doctor to avoid any potential harmful interactions.
Although the company does not disclose any side effects on their website, some customers have complained about diarrhea and upset stomach after consuming the drink.
How To Prepare?
To correctly prepare MUD\WTR, you place a scoop of the product into a mug and add hot water. The preparation is similar to matcha or chai. After stirring your drink to dissolve all of the powder, you can choose to drink it as is or add flavoring.
Some will add CBD oil or honey, and others will add Keto creamer for extra taste.
Cost and Price Plans
To acquire MUD\WTR, you either enroll in a subscription service from the company or purchase the desired items through a "buy once" option. The most common method is to buy the Morning Starter Kit that comes with a 30-day supply and a sample of creamer.
Morning Starter Kit - $40-$60
30-Day Supply - $40-$55
Creamer - $20-$25
Sweetener - $20-$25
90-Day Supply - $100-$125
MUD\WTR also offers individual sachets of their products. These are not able to be used as K-Cups but are more manageable for on-the-go moments.
Additionally, MUD\WTR sells an evening option for drinking before bed that helps the body to decompress for sleep.
Customer Service
MUD\WTR offers several different options to get assistance on your order or to ask product questions.
Product Support Contact Form: https://mudwtr.com/pages/contact
Email: [email protected]
Phone Number: (213) 335-6544
Address:
4700 W Jefferson Blvd STE 101
Los Angeles, CA 90016-4055
If you are not happy with your purchase, you can email MUD\WTR for their returns process or cancel your subscription.
Customer Reviews & Complaints
MUD\WTR has a profile with the Better Business Bureau (BBB), although they are not accredited. The company has a low score of 2.5 stars with many bad reviews about being auto-enrolled in a subscription and slow customer service response rates. Additionally, customers have issues with the product not dissolving as it should.
On the positive side, there are favorable reviews from customers who enjoy the beverage and highly recommend it. Their advice for new users is to slowly incorporate it into your routine and try adding various sweeteners or milks if you're bothered by the taste.
FAQ
When purchasing new products, it is best to do your research to get a complete picture of the company and its items. Here are some of the top questions asked about this beverage:
Does MUD\WTR expire?
MUD\WTR has a shelf life of 12 months.
Is MUD\WTR good for you?
MUD\WTR is made with non-GMO, all organic ingredients. For many, it is a healthier option than their typical morning beverage.
Is MUD\WTR safe?
The ingredients that comprise MUD\WTR are safe and will not show up on a drug test as they are not made from psychoactive mushrooms.
Is MUD\WTR organic?
Yes, it is made with 100% organic ingredients.
Is MUD\WTR safe during pregnancy?
It is unknown whether the ingredients in MUD\WTR are acceptable to drink during pregnancy/breastfeeding. Therefore, it is recommended to check with your doctor before consuming.
Will MUD\WTR break a fast?
No, it will not break a fast. With only 20 calories per serving, it works well with intermittent fasting.
Is MUD\WTR vegan?
Yes, the product is certified vegan.
Does MUD\WTR stain your teeth?
No, the ingredients in MUD\WTR should not cause teeth to stain.
How much caffeine is in MUD\WTR?
MUD\WTR contains 1/7th the amount of caffeine as one cup of coffee.
Where To Buy?
You can purchase MUD\WTR on their company website.
Competitors and Alternatives
For those looking for a coffee alternative, other options are available on the market that are similar to MUD\WTR.
MUD\WTR vs. Crio Bru: Crio Bru is a superfood morning beverage that you can make right in your coffee machine. Unlike MUD\WTR, Crio Bru is available in different flavors.
MUD\WTR vs. Four Sigmatic: Similar to MUD\WTR, Four Sigmatic is a mushroom-based drink. However, Four Sigmatic also offers other products like beauty aids and wellness elixirs.
MUD\WTR vs. Ka'chava: Ka'chava is different because it serves as a meal replacement shake instead of a coffee alternative. However, it is made with superfood ingredients like MUD\WTR.
Is Mud Water Legit?
For those who find themselves dependent on coffee, switching to an alternative that still offers an energy boost can be beneficial.
While MUD\WTR offers a solution to this, it may not work for everyone. For some people, the ingredients may cause digestive issues or they may find the flavor unpleasant.
MUD\WTR is quite expensive and has average reviews regarding its effectiveness and customer service.
Overall, based on the customer reviews and significant price tag, we're hesitant to fully recommend this product.
However, functional mushrooms do have health benefits and if you're having issues with coffee this may still be a product worth checking out. Remember to consult with your physician about possible interactions with current health conditions or medications.
If you have any experience with MUD\WTR, please leave your reviews below.
You may also be interested in
MUD WTR Customer Reviews

Bettina B
DO NOT PURCHASE FROM THIS COMPANY! SCAM!
If I could give a negative Overall Rating I would, they do not deserve the one star!
Most horrible company I ever dealt with. They are a total scam. You can't return their gross product once you open the tin and notice not only how horrible it tastes, but that it also does not do a thing!
Another scam of theirs, they have a BBB account, yet BBB does not trust them either.
DO NOT PURCHASE FROM THIS COMPANY! SCAM!

Customer t
Frauduelently charged for subscription
Do Not give them any payment info, they will Force Charge it repeatedly and there is no way to Cancel a subscription, what they say on their website and what you can actually do in your account, are two different things. The option to cancel does not exist.
Contacted Mudwtr repeatedly via several emails for them, through their website contact, and by calling 3 phones at MudWtr and no response within 2 weeks.
Fair Warning, their main product is grossly overpriced cocoa powder and oats (that have been consumed by mushrooms), no actual mushrooms in the product, just powder remnants of what they were grown on.
Don't get scammed by this shady company as I did.
They did...eventually...refund me but it took getting my credit card company to do not just a Dispute but, also an investigation and, I had to provide lots of proof to get refunded.

Roxanne
No! No! No! I signed up for a subscription which went along fine for a little while. But then they charged me $40 out of the blue!
When I questioned them about it, they said it was for some thing that I had received six months ago! When I explained that, according to my bank account, I had already made all my payments, they did not refund my money.
I still don't understand what they think they are charging me for, but I will be contacting my bank in the morning. Horrible, horrible customer service! In fact, to me, they are downright thieves!

Jim B
Don't give them your credit card information
MudWtr is a scam! Once these people get your credit card information plan on cancelling your card when you stop receiving the Mud Wtr product! I cancelled my subscription, received a email confirming my cancellation. Nothing the next 30 days, yippee, and then they sent another box and charged my card the second month. I would not recommend them to anyone, friend or foe.