Moink Reviews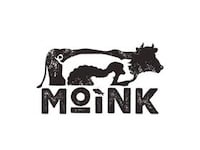 Moink Box is a farmer owned company that aims to connect ethically-conscious meat eaters with small farms providing humanely raised and ethically sourced meats.
The farmers saw the challenges that they had getting their meats into the hands of consumers that wanted it and the challenges that consumers had in finding ethically raised meats.
An additional part of the mission of connecting farm to consumer is to take a stand against corporate giants that are taking over the food system.
Moink is very specific in their sourcing and raising of animals and through their boxes they bring together multiple farms with different specialties to deliver the meat to your door.
Products and Ingredients
Moink makes the following claims in their promotional materials:
All Moink products are humanely raised and ethically sourced.
The fish is wild-caught with sustainable practices in Alaska.
The beef and lamb are both grass-fed and grass-finished.
Their beef, lamb, chickens and pork are raised outdoors on pasture.
Most of the animals spend their entire life on the same farm with the same farmers.
All meat is antibiotic free, without growth hormones.
No GMO grains are fed to the animals.
There is no sugar in the bacon or breakfast sausage making (paleo friendly)
There are no nitrites or nitrates in the products.
They do not treat the product in order to alter the color and there are no solutions added to the chicken.
How Does Moink Box Work?
First, you select one of the four box options: Beef & Chicken, Beef, Chicken & Salmon, Beef, Pork & Chicken or Beef, Lamb & Chicken.
Then you can swap out cuts of meat you don't want and customize your box. You will find out what is included in your box 10 days before the ship date.
Moink ships boxes every 3,4 or 6 weeks but you can also just order once or twice.
You can also skip an order. You will be charged the Friday before your order ships. Orders always ship on Tuesdays. You will get a tracking number.
Moink ships to the lower 48 states. Each box contains 13r-16 lbs of meat.
Cost and Price Plans
You must purchase a box, you may not select individual items. Each box is $159.00. They contain 13-16 lbs of meat which is about $4.50 per serving. Shipping is included.
Customer Service
If you need to get a hold of someone from the company you can do so using the information below.
13352 Ash Street, La Belle, MO 63447
Phone Number: 217-717-9448
[email protected]
Customer Reviews & Complaints
Some customers rave about the product, saying the meat is the best they have ever had. The timeliness, flexibility of ordering, and user-friendly interface were all positives.
The variety of products and quality were also noted to be big positives. Others said that the packages arrived in a timely manner and were cold. Overall, people mentioned that it was a joy to support small farmers.
On the other hand one review stated that the customer felt the cost was too high - but also recognized that with this level of quality that is expected. In additional negative reviews some customers reported their packaging arriving thawed with spoiled meet.
Moink Box does state that they offer a 100% guarantee on their produce, so if you do experince issues reach out to the company and they will try to make it right.
They claim to "issue a refund or replacement in the next order for any piece of produce that isn't great." Note that your claim must be made within one week of delivery.
Competitors and Alternatives
Moink Box vs Butcher Box
Butcher Box is not owned by farmers but does have a similar intention of connecting ethically-raised meat directly to consumers.
Their beef is 100% grass-fed, their chicken is free range and organic and they have heritage breed pork.
They have a curated box with 8-11 pounds of meat for $129 (free shipping) or a more comparable box (to Moink) of 12-16 pounds of meat for $149 (free shipping and customizable). Moink Box costs $159 for 13-16 pounds of meat.
There is a subscription with Butcher Box but you can cancel at any time before your next order.
While they are similar products, Moink seems to be more connected to their product because they are farmers and began their business with other farmers.
It's clear that they have a sense of commitment to the welfare of the animals and a mission to improve the food to table process.
Moink box also has specific options for each box which you can later customize. Moink Box does offer more seafood options than Butcher Box does.
Another interesting option is available from Crowd Cow, a company that auctions of portions of an entire cow.
They also offer the highest standard of Beef and work with small ranchers to get their products directly into the hands of consumers.
If you have any experience with Moink Box or their products, please leave your reviews below.
You may also be interested in
Moink Customer Reviews

Staci N
Love the meat, however packaging is problematic. Do not thaw your meat in the refrigerator unless you have it in another container or bag. For some reason their packaging is not airtight or water tight and the packaged leak. This is not a one-off problem. I've been getting Moink for over a year and it happens all the time.

Kelly
Not worth the premium price for what you get.
We ate most of what we got but in the end, cannot rate them higher than three stars.
They have very small sizes for selections, though other meat delivery services are similar. All cuts are tiny, so one cut per person might not actually feed some people.
Out of three orders (one per month) we've had 3 badly sealed products that had to be tossed, two of those were ground beef. The overall quality of the meats and cuts is not premium in any way, I'd call it average, if that.
A couple of the steaks were quite chewy due to a large portion of gristle. The bacon is by far the more horridly cook-shrinking bacon I've ever seen. It renders into a ton of fat and not much else by the time it's cooked, more than I've ever seen in my life.
The chicken was okay but like the rest of the offerings, cuts were small, like the size of one normal breast cut was three for Moink offerings. The roast was, well, if you want to cook a roast for one person, this might just be for you.
There are no price specials, and with only two of us, Moink does not allow smaller orders, so things build up. You can skip a delivery, but have to do so within the week of shipping notice.
After the third box we chose to just go back to standard grocery meats. They might not be, "ethically raised meats," but even that is not a regulated term, so I have no clue how Moink actually does business, nor do I want to continue with the pot luck results.
Three stars because we did eat the ones that weren't failed/spoiled, but not worth their premium price.

Darrell A
We ordered several ribeye's, a couple NY strips, hamburger and a sausage. Meat arrived frozen.
Ribeye appearance - first of all they didn't even look like ribeye cuts. I showed pictures to several family members and they said "You got ripped off." None of them looked alike, they just looked like random cuts of meat.
Taste - Tough and tough. No matter how cooked them they were as tough as nails.
NY Strips - same thing. Not sure what we got but it wasn't NY Strips. Ended up chopping them up and using them in bean chili.
Hamburger - rancid. Thawed them out in the fridge and the next day when we opened the package it was apparent these weren't processed and packaged properly.
Breakfast Sausage - was ok but nothing impressive. If I was served this at a cafe for breakfast I would be ok with it. Not much seasoning.
For the price we paid I wasn't happy with our order. Didn't bother trying to get a refund or contacting them, just coughed it up as a lesson learned.

Debi
Love MOINK. The meat is delicious and so is the Salmon. Customer service is responsive and very helpful.

T P
Leaky Packaging, Spoiled Meat, HORRIBLE Customer Service
Unfortunately, I had a terrible experience with the quality of the packaging that caused the meat that I ordered to be poorly sealed and spoiled upon arrival. The company's customer service offensively made excuses for the poor quality and rudely suggested that I no longer shop with them. Instead of attempting to win back my patronage to the company, this representative refunded me with an invitation to leave.

Lucille P
why was I charged double for my order!

Jeff
Worst steak I've ever ordered on line , claiming to be the best steak I'll evrr eat
I had the WORST steak I have ever eaten from an online store from Moink and They have ZERO customer satisfaction policy . I have saved their email responses if anyone would like me to post them .Also the bone in ribeye steaks aren't even an American product , they are from another country.

Diana
Disappointed with first order
Can not tell you how disappointed I am with my first order. All the chicken in my order had a pack date of June or August of 2018. That's 7-9 months ago. Are you kidding me! Recommended length of of time in freezer is no more then 9 months. This is unexceptionable! I was expecting meat that was frozen maybe 2 months not 7-9!
Could not find a packing date on the salmon so who knows!