Medix Select Reviews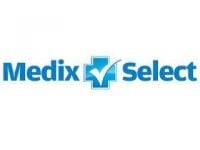 Medix Select is a line of dietary supplements from doctors David Brownstein and Chauncey Crandall that they state are high quality, premium formula supplements that are designed to target specific conditions and ailments.
How Does it Work?
According to MedixSelect.com, Dr. Brownstein is a board certified family physician and one of the foremost practitioners of holistic medicine. Dr. Crandall is the chief of the Cardiac Transplant Program at the Palm Beach Cardiovascular Clinic.
These two doctors wanted to create a line of nutritional supplements that were specifically formulated to help common health problems.
The website says the entire line was created by scientists, doctors, and medical researchers, in order to be the most advanced nutraceutical supplements available.
Their line offers popular supplements such as Prostrate Revive, which is specially formulated for men and has 15 special ingredients intended to help prostate function.
It also includes Glucose Reduce, which can be used by both men and women and has 26 ingredients that promote stability in blood sugar and insulin levels, and Limbex, which supports healthy joints and connective tissue, and many, many more.
MedixSelect.com says their supplements are all created in FDA-cGMP certified labs.
This certification indicates that the labs used to created dietary supplements follow all the guidelines of the FDA, but does not necessarily mean that the claims made by their products have been verified by the FDA.
Customer Service
If you are interested in ordering, but are not sure what supplements might best suit your needs, the website says they offer Customer Service assistance 24 hours a day, seven days a week.
Medix Select offers a 30 day guarantee on all of their products.
If you are not satisfied for any reason, you can return the unused portion of your supplement within 30 days in order to receive a full refund, less shipping and handling.
If you have any experience with Medix Select or their products, please leave your reviews below.
You may also be interested in
Medix Select Customer Reviews