Locksmith Pros Reviews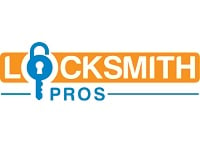 Locksmith Pros, found online at Locksmith-Pros.net, is a company that aims to provide customers with on-demand local auto, home, or commercial locksmith services.
How Does It Work?
According to their website, Locksmith Pros is a team of expert emergency locksmith professionals who are both trained and experienced in the latest technology and locksmith techniques.
Their team of technicians provides people with mobile locksmith services, meaning that they work from a professional vehicle and not from a storefront.
Mobile technicians can make replacement keys, change door locks, and even setup security systems with the tools and materials available inside their custom van.
If a customer needs service, they can simply contact their team by phone where you will speak to a dispatcher and explain your problem and the service you believe you need.
The dispatcher will send out the nearest locksmith to your area; their website says that they are proud to say their technicians have an average arrival time of just 15 minutes.
In addition, this service says that it is available 24 hours a day, because they understand that emergencies happen at all hours of the day and night.
Cost/Price Plans
For pricing this company has broken their services into three specific categories: Automotive, Residential, and Commercial.
Customers who need locksmith services for their car will see that prices begin at $35, Residential services begin at $19, and Commercial services begin at $19.
It is important, however, that customers understand that this is simply the base price. The total price will also include a $15 service fee plus the costs of labor and any hardware that needs to be purchased.
Customers will be given an approximate cost for their service over the phone when they call this service.
The estimate is based on the customer's description of the problem, though, so the actual price may vary if the job ends up being more complicated than initially thought.
Refund Policy
This website says that whenever a dispute arises between a customer and a technician, the first step is to always dispute the services with the technician directly and request that they fix whatever it is the customer is dissatisfied with.
If this does not lead to a satisfactory conclusion for the customer, they can choose to contact Locksmith Pros to see what other solutions can be provided.
Their website says that Locksmith Pros does have the right to determine the final resolution on whether or not they provide a customer with a refund, but they of course believe it is in their best interest to make sure their customers are satisfied with their work and service.
Customer Service Contact Info
Customers who would like to contact Customer Service with any questions, concerns, or complaints can do so by phone at 888-377-3434.
Reputation
This company appears to have generally positive reviews at this time, with most customers being happy and excited about quickly this company was able to respond to their needs and actually address their problem.
Competitors and Alternatives?
Depending on where you live the number of 24-hour locksmith services you have may vary, but ultimately customers should always be able to find someone who would provide them with an alternative to this service if they choose.
If you have any experience with Locksmith Pros or their services, please leave your reviews below.
You may also be interested in
Locksmith Pros Customer Reviews