KoreScale Gen2 Reviews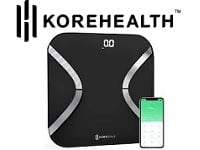 KoreScale Gen2 Review: Worth Buying?
The KoreScale Gen2 is a biometric scale that the seller KoreHealth states works using sensors that an individual steps on when using the device.
How Does KoreScale Gen2 Work?
Once you trigger the sensors to work, a method known as bioelectrical impedance analysis (BIA) activates, which sends a weak electric current through your body to determine your body composition.


The KoreScale claims to gives insight on the following elements:


Body Fat
Weight
Muscle Mass
Body Mass Index
Basal Metabolic Rate
Visceral Fat
Protein

Skeletal Muscle
Bone Mass
Water Weight
Metabolic Age
Fat-Free Weight
Heart Rate
Subcutaneous Weight

While doctors say that biometric scales are not 100% accurate, they can give a good picture of what health conditions are at optimal levels and which need improvement.
Many personal trainers and dietitians utilize this form of technology in doctors' offices and health clubs to get a non-intrusive snapshot into the overall health picture that you have.
The user manual included with the KoreScale Gen 2 offers insight into all the different programming capabilities the scale has.
Additionally, you can sync the device to the company's mobile app. Having this remote option allows you to review all of your data on the go and at any time.
Customer Reviews & Complaints
The KoreScale website offers many one-sided customer testimonials about the product on their own website. However, these are all filtered through the company, so the validity is unknown.
The KoreScale Gen2 is also sold on Amazon, where many independent reviews are given and the device has high ratings among those who have purchased the item.
Many initially feared that the scale was a scam but have come to enjoy the different features.
While there is a solid amount of favorable feedback, some customers have expressed frustration with the mobile app and their difficulty in syncing the scale to the application.
The company is not accredited with the Better Business Bureau (BBB) but does have an A- rating due to complaints of improper customer service.
Is KoreScale Gen2 Legit?
KoreScale Gen2 appears to be legit. However, the information you get from the device may not be 100% accurate.
It will, however, be very close to the statistics you would receive going through more intrusive methods.
With all approaches, there is a margin of error. The KoreScale Gen2 is no different.
While scales are the go-to for finding out your current weight, other ways to find out this information don't utilize the scale.
Doctors outline different methods they use that give them a generally sound idea of the impact of your weight on your health.
Instead of using a scale or the body mass index technique, doctors recommend the following:


Waist-to-height ratio (WHtR)
The waist-to-height ratio compares your waist circumference to height. This method considers central fat, unlike the BMI measurement.
Researchers at the 2012 European Congress on Obesity analyzed 31 studies and found that WHtR was more accurate than BMI at predicting certain diseases.
Finding your WHtR is simple. To start, grab a tape measure and measure your height and waist (halfway between your bottom rib and hipbone).
After that, divide your waist circumference by your height. Young adults should maintain a WHtR of at least 0.5 or lower.

Tracking Measurements
Many people measure different areas of their bodies (hips, waist, thighs, chest, etc.) to track their fitness or weight loss progress throughout a program.
Utilizing this approach is a good indicator of change without using a scale.
If the number on the scale is going up, but your waist measurement is going down, it is likely that you're probably losing fat and building lean muscle instead of gaining weight.

Resting Heart Rate (RHR)
Going by your resting heart rate allows you to understand your cardiovascular health and know your chances for heart disease.
Your resting heart rate is your heart beats per minute when your body is completely at rest.
To take your pulse, place your index and middle finger on your neck or wrist and count the number of beats for thirty seconds, then multiply by two to get your BPM.

Calipers
The subcutaneous fat that is referenced in the feature list of the KoreScale Gen2 is the fat that resides under your skin.
Measuring this using a caliper allows you to get a picture of your average fat percentage.
It's best to use the caliper in many different positions around your body to get the best representation.
FAQ

Where to Buy?
You can buy the KoreScale Gen2 scale from their official website or through Amazon.


Do they work?
Biometric scales do work. They utilize advanced Bioelectric Impedance Analysis (BIA) technology to scan your entire body composition.
While they aren't as accurate as other means, they provide extra insight into health levels.


Does the KoreScale Gen2 work with other fitness apps?
Yes, you can sync the KoreScale Gen2 with the FeelFit app provided by Kore Health, as well as Apple Health, Google Fit, and Fit Bit.
Customer Service
If you want to get more information on KoreScale Gen 2, you can try contacting the company via their phone number at (855) 826 5287 or through their online contact form.
The business address is:


198 Sutherland Drive
Venetia, PA 15367
Cost & Price Plans
The cost of a KoreScale Gen 2 is $99.
Purchasing the scale through Kore Health comes with a separate shipping charge.
However, purchasing through Amazon falls under Prime member benefits, including free shipping.
Kore Health offers a 30-day return policy on all products purchased through their website.
Competitors and Alternatives
There are many biometric scales on the market, including the earlier generation KoreScale Gen 1.
When comparing Gen 2 vs. Gen 1, you will see that they are much the same but with a different design.
Other popular biometric scales in the health market include the Aria Air Digital Scale, Omron Body Composition Scale, and Withings Body+.
The Bottom Line
Tracking your measurements and levels can be overwhelming when you're trying to get in shape or bulk up.
Finding avenues to do so for each area of tracking takes time. Additionally, performing the different methods to get the most accurate results is time-consuming.
Having a biometric scale may not bring you results that are 100% accurate, but they will give you information within a standard margin of error.
This data will help you better understand your overall health status. With that, we determine that the KoreScale Gen 2 may be worth buying.
The ability to sync it with other applications, the generally positive reviews, and the amount of information you glean from the device makes it an option for a biometric scale.
If you have any experience with the KoreScale Gen2, please leave your reviews below.
You may also be interested in
KoreScale Gen2 Customer Reviews

Carla
I don't agree with the bottom 1% customer service. I will give them a 0%, that is not available, as I have not been able to reach them in a few months. I placed my order November 8th and have received a couple of emails to my request for shipping information. The last 4 months I have not received any status updates. I honestly believe this is a scam.

LisaO
Bottom 1% in customer service
I ordered two fitness trackers and a scale on Dec. 22. I received one tracker. Now it is Jan 11, 2023 and nothing has been resolved. Customer service is slower than molasses in January and is completely ineffective. They send infrequent auto messages talking about their commitment to caring and fast customer service.
It takes days for them to respond to a query, which is only followed by the auto-messages and no resolution of the problem. Take my (and other reviewers') advice - NEVER buy a product from this company unless you are a masochist!!!

Kay R
Scale not suitable for anyone with osteoporosis but they don't tell you that until you have already bought the scale. Then: When you call to find how to return it because of the above, you get a message saying they will contact you by email.
IT NEVER HAPPENS. I have been trying ever since the day after I received the scale, trying to return their product and get a refund. THEY ARE NOT INTERESTED IN DOING THE RIGHT THING. DON'T BUY THIS PRODUCT.