John Barban Reviews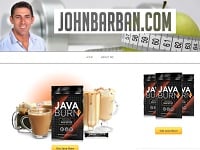 John Barban is a nutritionist and weight loss guru that markets a dietary supplement called Java Burn, a coffee additive that's promised to increase the body's metabolism.
How Does It Work?
According to their website, the John Barban Weight Loss Diet has been designed specifically for women because women's bodies are uniquely different when compared to men's.
Women who attempt a "one-size-fits-all" diet or workout regimen are significantly less likely to be successful than men, which is why they benefit so much more from a program designed just for them.
The VFX Body website says that the hormone Leptin is responsible for why men's and women's bodies don't behave the same while trying to use weight.
The John Barban Weight Loss Diet website says that this hormone is what kicks your metabolism into gear to burn stored fat, and while women's bodies have more than twice the amount of Leptin than men's bodies, women's bodies are more resistant to Leptin.
The goal of John Barban Weight Loss Diet is to give women the diet plans they need to reset the way their bodies respond to Leptin, so they can burn the stubborn stored fat that is so difficult to get rid of, lose their unwanted weight and really just get healthy.
Reputation
Unfortunately, the John Barban Weight Loss Diet doesn't appear to have very many reviews at all at this time.
Of the few customer reviews they do have, most are skewed negative due to poor customer service and other issues customers have had with the company, rather than with the contents of the diet program itself.
That being said, there is a lot of criticism available for the diet itself at this time. The most significant criticism is with the way this company discusses the hormone Leptin.
The website describes it as being able to speed up your metabolism in order to burn more stored fat, and while this isn't exactly wrong, it isn't completely right either.
The reality is that when your body has high levels of Leptin, it thinks that is isn't getting enough access to food, which signals to your brain to be both hungrier and to address your fat stores.
But, unlike what VFXBody.com says, it doesn't tell your body to burn those fat stores, but rather to take the food you are currently eating and also store those calories as fat.
It goes without saying this is not the way people who are trying to lose weight want their bodies to behave!
The truth is that doctors aren't sure how Leptin can be utilized in the fight against obesity and weight gain at this time, and any diet or weight loss program which tells you that they know how to use Leptin to increase weight loss just isn't telling the truth.
If the John Barban Weight Loss Diet users are successful at losing weight, it's probably because they have made the choice to eat right and get regular exercise – not because this company has the key to Leptin manipulation.
Customer Service
Customers who wish to contact Customer Service with questions, concerns, or complaints can do so by phone at 844-687-3438 or by email at [email protected].
Cost & Price Plans
Java Burn is priced at just $49.00 and is sold through the ClickBank digital marketplace.
Refund Policy
Because this company sells their product through the ClickBank digital marketplace, they automatically provide their customers with a 60 day Refund Policy.
Customers who feel as though this product is not as it was described in its effectiveness can contact both the Customer Service team of John Barban Weight Loss Diet and ClickBank to ensure that they will be provided a refund of the purchase price.
If you have any experience with John Barban or their products, please leave your reviews below.
You may also be interested in
John Barban Customer Reviews

Mysti A
I have tried, Meticore, Exipure and Resurge. They are all except Resurge, useless. A lot of money for a lot of useless pills. Add claims and directions do not match what the bottles say. Resurge did help me sleep but nothing else.