IT WORKS! Keto Coffee Reviews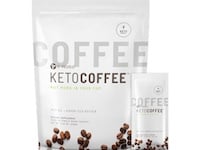 It Works!, a popular multi-level marketing company, has recently released their version of a Keto Coffee, or what's come to be known as Fat coffee.
How Does it Work?
Originally made popular by Dave Asprey of Bulletproof coffee who advocated for adding high grade butter or MCT oil to improve the beverage.
The Keto Diet is growing in popularity because of its effectiveness for weight loss and overall health improvement.
Similar to the Paleo diet, it is restrictive in terms of foods that you can and can't eat but with much less emphasis on counting calories or meal restrictions as with traditional diets.
The Keto Diet advocates an extreme reduction in carbohydrates forcing your body to enter a state of Ketosis in which your body begins to burn fat as the main source of energy instead of carbohydrates.
Many people experience rapid and lasting weight loss if they stick to this plan, then of course there are the added benefits that come with eliminating sugars and processed foods from your diet as well.
Since proteins and fats are one of your main sources of calories coffee is an excellent way to get them in.
Product and Ingredients
It Works! Keto Coffee is an instant mix that incorporates Grass-fed butter and Medium Chain Triglycerides (MCTs) to boost your morning coffee.
The company claims that it will:
Increase your body's ketone production
Breakdown fat
Boost your energy
Sharpen your focus
Builds and restores vital proteins
Kills cravings and satisfies hunger
The ingredients for It Works Keto Coffee include the following: MCT Oil Powder, Coffee Powder, Green Coffee Bean, Grass-fed Butter powder, Hydrolyzed Collagen Peptide, Xanthan Gum, and Himalayan Pink Salt.
It Works Keto Coffee can be prepared hot or cold, just mix it with water as per the instructions.
Cost and Price Plans
Since It Works is a multi level marketing company the purchasing process is a bit different as all orders have to go through one of their independent distributors. In all likelihood that is how you probably found out about the product anyways.
When you order you have the option of joining the company as a distributor yourself which will give you discounts on the products along with the business opportunity.
Your other option is to become a loyal customer by either signing up to their monthly autoship program (with added savings) for a 3 month commitment or paying a $50 membership fee when you complete your order.
Recently It Works Keto Coffee has been made available through Amazon where it sells for $59.95 for 15 packets/servings of the product. You can also purchase products directly through www.itworks.com, where they will either put you in touch with a local distributor or let you check out as a guest.
Customer Service
If you are a loyal customer and need assistance you can call them at their phone number (786) 706-1095. The company has complex rules for refunds so read through your options if that is a concern. The return policy can be found on their website.
Customer Reviews & Complaints
There are many promotional and favorable posts in Keto Diet Facebook groups from distributors, however those can not be counted as unbiased opinions.
If you Google around or read the reviews below you will get an idea for some of the complaints regarding It Works Keto Coffee.
One common issue that people have with the product is with how well it blends. Some people stated that it never really blended well and they were left with clumps in their coffee cup.
Other people complained about the customer service and how difficult it was to get assistance when they had billing issues or wanted to cancel their auto ship programs.
Finally, some of the worst complaints were from people who reported having adverse gastrointestinal reactions to the product, such as diarrhea, vomiting, and stomach cramps.
That being said there are also lots of positive reviews and It Works Keto Coffee is listed as an Amazon's Choice product.
Competitors and Alternatives
If you are following the Keto Diet and are intrigued by the idea of fatty coffee you have many options. For starters you can make your own but it would require a few kitchen gadgets to get that frothy creamy texture. There are many recipes available online.
Some additional options include buying the setup from Bulletproof Coffee, CoffeeBlocks, or getting MCT oil from Whole Foods.
Where to Buy?
You can find a local distributor through the IT Works website or have them randomly assign you one upon check out. You can now also shop through Amazon and itworks.com.
Is Works Keto Coffee Worth It?
Keto Coffee can be a great addition to your diet if made/used properly. When coffee is prepared this way it has many more calories than a typical cup of Joe. So if you are not using it in conjunction with a keto weight loss plan it will not have the desired effects.
That being said, based on the many complaints, we recommend trying a store bought version of Keto Coffee first. This is a no commitment option that will let you know if you want to continue with a similar product and if it's right for you.
If you have tried It Works! Keto Coffee, please leave your reviews below.
You may also be interested in
IT WORKS! Keto Coffee Customer Reviews