It Works Keto Coffee Reviews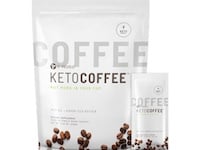 It Works Keto Coffee Customer Reviews

past i
don't u ever sell it either. I tried selling it and nothing I bought worked at all. no money back for any reason unless unused then u still pay a $4. fee to send back. and if I made a mistake as a dealer its to bad even if it costs me money. they have no sympathy or care for their customers or distributers!!! I lasted a month and when I quit I never got my commission I made because I quit. gurrrrr its a huge scam. I do like the oils and greens but thats all and as a customer I will order from my friend but nothing else. and I may not even do that!!

Candace B
I hv a sweet friend that is a distributor and I LOVE bulletproof coffee! So, even tho it's far more expensive than my daily cup, I was looking for an energy boost w/o adding another cup of coffee. I was a chef and I LOVE coffee. I can tweek about anything to make it palatable. Not this! In no way did it taste like bulletproof coffee OR have the same creamy consistency. The xanthum gum and/or the collagen makes it too thick.

Donna
Tastes okay, but better with chocolate greens
I recently started on the Keto coffee, wasn't crazy about the flavor, I like strong coffee, and the Keto coffee is more of a creamy buttery flavor, but when I add it to my chocolate greens it tastes great!
I have not started the Keto diet (yet) so I was hesitant about using Keto coffee while not being on the diet, BUT, I have noticed a big improvement in the way I feel, and that started within a week of adding the Keto coffee to the greens. My aches and pains are much better than they were before I started it.
I will update this review after I try the Keto diet (low carb & sugar) and let's see if it helps me lose the 15 pounds I would like to shed.

Joy
I mixed mine with warm almond milk. Added a smidge of my creamer. It tasted straight like whole milk. I contacted my friend to make sure that I hadn't misunderstood the directions, like maybe I was supposed to mix it with coffee... It was gross and I will not purchase. I can buy MCT oil and grass fed butter on my own and add it to cold brew myself.

Courtney
Try it with a little almond milk and a little agave...delicious!

Jes
It works does not. I have never liked a single product. I love my It works friends because a lot of them sell it but i will never buy it I've wasted my money too many times! Ibwas consistant i followed the rules and paid the money. I lost 43 lbs with diet and exercise, not suran wrap and discusting coffee. I don't really see thin distributors either, sounds rude but it's kind of true. Out of the 50 people I've actually met that sell it everywhere you turn maybe 4 if them are actually thin. One gal I've seen at the same craft fair for 4 years in a row is actually bigger every time I see her. I support my friends but this company is a scam

Kristi
I love the taste of my coffee but the lumps are gross. How do you mix it to avoid the clumps of gross goo?????

No
JUST RECEIVED MY COFFEE ON YESTERDAY AND I LOVE IT. I LIKE THAT IT IS A LOT LIKE HOT CHOCOLATE. DON'T KNOCK IT UNTIL YOU TRY IT.

Kaylamae
It sucks not going to buy it again it was horrible and gross did not like it works coffee don't buy.

Lisa
Although expensive, I just love the creaminess and how it makes me feel, tons and tons of energy and clarity. I joined to get the discount of $39.00 vs. $65.00 (ouch).
My go to for coffee now. Buy it to at least try it!

Natalia
My husband and I love it, I shared with friends and they felt the boost and have been taking it as a pre workout. The single packaging is so convenient!!

Janet Z
Bad Company; $2.93 per cup
I had a friend on facebook (a distributer) talk me into this when she posted on line. As a lover of coffee, I thought is was good idea since she told me price would be less than coffee I purchase every day (mine Speedway $ .97 per 20 ounces). So at first I thought I was getting 90 day shipment for $43.95. Until she told me that it would be three $43.95 (auto shipments of 15 packages). Never told me they were single serve. I'm thinking I'm getting 15 packs enough for 30 days of product. Then I placed product order in her hands on 10/12/2017; shipped out on 10/18/2017. On 10/24/2017 a box weighing less than one pound (.90 ounces) is delivered to me. WTF??? Twelve days and a packagfe that could of been shipped in a manilla envelope for less than $2.00 is all it would of taken; first class mail no more than three days. Yes pyramid scheme. A rip off. They had the nerve to threaten me when I called twice. Hey jackwagon (It Works), I did not sign an agreement with IT WORKS. Sad for you just more comp[laints to the piling complaints already piling up online. BTW Credit Card has been shut down. Sad for you. When you sign up for this scam, report your credit card stolen. It is not a lie; It Works stole my card because they would not issue me a cancellation confirmation for my credit card and it's product.

Koda k
If you're used to drinking your coffee black this is a little different. But I always add a little cream and sugar. I thought it smelt great when I was stirring it up. And I think it has a great taste too! And if the health benefits are better than normal coffee then I say why the hell not!?

John R
OMG...Had some maniac who's involved in some pyramid scheme give me a sample of this toxic sludge...DO NOT DRINK this...YOU HAVE BEEN WARNED