Heal-n-Soothe Reviews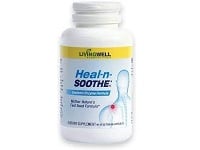 Heal-n-Soothe, found online at HealnSoothe.com, is a dietary health supplement that describes itself as "a pain reducing miracle" for arthritis sufferers.
How Does Heal-n-Soothe Work?
The Heal-n-Soothe Arthritis website states that many of the foods people love most, such as soda, desserts, breads, and other grains, are also some of the worst foods you can possibly eat if you suffer from any form of arthritis because these foods increase inflammation in your body and your joints, making the pain of arthritis much worse.
But they don't believe that people need to cut these foods out their diet completely in order to be pain free.
Instead, they believe their all natural supplement is so effective at reducing inflammation that users will still be able to eat their favorite foods and treats without experiencing serious pain.
To use effectively, customers simply need to take this product once per day on an empty stomach, which they describe as at least 30 minutes before or 60 minutes after meals.
The recommended dosage to begin with is three capsules, but customers can increase their dosage by 1 capsule per day until they feel reduction in their pain.
Ingredients and Side Effects
The Heal-n-Soothe Arthritis website does provide their customers with what they consider a list of their active ingredients are, including Bromelain, Turmeric Extract, Papain, Devil's Claw, Boswellia Extract, Vitamin E, Ginger Extract, Rutin, Citrus Bioflavanoids, L-glutathione, and Mojave Yucca.
Most of these ingredients have been associated in some way, shape, or form with potential reduction of arthritis pain and inflammation, so this product may be effective in helping people suffering from this condition.
Cost & Price Plans
The sales page of Heal-n-Soothe Arthritis says that the company will purchase a bottle for you and then send it to you for just the $4.95 cost of shipping and handling.
They claim that this is how they get customers to trust and believe in their product – by providing them with the product to try for themselves for free.
This is not the full story, however. The reality is that customers are being given a trial offer of 30 days in which to try this product for themselves.
If you do not call Customer Service to cancel your order, you will begin getting regular monthly shipments of this product and your credit card will be charged $49.95 every month until you cancel.
Refund Policy
Because this company sells their product with a trial promotion, there really isn't a Refund Policy that is applicable to these purchases.
Instead, customers will be required to cancel their auto-ship enrollment in order to ensure they don't get an additional credit card charges.
If you fail to cancel and further charges are applied to your card, it is unclear whether you will be able to receive a refund of these charges.
Customer Service Contact Info
Customers who would like to contact Customer Service with any questions, concerns, or complaints can do so by phone at 877-304-9978, by email at [email protected], or by submitting them directly to their website through the Contact Us link.
Reputation
Unfortunately this product doesn't appear to have many customer reviews at all at this time, and the few reviews which are available appear to mostly be from affiliate websites that are either earning money from the sale of this product or of competitor products, making it difficult to determine how biased or unbiased they are.
The ingredients being used in this supplement have been associated in the past with improvements in arthritis pain and inflammation, but customers who choose to try this product should remember that they will need to cancel their order within 30 days if they feel that this supplement is not right for their needs, otherwise they will begin receiving recurring charges.
Competitors and Alternatives?
There are many different arthritis medications and supplements available on the market which make very similar claims to this product, so customers who aren't feeling as though this is the right product for their needs will be able to find many other alternatives which may be better for them.
If you have any experience with Heal-n-Soothe, please leave your reviews below.
You may also be interested in
Heal-n-Soothe Customer Reviews

Kelley T
This works for me! I have osteoarthritis and lupus and I no longer have joint pain in my hands or pain in my feet when I walk. I doubted whether it was really helping or not so quit taking it for a while. After about 3 weeks I realized my hands were aching again and I couldn't figure out why. then I remembered I had quit the Heal-n-Soothe. I am starting back asap!

Nancy L
Overcharges on my credit card
Responded to the free offer for $9.95 shipping and then saw 2 auth checks for $1 and 2 processing for $1. Froze my credit. Will buy on Amazon for $44 if I decide to try this.

Mandy O
Bit worried now after reading some reviews. I am in so much pain, I really hope it works but am dubious

Barry S
be very careful its a scam
On the 27th July I ordered and paid for a bottle of heal n soothe. to date no product no acknowledgement no reply to numerous emails. Subsequently found out Product also not what is is reported to be.
Now I receive an email advising me sorry for delay but due to high demand can now ship but wait need to pay the postage. Sounds phony. I guess will have to write off my 120 nz dollars

townsend s
Everyone is different. I have taken Heal N soothe for a few years now. It works for me is all I can say. And I have given a few bottles away and everyone I gave one to also loved it. sometimes I forget because my knees feel so much better. It does not work real fast.
I had to take it every day. but in a week or so I noticed my pain was gone. I have terrible knee pain if I do not take it.
And as for it being about money? The owner has called me a few times to check on me and they run so many specials that they send me free bottles all the time.

Linda G
I took it as directed for 2 months - no relief. So I put my husband on it for his knees and shoulders. He was having heartburn/indigestion so doctor asked if Jim was taking anything new.
We told him about Heal-n-Soothe and he suggested NOT taking it to see if heartburn subsided; he did and it did - and H-n-S did nothing for his knee/shoulder pain, anyway. Since husband and I both gave it a try (and were on autoship), we are past the 90-day guarantee, so company will not take back our unopened bottle nor the one Jim is half-way into, of course.
I should have just called them to cancel when it didn't work for ME... Not a very responsive company, IMHO.

Keith C
This marketing plan is bad
I do not know if the product is good or bad but having your credit card charged every month is not good. I can vouch for that. Never purchased anything under this type of marketing that did not turn out badly for me.