Hale Breathing Aid Reviews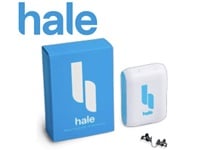 Reviewopedia is supported by our readers. This page contains links through which we may earn a small commission for purchases.
The Hale Breathing Aid is a nasal insert claimed to be an unobtrusive and simple-to-use solution for a variety of breathing issues.
Below we take a closer look at Hale to see if customers like the product and if the company lives up to its claims.
How Does it Work?
When it comes to breathing issues, snoring is one of the most targeted for intervention from aids and devices.
Anti-snoring devices aim to prevent the soft tissues in the upper airways from blocking air flow during sleep.
Nasal strips do this from the outside and products like Hale do it via internal insertion. Studies have shown that these are also effective at reducing snoring.
GetHaleBreathing.io states that once you insert the device into your nasal cavity it will open up your breathing passages and allow for better air flow, resulting in better breathing immediately.
The device is supposed to physically adjust the structure of the nose without the use of surgery or harsh medicines.
They company website states that the Hale Breathing Aid inventor, Patrick Byrne MD, FACS, MBA, created it as a non invasive tool to help relieve symptoms of conditions such as:
Nasal Valve Collapse
Deviated Septum
Airway Obstruction
Nasal Inflammation

Snoring
Sleep quality
Physical performance
Mood & quality of life
Overall they state that the Hale Breathing Aid is:
FDA Registered & Compliant
Was developed at Johns Hopkins Medical Center
100% Safe
Their website states that "Hale was even shown to be 95% as effective as full reconstructive surgery"
However they also include a disclaimer that states "These products are not intended to diagnose, prevent, treat, or cure any disease."
There is also no link on their website to the studies they reference supporting these statements.
So if you're suffering from impaired breathing due to a serious condition it's best to consult with your doctor before attempting to self treat/diagnose with an over the counter product.
Also note that the Hale Breathing Aid is not a replacement for CPAP for those with sleep apnea.
Cost and Price Plans
1 Hale Breathing Aid Kit sells for $29.99
This kit includes: 3 Breathing aids (S, M, L), a carrying case with mirror, insertion & removal tools, and a microfiber cleaning cloth.
If you choose to order more than one kit they offer discount incentives that will lower your per unit price.
Customer Service
Hale offers a 30-day money back guarantee on their product.
They state that if you're unhappy you must send back your kit within 30 days of purchase. You must also include a note with your order number and a reason for the return.
Returns should be mailed to:
GiddyUp Fulfillment
20206 87th Ave S
Kent, WA 980312
If you need to reach customer service you can do so at [email protected].
The company lists their office address as:
Hale Inc.
152 Commonwealth Ave
Concord, MA, 01742
Hale Breathing Aid Reviews & Complaints
We have not found many customer reviews for the Hale Breathing Aid. The bulk of websites with reviews for Hale Breathing aid are affiliates promoting the device for a commission.
The Hale Breathing Aid has mixed customer reviews on several consumer advocacy websites and Amazon.com
Some users reported that the product worked as intended and successfully helped them improve their breathing issues.
Others had issues with the fit of the inserts, claiming that it exaggerated their nostrils to a painful point and did not actually help clear the passageways.
Additional reviewers also noted that they found the device painful to wear.
At this time there is a limited amount of customer feedback so these reviews may not be indicative of the product's overall effectiveness.
The Hale Breathing Aid comes with 3 different sizes so it may be best to start with smaller sizes in increase if you feel comfortable.
Competitors and Alternatives
Heavy duty solutions such as CPAP machines use positive pressure to force air through those passageways by way of mouthpiece or facemask, and have proven to be very effective at stopping snoring.
Thermoplastic mandibular advancement devices have also shown to be effective at snore reduction.
There are also smaller scale interventions such as Internal/External nose dilators, these devices physically prop open your nasal passageways.
With snoring issues likely to affect roughly 50% of the population at some point in their lives, there are many products on the market aimed at reducing it.
Mute Snoring is a popular option that has a similar design to Hale. It costs about half the price at 14.99 and has a 3.4/5 star rating on Amazon from 6,156 customer reviews.


Breathe Right Strips - The first over the counter applications to address snoring. These strips have great reviews with a 4.4/5 star rating from 7,412 customer reviews on Amazon.


ZQuiet Anti-Snoring Mouthpiece - This mouthguard type product has mixed reviews from Amazon but has been very popular and is recommended by many sleep improvement websites.
The Bottom Line
Is the Hale Breathing Aid worth using, and do nasal inserts even work?
Every person's anatomy and issues may be different so treating nasal blockage may take some trial and error. Consult with your doctor about recommended treatments for your personal condition.
The Hale Breathing Aid may be a good option as there is research showing that similar devices have had positive effects.
There isn't enough feedback from online users to fully recommend the product but given their money back guarantee it may be worth a try.
If you have any experience with Hale Breathing Kits, please leave your reviews below.
You may also be interested in
Hale Breathing Aid Customer Reviews

LF M
Totally useless. It kept falling out of my nose and irritated the inside of my nose.