Hale Breathing Aid Reviews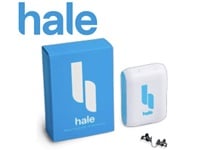 Hale Breathing Aid Review: Is it Effective?
The Hale Breathing Aid is a nasal insert claimed to be an unobtrusive and simple-to-use solution for a variety of breathing issues.
Below we take a closer look at Hale to see if customers like the product and if the company lives up to its claims.
Seller Claims
GetHaleBreathing.io states that once you insert the device into your nasal cavity it will open up your breathing passages and allow for better air flow, resulting in better breathing immediately.
The device is supposed to physically adjust the structure of the nose without the use of surgery or harsh medicines.
They company website states that the Hale Breathing Aid inventor, Patrick Byrne MD, FACS, MBA, created it as a non invasive tool to help relieve symptoms of conditions such as:


Nasal Valve Collapse
Deviated Septum
Airway Obstruction
Nasal Inflammation

Snoring
Sleep quality
Physical performance
Mood & quality of life
Overall they state that the Hale Breathing Aid is:


FDA Registered & Compliant
Was developed at Johns Hopkins Medical Center
100% Safe


Although the seller's website states that "Hale was even shown to be 95% as effective as full reconstructive surgery", there is no link provided to the studies supporting these statements on the company website.
The Hale website does include a disclaimer that states "These products are not intended to diagnose, prevent, treat, or cure any disease."
Also note that the Hale Breathing Aid is not a replacement for CPAP for those with sleep apnea.
If you're suffering from impaired breathing due to a serious condition it's best to consult with your doctor before attempting to self treat/diagnose with an over the counter product.
Customer Reviews & Complaints
While Patrick Byrne gets high marks for his medical practice on the Cleveland Clinic website, we find that the Hale Breathing Aid gets mixed to negative customer reviews on several consumer advocacy websites, as well as on Amazon.
For example, on Amazon the Hale Breathing device gets a rating of only 2.8 out of 5 from over 600 customer reviews.
See Hale Breathing Aid Reviews on Amazon.
We also found a large number of websites with reviews for Hale Breathing aid that are actually affiliates promoting the product to earn a commission.


Positive customer reviews commonly mentioned:


Reduction in Snoring: Some customers mentioned a noticeable decrease in snoring, which led to improved sleep quality for both themselves and their partners.

Improved Nasal Airflow: Some users experienced enhanced nasal airflow, which was particularly beneficial for those who had issues with blocked nasal passages during sleep.

Better Sleep Quality: A number of custmers reported improved sleep quality due to lessened breathing difficulties at night.

Adjustment and Comfort Over Time: A number of users found that the initial discomfort decreased with continued use, allowing them to adjust to the device.

After an initial learning curve, some customers found the device relatively easy to insert and use.
Negative customer reviews commonly mentioned:


Limited Improvement or Worsening of Conditions: For many users, the device did not significantly improve breathing or reduce snoring.

In some cases, it worsened the condition or was completely ineffective. Users with certain conditions like swollen turbinates or deviated septum found little to no relief.


Discomfort and Pain: A significant number of users experienced discomfort or pain, particularly when the device did not fit well or due to the nature of its design.


Difficulty in Insertion and Sizing Issues: Many customers faced challenges in correctly inserting the device and finding the right size.


Nasal Irritation and Side Effects: Several customers reported increased nasal running, sneezing, irritation, and in some cases, worsening of snoring.


Product Quality: There were instances of the device breaking and causing additional complications. There were reports of the device breaking and causing harm, raising concerns about its safety.


Refund and Customer Service Issues: Some customers expressed frustration over the lack of a refund policy and poor customer service, particularly in cases of dissatisfaction or product defects.
Customer Service
GetHaleBreathing.io states that returns are accepted if the starter kit is sent back within 30 days of purchase.

The kit must be returned to the provided address with a note including the original order number and a reason for the return (e.g., size issues, doctor's advice).

A full refund is issued within two weeks of accepting the return, although it may take longer to appear on the credit card statement.
Returns should be mailed to:


GiddyUp Fulfillment
18205 Andover Park West
Tukwila, WA 98188


If you need to reach customer service you can do so at [email protected].
The company lists their office address as:
Hale Inc.
152 Commonwealth Ave
Concord, MA, 01742
Cost & Price Plans


1 Hale Breathing Aid Kit sells for $29.99 plus taxes (+$7.99 s/h)


This kit includes: 3 Breathing aids (S, M, L), a carrying case with mirror, insertion & removal tools, and a microfiber cleaning cloth.
If you choose to order more than one kit they offer discount incentives that will lower your per unit price.
Competitors and Alternatives
When it comes to breathing issues, snoring is one of the most targeted for intervention from aids and devices.
With snoring issues likely to affect roughly 50% of the population at some point in their lives, there are many products on the market aimed at reducing it. [1]
Different anti-snoring devices use different methods to try to prevent the soft tissues in the upper airways from blocking air flow during sleep.
Nasal strips do this from the outside and products like Hale do it via internal insertion. Studies have shown that these are also effective at reducing snoring. [2]
Heavy duty solutions such as CPAP machines use positive pressure to force air through those passageways by way of mouthpiece or facemask, and have proven to be very effective at stopping snoring. [3]
Thermoplastic mandibular advancement devices have also shown to be effective at snore reduction. [4]
There are also smaller scale interventions such as Internal/External nose dilators, these devices physically prop open your nasal passageways.
Below are some recommended devices based on our research:
Rhinomed Mute - This nasal dilator is popular option that has a similar design to the Hale device.

However, it's priced quite a bit cheaper and has a higher rating from customers (3.4/5 from 9,000+ customer reviews)

Check the price on Amazon
Breathe Right Strips - Breathe Right was the original over-the-counter product to address snoring.

Breathe Right strips have great customer reviews ( 4.4/5 stars from 8,000+ customer reviews ) at are very affordable.

Check the price on Amazon


The Bottom Line
While the Hale Breathing Aid showed potential in improving nasal breathing and reducing snoring for some, a significant portion of users experienced discomfort, ineffectiveness, and even safety concerns.
The lack of a return policy and the requirement to purchase all three sizes (of which only one might fit) further contributed to customer dissatisfaction.
Because of these negative qualities of the Hale kit and the seller behind the product, we recommend going with one of the better alternatives mentioned above.
Every person's anatomy and issues may be different so treating nasal blockage may take some trial and error, so it's a good idea to consult with your doctor about recommended treatments for your personal condition.
If you have any experience with Hale Breathing Kits, please leave your reviews below.
You may also be interested in
Hale Breathing Aid Customer Reviews

LF M
Totally useless. It kept falling out of my nose and irritated the inside of my nose.