Green Chef Reviews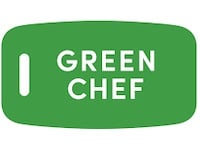 Green Chef is a meal delivery service that focuses on healthy, organic, and sustainably sourced foods. The company sends you all the ingredients and instructions necessary to prepare delicious meals at home.
The idea is to save you time by taking care of the meal planning and grocery shopping without substituting health and home cooking.
How Does Green Chef Work?
Each week you will receive 3 dinners based on the meal plan that you chose.
Meal plans are set every week by their team of chefs and you do have the option of opting out or making changes to your plan, provided you do so before the cut of time. You will be notified by email when the meal plan is set.
The packages include everything you need aside from basic cooking equipment, salt, pepper, olive oil, and higher temperature cooking oil.
All other ingredients are pre measured and clearly labeled. They estimate that meals should take between 20-30 minutes to complete.
One concern that some people have when using these types of services is the environmental impact.
Green Chef uses biodegradable insulated liners and boxes made from recycled materials and fully recyclable containers.
Cost and Price Plans
Currently they offer the following options...
Vegetarian - Vegan and Vegetarian recipes full of plant-based proteins and wholesome sides. Costs $11.99 per person per meal.
Keto+Paleo -Carb conscious, high protein recipes free of gluten, grains, soy, and legumes. Costs $12.99 per person per meal.
Balanced Living - An array of dietary options, featuring choice of meat, seafood, and vegetarian recipes. Costs $11.99 per person per meal.
Customer Service
Once you're a member you can easily manage your account through the website and make any delivery changes you need through it.
If you would like to cancel you can do so by emailing the company at [email protected] or call the phone number (888) 236-7295.
If you have more questions you can submit an inquiry through their website or look through their helpful FAQ section for answers.
Green Chef delivers to almost anywhere in the United States excluding Alaska, Hawaii, and parts of Louisiana.
Customer Reviews & Complaints
There are thousands of online reviews for Green Chef without much of a consensus. The reviews are mixed, with one side describing a pleasant ordering experience, tasty meals, and incredible convenience.
And the other proclaiming that they received spoiled and rotten ingredients, had issues with timely deliveries, or simply didn't enjoy the meals.
Green Chef does have the support of many popular online food blogs but those reviews may not be fully unbiased given the nature of online media partnerships.
The Bottom Line
When it comes to meal kits, outside of the logistical factors like shipping and food arriving properly packaged the rest can be very subjective. People have different tastes and so what one person likes may not be palatable to another.
Green Chef does make an effort to be a leader in the healthy meal kit niche and uses organic ingredients and recyclable packaging. Our recommendation, if you're interested, is to keep an eye out for promos/discounts and give the company a try.
You can also check out their weekly menu ahead of time to see if there are some meals that pique your interest. They do advertise their service as commitment free so you can skip when you want and cancel any time.
If you have any experience with Green Chef or their services, please leave your reviews below.
You may also be interested in
Green Chef Customer Reviews