Green Chef Meal Kits Reviews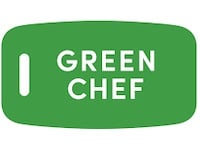 Green Chef Meal Kits Customer Reviews

Ken a
We love it so much! They deliver to our area on the Colorado River.
This food is so perfect since we do not have Organic and fresh ingredients as these meals. We started this to be healthy instead of driving 90 miles to Whole Food to buy the ingredients. This service exceeds my expectations. I have lost 8 lbs.in around one month just be eating these meals and very little processed foods. We do not have a stomach problems after eating these meals like we do with most restaurants and processed foods. I do not believe we will ever stop this service. I post all our meals on Facebook and people are starting to order from Green Chef as well that live here.
Ken and Karen Parrillo
Bullhead City, AZ

BunBun
I paid $16.50 a SERVING and I still have to cook it......are you kidding?

cathy p
it sounds as though all the reviews were written by the same person. same type of wording and it sounds as if the person writing is not from the united states. i don't think i will order green chef.

Luis
It is ridiculous that you must skip/cancel a WEEK in advanced, especially because they do not email you about your order. $89 for 2 people? There isn't even enough food for 2 people, unless they're children. I strongly recommend not purchasing. Those positive reviews must be fake.

Elaine
Love it! Love it! Love it!
So convenient, so simple, and so great tasting! Like others, I wasted a lot of fresh food. I wanted to eat healthy, but found myself too tired after work to cook, so I would throw it all out. Green Chef has made this so easy. The meals are so delicious - even hubby frequently comments that he would never have thought the combinations would appeal to him (he's a steak and potatoes kind of guy). Portion sizes are not huge, but entirely satisfying, and we often have enough to share with a third person when needed.
Nothing is wasted with this meal plan - Never any leftovers, the boxes are great storage boxes, the chill packs are completely reusable (we've given several to friends and neighbors), some of the zip bags can be washed and reused and I have a growing collection of nifty storage jars for my hobbies and crafts!

Michele W
My husband and I are both active duty Army and are always working so much. It was always a chore at night to figure out what was for dinner. Plus we rarely had anything healthy in the fridge to fix for lack of going to the grocery store.
I decided to try Greenchef for a change and wow, what a help it has been. Not only has it broaden our horizons about differnt types of meals but the portions are what we SHOULD be eating. Which is part of Americas problem with obesity. Too big of portions.
I love the big recipe cards and plan to keep and use them again. So far we have really liked everything and loved some things. I hate that I am moving to NC where there is not service. I feel it is a good deal , healthy for us and fun to make.

Jacinda R
I am a single mom of a 14 year old daughter. Shopping and cooking healthy had just not been possible and we were both suffering for it.
We were eating out ALOT, wasting money on groceries that went bad because of not having the time or desire to cook. The food taste tastes really good and its fun to cook...even my daughter is enjoying her success she is having at preparing meals and the time we spend together in the kitchen now.
The portions are perfect and there are no leftover issues.
Also, the recyclable packaging is AWESOME. I recycle my stuff every week and keep the ice packs for the upcoming summer outdoor outings
I have not had any billing or shipping issues.
I have suggested Green Chef to 2 friends now and they are both pleased as well.
Jacinda

Sean M
Purchased the groupon, selected the protein( veggies and meat) and then emailed the facility to please cancel the Sub after the purchase. 1.Not onky did they not cancel, but sent the cheapest( tofu and mushrooms)food, charged 69.99 for the next week. Sending only veggies, which followed with me recieving the notice that i didnt fill out the cancellation survey and that they are unable to process the refund!

Jess
Amazing taste, extremely convenient for me
I am a single 28 year old female living in a big city by myself. Green Chef has made it extremely convenient for many different reasons. I was tired of eating out, wasting money on groceries that go bad fast and not having any inspiration to cook. Green Chef definitely helped me solve those problems. Not only does the food taste amazing and incredibly fresh (always looks just like the picture), it's fun to cook, and I love how it's a pay-as-you-go approach to the service. I just click on the week that sounds good to me and the payment goes through for that week only! Also, I have been having more interest in vegetarian plates and this service has helped me become closer to being vegetarian in a very healthy but extremely tasty way.
I was a little skeptical at first about the portion size of the plates, but it turns out perfect every time. And since I am single, I cut my dinner in half and eat the leftovers for lunch the next day - and I have never had a bad experience with the quality of food even after the next day in the fridge. Sometimes, I even have food leftover on 1 dinner even after I eat it twice!
Also, the recyclable packaging is AWESOME. I recycle my stuff every week.
I highly suggest Green Chef no matter what your status in life is. I plan to continue this service for a while.

Kim
First there was not enough food for two people in each meal. Second the first deliver arrived on Friday March 6th and before I could even unpack it I was charged for the next delivery on March 13th. I cancelled. I was told that they could not/would not refund me or cancel my next order because it was already being prepared? A WEEK IN ADVANCE, FRESH FOOD? I think not.
After another email and posting on Facebook and Twitter I received a second email, there was no confusion
Emily Furlong (Green Chef)
Mar 8, 09:56
Hello Kim,
Thank you for reaching out to us. Unfortunately, because your account was not cancelled or your order skipped before our cut-off date (seven days before the order was scheduled for delivery, by 12PM EST), I'm unable to refund the charge or stop the order from shipping out to you. I do show that your account has been cancelled and that, after this week, you have no future deliveries with us. Please let me know if you have any further questions or concerns.
Kind regards,
Emily
greenchef.com
Emily Furlong (Green Chef)
Mar 8, 10:46
Hello Kim,
I'm sorry for any confusion or miscommunication. We have absolutely allowed you to cancel, your account is currently cancelled. While we have not yet shipped your box, we must prepare and package the food, and we do bill in advance. We do allow people to cancel as long as it's done before the cut-off date, as stated in our membership terms. However, I deeply apologize for this confusion, and I would be happy to make sure your box is not packaged and the amount charged is refunded to you. Please allow 5-7 business days for the refund to be reflected by your financial institution, and let me know if there's anything else I can do.
Kind regards,
Emily
greenchef.com

Tanya T
So much better than Blue Apron, Plated and Munchery
First of all the easy of unpacking the box and figuring out what ingredients go to what recipes is the first part over Blue Apron where Green Chef does it right. Being certified organic, the taste of all their dishes are so much better than any of the other companies out there. My kids are even enjoying it. Each night they say, " this is my favorite meal I have ever had". Green Chef meals are more easier to prepare than Blue Apron. We got so frustrated with the time involved with Blue Apron meals. We actual threw their box away, wasting all the food inside, after receiving and unpacking our first Green Chef box. We clearly saw how much simpler it was going to be for us to prepare Green Chef meals. Out of all the ones we tried, Green Chef had the best flavor. Munchery had worst flavor. My kids wouldn't eat their Munchery food. Thanks Green Chef for becoming a part of our family. We will never go back and use one of the other competitors.