Goat.com Reviews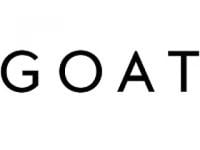 Goat.com is an online seller of new and used sneakers, apparel and accessories.
Goat states they verify the authenticity of resale products using a combination of methods, including machine learning technology. The company also offers a mobile app for both Apple and Android devices.
How Does it Work?
Goat was co founded by creator Eddy Lu, who launched the startup in 2015 with the goal of making it easier to bid on shoes without the risk of being duped into purchasing counterfeits or fake shoes.
The website uses actual human inspectors and image recognition to sell and trade collectible shoes.
As a consumer, you can sell or buy your sneakers on Goat.com. Last year, sellers made over $2 million from the app, making it a good way for people to clean out their closets and upgrade their style.
As a seller, Goat removes many of the concerns over unwittingly reselling fraudulent products. The screening program utilized by Goat offers users a reliable way to buy and sell their shoes.
In order to list your shoes, a seller must send in seven photos, each of which must match a list of requirements.
Goat will then determine whether they are real and safe to list, using a database of real and fake versions to figure out the legitimacy of the shoes.
As a seller, you can bid on shoes just as you might on eBay. The seller then ships the shoes to Goat's headquarters, where they are inspected carefully for damage and authenticity.
You can find or sell just about any kind of shoes at below retail price on Goat.com, with top brands including Yeezy, Gucci, and Air Jordan.
Cost and Price Plans
The price of shoes on Goat.com varies, but generally is slightly more expensive than eBay or other comparable bidding websites.
Much of the cost associated with each pair of shoes have to do in where it is shipping from, and how heavy the shoes are.
That being said, many people prefer Goat.com because, although shipping and product expenses can be somewhat high, products are shipped out on a consistent, predictable schedule. Flat rate shipping is available in many areas.
As a seller, you will spend less money -and maintain a better reputation - if you uphold certain standards of Goat.
For example, you need to make sure your shoes arrive on time and in the appropriate condition - you can be penalized with a higher commission rate taken by Goat if you do not meet these standards.
In some cases, sellers can be charged a commission as high as 20 percent.
Customer Service
Goat.com has exceptional customer service, with multiple methods of support listed on their website. You can contact them via email at [email protected]
The company also has a mailing address listed on its website profile. Unfortunately, there is no publicly listed Goat.com phone number.
Customer Reviews & Complaints
The company has positive rankings with the BBB, with most criticism regarding the company's services or products in some way. These are typically related to seller performance and shipping issues.
Customers and sellers alike appreciate the company's reasonable return policy. You have three days from receiving your shoes in which you can request a return and ship your shoes back.
Goat will refund you the amount paid, minus all shipping expense.
Competitors and Alternatives
Goat.com isn't the only sneaker reseller on the market.
There are so many people who aim to turn a profit by selling shoes online, and so there are other websites in addition to the Goat.com from which you can buy or sell a pair of sneakers.
Flight Club is one popular company, started in New York City in 2005.
This shop runs on consignment and offers nearly every pair of Yeezy or Air Jordans you might want. Unfortunately, this shoe shop is mostly a brick-and-mortar shop, and can be hard to access online.
Stadium Goods is another popular option. This website is relatively new, and consists of an online marketplace in addition to a consignment stop.
The store is best known for their physical location but also offers Nike, Alibaba, and Nordstrom products online, too.
Finally, in the battle between the shoe stores, you also have to consider Goat vs. Kixify. Kixify is one of the globe's largest sneaker marketplaces, and works in a manner that is similar to Goat.
Unfortunately, products can take longer to ship, with the shipping rates left up to the individual seller to determine.
Can I Trust Goat.com?
With plenty of reviews and users on the app - currently, the app has nearly 100,000 sellers with several million members and satisfied customer reviews- there is plenty of reason to trust Goat.com as a way to buy or sell your shoes.
Customers like that it is less complicated to use than is eBay, and that sellers can often list the shoes for a higher price than they might fetch on other platforms.
Where to Buy?
You can only purchase shoes from Goat.com via the company's website, as they are a direct reseller and selling platform.
The Bottom Line
Goat.com offers a method of buying sneakers that is considerably less of a hassle than buying from eBay or another online marketplace.
The company has a system that ensures you will not be scammed, either as a seller or as a buyer, and makes it easy to find a pair of sneakers you will love.
With minimal fees and affordable shipping rates, this company is one you just have to try.
If you have any experience with Goat.com or their products, please leave your reviews below.
You may also be interested in
Goat.com Customer Reviews

Ajay A
I got scammed from buying Yeezy 350 zebra's. They said 320 sply...

Gracie
Would give zero stars if it was an option. DO NOT use this website. A TOTAL SCAM.
Ordered a specific pair of Jordans that my niece wanted for her birthday. Took forever to get to me, not a huge deal, but once we finally received them, she tried on ONE shoe for maybe 2-3 minutes max and said they were too big. The other shoe never even left the box.
I promptly returned them only to receive an email saying the shoes had been worn, had scuffs, etc, therefore I would not be getting my money back. They even sent pictures of said "damage" and I saw nothing.
They offered to consign them for me (at less than what I purchased them for since they had been "damaged"), OR refund me an amount that they deemed they are worth now after the "damage". I told them one shoe hadn't even left the box and any damage they observed had to have been done in their handling of the shoe.
Of course this was not accepted. I filed a fraud claim with my bank, as this entire experience seemed fraudulent at this point. Because I purposely made the purchase from the website, my bank was unable to call it fraud and refund me my money. I then attempted to get the shoes back from GOAT so I could consign them myself, as I was increasingly uncomfortable with them having both the shoes and my money.
I tried multiple times to have them shipped to me via the app and continuously got an error message in spite of entering everything in correctly. I finally got a customer service rep to manually send me a PayPal invoice so I could pay $14.50 to have the shoes shipped back to me (more $$ out of my pocket and still no shoes).
He confirmed the receipt of my payment and assured me that I would be able to view tracking info for the shoes on the app in the next few business days. I waited about a week and was never able to obtain any tracking info, so I began emailing again looking for a status update.
After a number of unanswered emails, I finally got a response saying that they could not ship the shoes until the fraud claim with my bank was "resolved in their favor" (so why did they accept my shipping payment if they were unable to ship the product at that time?).
At this point I had already received confirmation from my bank that they resolved the claim and would not be refunding my money (in other words, resolved in GOAT's favor), however a GOAT rep stated via email that resolution with my bank could take up to another 2 weeks and they would not be sending me the shoes until then.
My next step is obviously to send them the document I have from my bank showing that the fraud claim has already been resolved in their favor. It has been MONTHS and this company STILL has my money, plus additional shipping AND the shoes. Do not use this website, you will regret it. SPREAD THE WORD!!!

sneaker h
Do not shop at goat or StockX it's getting out of hand
I will never use GOAT ever again. my husband is a sneaker head and I put in a bid for the first time for a pair of $200 sneakers and they started the bid at $500.00.
The sneaker business has gotten out of hand, people can't even get a hold of them even if they could afford them.
You have to leave your credit card for the deposit. I had to wait two days for the bidding to end and when it ended goat didn't say a word, they don't post anything.
They just removed the bidding from my account. So not worth the people PlayStation five sneakers just let it go let the price gouger be stuck with their own crap.

Shantel 5
Terrible experience. Won't ever use again! Super hard to get in touch with anyone with questions regarding orders. And my order was canceled after I received an email that it had shipped. No apologies. No explanations. Just a "cancelled" email and that id be receiving a refund. This was the only thing my daughter wanted for her 18th birthday. Now I'm scrambling to find something.

Jeffrey p
Awful interface for dealing with account. Intentionally difficult to reach anyone for customer service and deceptive policies. They sent me the wrong shoes and refused to drop the fees to return and it has been like pulling teeth to talk to anyone.
When I do they copy and paste the policy and basically gaslight you and don't answer your questions. Looking at their BBB reviews and comments on social media, they make no pretense to make sure their customers are satisfied.

JAMES
Crooks! Breech of sale. I bought shoes they canceled my order but shoes still for sale but now at a higher price seller did not want me to buy them at the original price but now I can buy them because the price went up they are scammers and crooks.

Tim
Buyer beware. Bad business.
Buyer beware. They will not provide a refund for returns. Their policy is to only provide credit at goat.com. This is very archaic in that most retailers offer refunds and not credit when you provide receipt and merchandise has not been touched.
Furthermore, to add insult to injury, they charge you for the price of shipping on returns. Ouch!
I see no way that this company will have any kind of longevity. one last thing…no customer service phone number. There is a phone, but it is just a message telling you to submit any issues via their site email. Awful experience.

Malu
I bought a pair of shoes for my daughter birthday and when she opened she noticed the bad quality. I requested a return with photos and the answer: " our return policy, you have 3 days to request a return from the date you received ".
Passed less than a week and the reason is that I was waiting for my daughter birthday because were a gift surprise. I will never use goat again.
My daughter is very frustrated with the quality of her shoes and I am very frustrated with the service.

John
Received fake shoes...Goat is very hard to work with to get a refund. SCAM

NoGOAT
Don't Expect much and you will be happy
I ordered shoes as a present for Christmas. I placed the order less than a day before their holiday return policy was put into effect. I emailed their customer service shortly after placing the order to see if I could still qualify for holiday returns if the shoes did not fit.
Their response was to provide the dates of the holiday return policy. After a couple more emails to clarify they said that I did not qualify for returns and added, We hope they fit though.
Not only that but one of the shoes has blemish spots. I don't care to send them back I don't care to ever deal with GOAT SHOES ever again! DO NOT BUY FROM THEM. Do not succumb to these shoe scalpers!

Dave
Watch out for shipping costs and additional DHL fees
I would never purchase from Goat.com or use DHL again. First they charge $30 to ship to Canada, then on top of that they surprise me with an almost $40 charge for processing and duties.

Alan H
They do not take returns.
This is a scam, a middle-man scam that tries to gouge you with extra fee and fake duty charges (they ship with DHL, hunt up their reviews) which doubled the cost of my purchase. Reputable companies have real return policies and goat definitely does not. They tell me my sneakers are being "stored in their warehouse."
Stick with a reputable firm or eBay.

Harry M
Scammed Received FAKE SHOES
My daughter ordered Air Jordan shoes for her boyfriends birthday last month. When they arrived, they were 2 different sneakers. The bottoms were 2 different colors. The logos were 2 different sizes.
One was a fake and one maybe was real.
They were fake! I emailed many times, as did my daughter but no one ever replied except for their automated email saying someone will get back to us. It has been almost 3 weeks and no resolve. My daughter is a teenager and works very hard for her money and is now out $389.000.
BEWARE, DON'T BUY FROM THIS SITE!
No customer service, No help, but most of all the product is

Lee W
Scammed! Hoorible! Buyer beware!
Worst customer service EVER! I got scammed out of over $170! Ordered shoes, UPS said they never got the package! Goat shows delivered? I contact customer service daily with NO ANSWER BACK! Buyer, don't get ripped off and scammed! Buy your shoes from a legit business!