Forge of Empires Reviews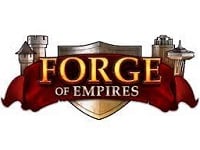 Forge of Empires, found online at ForgeOfEmpires.com, is an online strategy game from game creator InnoGames which claims that, since it was launched in 2012, it has become one of the most successful browser based games on the market.
How Does Forge of Empires Work?
This game is available from InnoGames, the same publisher of games like Tribal Wars and "Grepolis," a game set specifically in the Greek empires.
All these games have similar themes, in that they allow players to use serious strategic game play in order to build, expand, and defend an empire, with an emphasis on "excellent visual appeal."
Players begin the Forge of Empires by creating a settlement in the Stone Age, and quickly have to develop a strategy for developing capital and expanding your empire by conquering nearby settlements and lands.
As the game continues, time will elapse, taking you out of the Stone Age and through the years to the Middle Ages.
Even when you turn the game off and are not actively playing, the Forge of Empires world will continue to change and move forward, and the strategies that you have put in place will continue, meaning that goods will continue to be produced, troops can be collected, and more.
In addition to the strategic game play, the website says that Forge of Empires does offer access to a huge gaming community, which brings "players from all over the world together."
Mobile Options
Currently this game is available to be played on iOS devices, Android Devices, and home computers.
Cost/Price Plans
Forge of Empires likes to spend a fair amount of time emphasizing the fact that they are a free browser game which charges absolutely no fees to get started, and this is true.
However, people who play this game say that in reality, to describe this game as a "free" game is not entirely accurate.
Though you do not have to pay any fees to register or get started with this game, to advance successfully through the game, there will be many different things that you will be expected to build or accomplish, in order to progress.
And to do these things quickly or correctly will require "diamonds," this game's form of currency.
While you can perform certain tasks or quests in order to earn or win diamonds, most game players admit that to be successful with this game or to move forward at a pace you are comfortable with, you will need to purchase diamonds.
Unfortunately, the game does not open publish the costs of their diamonds, though they are available in packages of different amounts, with larger packages providing a discount on the per diamond price.
Refund Policy
The website does not provide any information regarding refunds for diamond packages if customers mistakenly purchased the wrong package, or if they decide to quit or leave the game with remaining diamonds.
The reality is that this game likely doesn't provide any refunds for these costs, so customers should consider this when deciding to purchase diamond packages.
Customer Service Contact Info
Customers who would like to contact Customer Service with any questions, concerns, or complaints can do so by email at [email protected] or by submitting them directly to their website through the Contact Us link.
Reputation
This game has mixed reviews, which is not a surprise as gaming experiences are a very specific and personal thing, and different people are looking for different things in the games that they play.
Many complaints that users had revolved around the description of this game as "free" though they believe that players who don't purchase diamonds are at a serious disadvantage.
Some players have also mentioned that InnoGames is a German based company and that they believe there are some language and translation issues, but this wasn't as common of a complaint.
Competitors and Alternatives?
The world of strategic online browser games is very large, and there are very many games available for people who are interested in different settings, different themes, and different skills.
The right game really just depends on your personal needs.
If you have any experience with Forge of Empires or their products, please leave your reviews below.
You may also be interested in
Forge of Empires Customer Reviews