Fling.com Reviews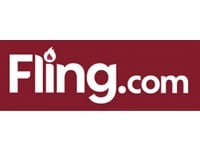 Fling.com is a dating site that accommodates all types of online person-to-person relationships, from those looking to possibly find a soul mate to those looking for just some short term fun.
How Does it Work?
Mostly, however, Fling.com caters to people who are looking for "flings." Their site has lots of adult content, in photos, adult personals, and even webcam interactions that allow you to interact with other members live.
Because of this adult content, members of Fling.com – both free members and paid members – must be over 18 years of age in order to use the site.
In order to better monitor their site from people who are misusing it, Fling.com does employ people to act as members of their site and engage other members in interaction, which they say is to better ensure all members are following protocol.
While some members have worried this raises questions of "does it work" and the accuracy of their search results – since they are unsure if the members they are interacting with are real or fake – Fling.com has a profile indicator that will help you determine if you are dealing with a real member.
This is the "Verified Account" status, which shows that a member has been verified as a real person because they have registered a webcam with the site. However, not having this symbol does not automatically mean that someone is not a real person.
Before signing up at Fling.com you should know that all the photos, videos, and images you upload to their site becomes their property and can be used in their marketing and advertising purposes without your permission.
Also, Fling.com does not remove accounts, free or paid, even after you cancel your membership. If you have complaints concerning this and would like Fling.com to remove your account, you must contact them at [email protected].
If you have any experience with Fling.com or their services, please leave your reviews below.
You may also be interested in
Fling.com Customer Reviews

Val R
They act like America is not free & try to control you. Other sites are better.
They asked for verification 6 times. I sent them the pic in the position they wanted. Obviously my arm is not long enough to provide my whole body. I am not giving a pic of my face. This is still America & I will do what I know is right.
So, they have a deluded deception that they can tell you what to do. Then they keep your pics, so others are deceived into thinking you are getting messages. I deleted their cheesy site. I don't need them. You are better off not being on there. Who knows what they do with the pics. I suspect they use them to collect ransom. Stay away.

Jay
This Place is a joke!. The pricing is outrages!. There's 1,000 men to 1 women. Like dogs humping legs!. There's Premium vidz and pics that these Girls/Women want u to pay for. Don't waste your money!

Weapon6ex
FLING used to work a few years ago I had some amazing hookups, then it tanked I did have a hook-up in 2022 although she was a crazier than rabid raccoon.
Here is a hack to use so that you can message women without having to pay. Use the select the hotties and the match game after creating a profile. when you get a match or when a woman visits your profile you click that notification box and you will not be able to message without becoming a premium member.
Here is what you do click in the white area of the box, then left click and select INSPECT, mouse over to the highlighted code line and hit delete, delete until you have removed the Mask and you can see the profile box clearly.
Now go down to the message input box and left click that then right click it to show that code line. Delete ONCE. Then go back to the message line and enter your message. You can only do two messages a day but it is free now.

tom
billing error "no refunds" ever Save your money!
No stars / yes zero stars
total rip- off.
Customer service is a joke Just want money and keep customers forever.
example: sent to the company with no results:
I was on the phone with your agent Victoria while doing the signup. she was walking me through the setup process. As soon as she informed me that it recorded 1 year instead of 1 month I stopped and exited as she told me. As I feared, your site has very few local people and you keep accounts active that are not using the site. I wanted to try the site for 1 month to see if it was legit. You are not. After 2 days of using the site, it is a joke. This is a total rip off and I will pursue this with my credit card company. Your customer service is terrible, as within 1 minute of the billing error I requested it is changed but "no refunds". Your site is ripping people off with fake profiles and photos.

Joe M
My experience was signing up for a 1 month membership, cancelling after 28 days and then having a full 6 month membership charged to my card 2 days later. The customer service rep, who no doubt has the exact same conversation all day long, stated that it was a non-refundable membership. He insisted that I had accessed the account that day (true) and purchased a 6 month membership (fraudulent claim). He further stated that the only avenue available to me for getting a refund would be to arrange a conference call with a bank representative.
My credit card company has informed me that this conference call is not something which is going to happen, but that nonetheless it is likely that I will get my money back once I contact the fraud department when they open at 6am. Stay away from this company at all costs!!!!!!

kamila o
page does not work I can not access that can not be happening

Charlie B
Serious Issues with fake women.
This is by far the worst dating site online so far.
People, meaning male and females' are employed to pretend to be females interested in you, to keep you on 'edge' so you sign up for a further 3 months.
One profile in particular is very dangerous as when 'she' asks to videocam with you she recorded the proceedings and posts the clips to xtube. Watchout for Kistyluv.