Fitness Singles Reviews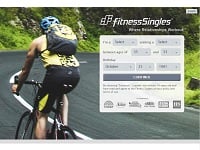 Fitness Singles states they are the largest online dating community for sports and fitness enthusiasts who believe in the importance of fitness to compatibility and are looking for a wide variety of relationships.
Though this website is technically a "dating site," Fitness Singles says that they are not only an online format for romantic singles to meet, but also people who may be simply looking for new friends to exercise with or workout partners who share their same interests and hobbies.
If you are looking for a romantic partner, this website says that "fitness dates" are a great way to meet someone. They are "more fun than meeting for a cup of coffee" because they provide entertainment and natural conversation opportunities.
Anyone can sign up at this website and post a profile completely for free. When creating your profile, Fitness-Singles.com recommends that you keep a few things in mind. First, describe your favorite fitness activities, why you love maintaining an active lifestyle, and what you are looking for in an activity partner.
And though creating a dating profile is usually a good time to "talk yourself up," this website cautions that you should spend more time making sure that you are accurately describing your level of fitness and activity, because the goal is to find someone who matches your same level and who can share your activities with you.
Finally, make sure to include photos, especially those of you enjoying your favorite activities. While creating and posting a profile on the website is actually free, it does require a paid membership in order to interact with the other users on the website.
The cost of the membership varies between $29.95 per month and $14.95 per month depending on how long of a subscription you are willing to pay for upfront, with the monthly cost being cheaper the longer subscription you purchase.
Members can cancel their accounts at any time, but since it is free to have a profile up on the website, members who would like their profiles removed must go into their account and choose the Hide My Profile feature so that active members can no longer see it.
If you have any experience with Fitness Singles or their services, please leave your reviews below.
You may also be interested in
Fitness Singles Customer Reviews