EcoHeat Heater Reviews
EcoHeat Heater Review: Legit or Scam?
The EcoHeat Heater is a name for a number of portable ceramic space heaters being aggressively marketed through various websites.
The sellers make impressive claims about the unit's capabilities and benefits, such as that their heater uses 30% less energy than regular heaters.
The EcoHeat Heater is also aggressively promoted by affiliate marketers because the sellers are offering a high commission to promote the product.
How Does the EcoHeat Work?
EcoHeat creators state this portable unit uses innovative PTC Ceramic Technology to heat spaces and allows for rapid heating and efficient distribution, reducing energy costs to customers.
They also claim the unit is small, lightweight, and quiet unlike other portable heaters that emit annoying sounds while heating up, yet still packs a powerful punch while reducing energy consumption.
The specifications state that the its wattage is 650-1200 Watts, which is lower than the wattage of most commercial space heaters.
Perhaps the two most important features are its energy saving function and its auto shut off safety function.
The energy saver is intended to help you save money, while the importance of the safety feature cannot be overstated, as portable space heaters present clear risks and are responsible for many house fires.
At first glance, this product sounds like a dream – it claims to keep your home warm and cozy without an exorbitant energy bill.
Unfortunately, the EcoHeat Heater is likely not a legitimate product, given that it is very difficult to find solid answers regarding the manufacture of the product.

The EcoHeat heater, or a very similar product, is also marketed under the name Top Heat Portable Heater using a nearly identical sales page.

While we cannot recommend this specific product, choosing the right space heater does not have to be difficult if you know the type of heater you're looking for.
Is the EcoHeat Heater Legitimate?
There are currently multiple companies selling identical or very similar products under different names.
The Alpha Heater and Amper Heat are two other examples of this.

The way these companies work is by purchasing these heaters wholesale from overseas sites, then rebranding them in conjunction with slick marketing campaigns.

They hope that people don't take the time to research these heaters or look for online reviews.
If anyone takes the time to investigate this product you can find the unbranded versions (or something very similar) for sale on Amazon and Alibaba at a fraction of the cost.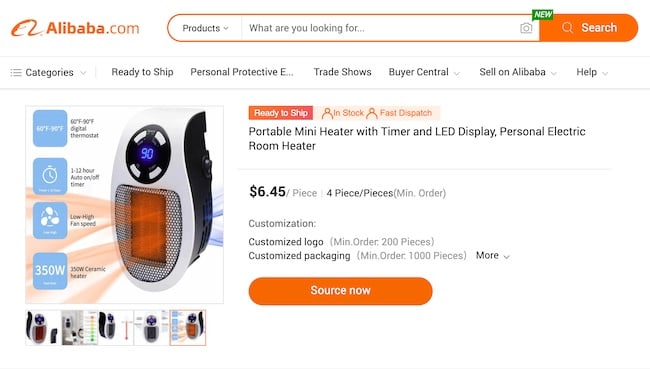 ( Generic unbranded heater on AliBaba priced much lower )

Further, those units reveal that they are only 350 watt heaters. The average modern space heater operates at 650 watts for a low temperature setting and at 1,500 watts at a high setting.
Therefore it's safe to assume that the EcoHeat S is greatly underpowered.
Cost and Price Plans
The various EcoHeat S sales pages generally state that a single unit is normally priced at $178, but their 50% off discount brings that price down to $89. The sales pages offer discounts for ordering multiple units.
Additionally, the website promotions continually had pop-ups that offer further discounts (first a 10% discount and then a 15% discount, from what we found) bringing down final price for a single unit further.
Customer Service
It's difficult to get information regarding this company as the product is being sold on a large number of similar websites.
One of the websites, Hyperstech.com list the following contact information:
International: +44 20 3808 9234, available 24h
Brazil: +552135003992, available between 9:00am to 14:00pm, Monday to Friday (Brazil Time, GMT-5)
Email: [email protected]
Physical Address: Novads OU, Valukoja 22 11415 Tallinn Estonia
The return policy states that the company will issue a refund within 90 days of purchase if you are dissatisfied with your heater.
This is a generous return policy, but unfortunately, the lack of information available about the EcoHeat S makes it difficult to verify whether they will honor this policy.
The company has neither a BBB or other commercial profile to help us gather information about their customer service.
Customer Reviews & Complaints
You will find positive customer reviews about the EcoHeat S on their website, but unfortunately, that is the only place you will find them.
With the EcoHeat being the latest product name for this ceramic heater there isn't much online feedback for this specific company.
However the reviews for the other nearly identical products ( such as the Alpha Heater or the Amper Heater ) have many customer complaints.
Some customers claimed that the units were defective and quit working after several uses. Others had issues with the power plug falling out of the outlets
Most commonly, customers felt that the unit did not provide enough heat to be worth the price.
Competitors and Alternatives
It's always a safe bet to stick with established brands that have been manufacturing these types of products for years. Low quality heaters are likely to be ineffective and could even pose a danger should they malfunction.
Some of the leading options for ceramic heaters include Lasko and Vornado, both of which make more powerful and longer lasting products than the EcoHeat.
These options are also available from major retailers with proven customer satisfaction records.
The Vornado AVH10 Vortex Heater is one popular option.
This efficient but powerful heater is a New York Times top pick and an Amazon's choice selection. It has the latest safety & comfort features and is reasonably priced as well.
The Bottom Line
Heating costs account for nearly a third of annual energy bills in the U.S. This means that, on average, American households spend over $800.00 to heat their homes every year.
This makes it understandable why the idea of an energy saving household heater would be so appealing.
However, information about the the EcoHeat S heater is hard to come by, which makes it impossible for us to recommend. We suggest skipping this purchase and finding another way to stay warm this winter.
If you have any experience with the EcoHeat S heater, please leave your reviews below.


You may also be interested in
EcoHeat Heater Customer Reviews